UFC 277, Amanda Nunes Vs Julianna Pena, Is The Lioness Still Hungry?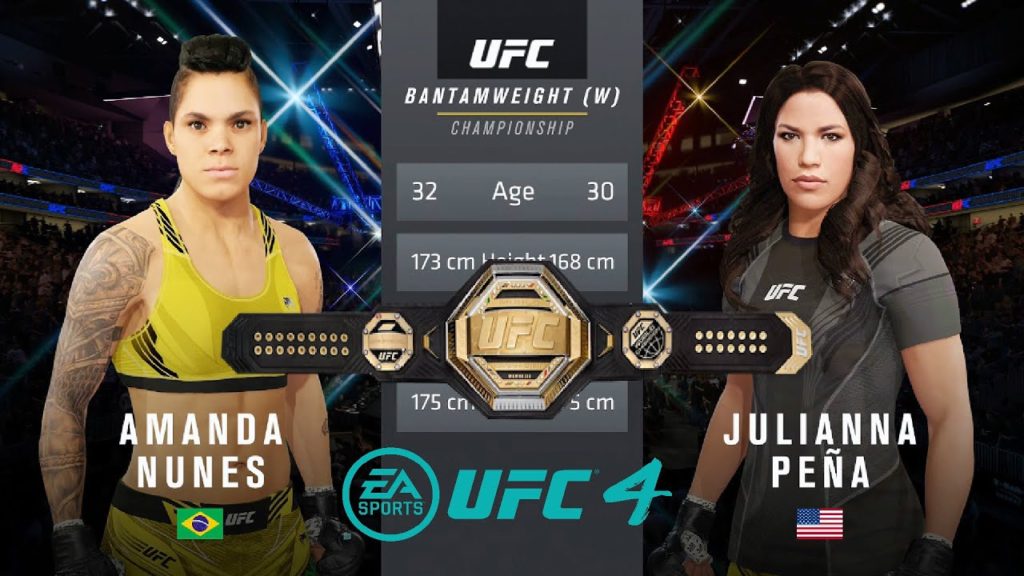 June 20, 2022,
Amanda Nunes is on the minds of the female fighting world.
Again.
As it should be.
She is "The Lioness" after all.
Some wonder if she still is.
As reported by thesportsrush.com, "Amanda Nunes is all set to defend her women's bantamweight title against Julianna Pena at UFC 277, but Dana White questions whether she still has 'The Lioness' in her."
Strong words from the boss.
They add that Nunes lost the title to Pena in December 2021 after collapsing in the second round of their match.
The sports leaders at espn.com are sure watching her. They share, "A bantamweight title rematch between Julianna Peña and Amanda Nunes will headline UFC 277 on July 30 in Dallas, officials announced on Saturday. The pay-per-view event will take place inside American Airlines Arena and air on ESPN+."
Word had it that Amanda blamed her defeat on injuries but UFC president Dana White questions whether she's still hungry enough to win her title back.
On July 30, 2022, we will find out.
For now, let's go down memory lane and view FCI's initial take on Amanda back in July of 2019.
FCI writes volumes of articles and some of them do not make it to print and stay in the vault.
This was one of those articles.
It is interesting to see how we viewed Amanda then, as compared to now.
AMANDA NUNES 2019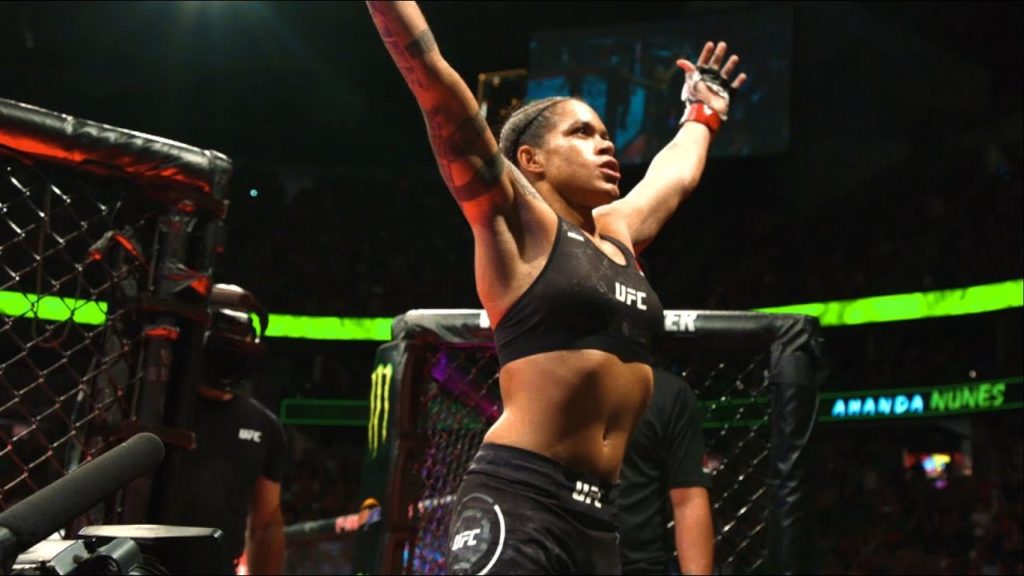 Intrigue expands.
Every time we see a formidable UFC MMA girl surging on the scene, we feel like she is unbeatable.
Then we see another girl who is clearly better than the first.
Then another who is clearly better than the second.
Then another who looks unbeatable yet according to her record, she has been beaten.
We would love to compare this scenario to a Russian Doll, a set of wooden dolls of decreasing size placed one inside another, except here, the beautiful athletic dolls are increasing in size and abilities.
Like Amanda Nunes.
She caught our attention, especially today, July 3, 2019, because she is going to fight Holly Holm on Saturday, July 6, 2019. We have heard of Amanda and her previous accomplishments but this fight with Holly brings those details a lot closer into focus.
We knew Holly was really good. She knocked out the previously unbeatable female Goliath in Rhonda Rousey who up to that point seemed like a machine.
Holly's record surged to 10-0.
Now she is 12-4.
What gives?
Holly is 37. That age is what gives and it concedes a lot. Time can be very unforgiving.
Amanda is not in a forgiving mood. She says so. Publicly. A lot. She speaks of holes in Holly's game that she is going to exploit.
Okay fine.
Then we looked at Amanda's record which comes in at 17-4.
Apparently four fighters have figured out the holes in her game.
After watching Amanda's fights on video, she appears to be ascending. She has won the last 8 matches in a row. Most opponents can't make it past the first round. That is an incredible winning streak. Amanda has an exceptional life resume.
Here is a view.
Amanda is a Brazilian mixed martial artist who currently fights for the Ultimate Fighting Championship (UFC) where she is the reigning champion in both the women's Bantamweight and Featherweight divisions.
Get this. Amanda is the first woman in UFC history to become a two-division champion, in addition to also being the first and only woman in UFC history to hold two titles simultaneously. As of March 4, 2019, she is #6 in official UFC pound-for-pound rankings.
She started training in Karate at age four and pursued training in Boxing at the age of sixteen. She first competed in Brazilian Jiu-Jitsu after being invited to a dojo by her sister, who also trained in the sport.
Ms. Nunes lived in New Jersey and trained at AMA Fight Club before moving to Miami to train at MMA Masters. As of this writing she is currently training at American Top Team in Coconut Creek, Florida.
Her rise to the top has been nothing short of amazing.
After amassing a three-fight win streak, Amanda earned her first title shot in the UFC. She faced super star Miesha Tate for the UFC Women's Bantamweight Championship on July 9, 2016, at UFC 200.
Amanda stunned Tate early on via knee and punches and then won the fight by submission (rear-naked choke) in the first round.
She wasn't finished.
Our rising star moved up in weight to face Cris Cyborg for the UFC Women's Featherweight Championship on December 29, 2018, at UFC 232.
Shocking the audience, Amanda quickly knocked Cyborg out in 51 seconds of the first round to become the new UFC Women's Featherweight Champion. This made her the first woman in UFC history to hold championship belts in different divisions simultaneously.
That is an incredible fighting resume. It is her personal resume that is just as captivating. She was raised in a unique village.
She grew up in a small town outside of Salvador, Bahia, Brazil.
Salvador, is the capital of the Brazilian state of Bahia. With 2.9 million people (2017), it is the largest city proper in the Northeast Region and the 4th largest city proper in the country, after São Paulo, Rio de Janeiro and Brasília.
Founded by the Portuguese in 1549 as the first capital of Brazil, Salvador is one of the oldest colonial cities in the Americas.
Salvador lies on a small, roughly triangular peninsula that separates the Bay of All Saints, the largest bay in Brazil, from the Atlantic Ocean.
The city is a national cultural center, famed for the beauty of its many Baroque colonial churches, especially the church of the convent of the Third Order of St. Francis (1701).
Two global travel experts would like to add some flavor.
The travel experts at tripadvisor.com share, "Brazil's former capital is renowned for its African-influenced cuisine, music and architecture. Known as "the Capital of Joy," because of its exuberant week-long Carnaval celebrations, Salvador brims with contemporary music and art amid architecture that has gone untouched since the 17th century."
It truly does sound joyful.
The vibrant group at Lonely Planet add, "Salvador da Bahia has an energy and unadorned beauty that few cities can match. Wild festivals happen frequently, with drum corps pounding out rhythms against the backdrop of colonial buildings almost daily. Aside from the many attractions within Salvador, a gorgeous coastline lies right outside the city – a suitable introduction to the tropical splendor of Bahia."
Amanda is truly from a wonderful place. No wonder her village produced someone so spectacular.
The informative team at uproxx.com sum up her ascension best. "While Ronda Rousey, Miesha Tate, and Cris Cyborg were fighting for MMA championship gold, Amanda Nunes was splitting wins and losses in Strikeforce and Invicta. So when Nunes made her UFC debut in 2013, few could have predicted her path to glory. But six years later, on the cusp of UFC 239 (which you can watch on ESPN+), it's Nunes — not Rousey, Tate, or Cyborg — who prepares to step inside the Octagon with an opportunity to claim the title of the undisputed greatest of all-time."
Greatest of all time? Wow. Really?
We know that massive accolade gets tossed around a lot in sports and its designation is ever shifting.
Still, here, after watching Amanda Nunes devastating videos, we just can't see how Holly is going to defeat her especially when their records indicate that their momentum is flowing in very different directions.
Holly's is downward and Amanda's is soaring upward. It is not like Amanda was recently involved in 5 round excruciating nail biters.
She is flattening everyone pronto.
Having said all of that, one sports life lesson stands out above them all.
In terms of who wins that match, as Holly showed the world with Rhonda Rousey, no matter the odds, you truly never know.
Despite the heightening intrigue, that is why you indeed play the games.
~ ~ ~
OPENING PHOTO fciwomenswrestling.com femcompetititor.com grapplingstars.com, fciwomenswrestling2.com fcielitecompetitior.com YouTube-Uploaded-by-AJ4Games-Jul-24-2021-UFC-photo-credit-Editorial-use

https://en.wikipedia.org/wiki/Amanda_Nunes
https://en.wikipedia.org/wiki/Salvador,_Bahia
https://www.britannica.com/place/Salvador-Brazil
https://www.tripadvisor.com/Tourism-g303272-Salvador_State_of_Bahia-Vacations.html
https://www.lonelyplanet.com/brazil/the-northeast/salvador
https://uproxx.com/sports/amanda-nunes-greatest-of-all-time-ufc-239-holly-holm-ronda-rousey/
https://thesportsrush.com/ufc-news-amanda-is-a-multi-millionaire-who-is-is-not-that-hungry-savage-she-was-dana-white-believes-amanda-nunes-success-has-hampered-her-octagon-performances/
http://ufcstats.com/fighter-details/80fa8218c99f9c58
https://www.espn.com/mma/story/_/id/33960781/julianna-pena-amanda-nunes-rematch-headline-ufc-277-dallas 
https://www.fciwomenswrestling2.com
https://www.fcielitecompetitor.com/
https://fciwomenswrestling.com/