Truly A Marvel, Pro Wrestler Kamilla Kaine, Lady Thor Personified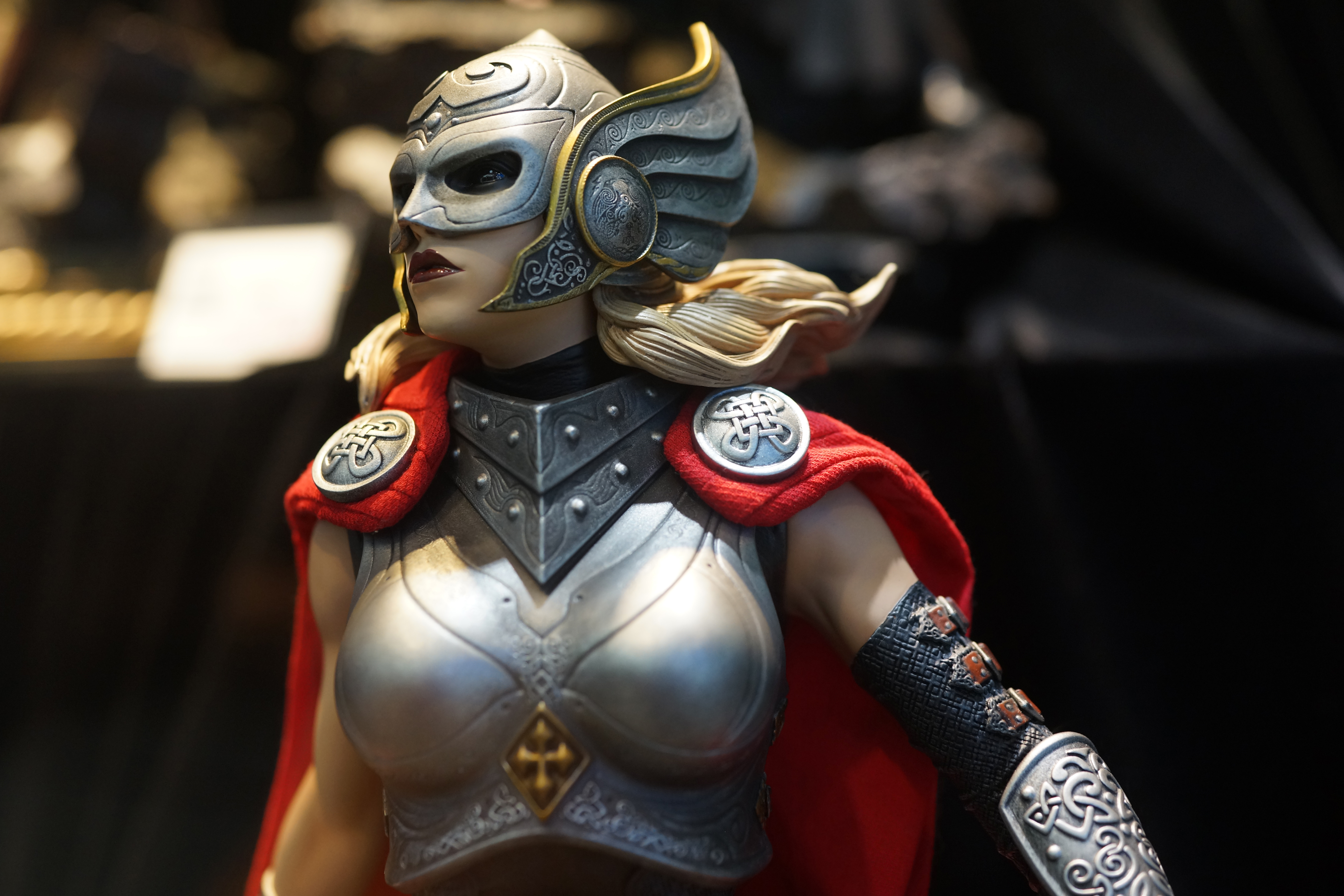 January 12, 2022,
If the female version of Thor took flight, hammer in hand, and came down to earth to inhabit a warrior's body, the first choice who we would recommend would be the Lady Pro Wrestler, loaded with beauty and muscle named Kamilla Kaine.
If Hollywood came looking for someone to star in the title role as well.
She is a specimen. A Marvel.
As reported on July 13, 2015 at the Huffington Post, "Since 2000 alone, Marvel has added 18 women-led titles. In 2014, a female Thor took the comic realm by storm. Audiences seem to be responding to the shift. For example, the female Thor has outsold its male counterpart by 30 percent."
Now that is impressive.
So is Kamilla. A perfect fit.
Kamilla is also extremely enjoyable to watch in the squared circle. If the matches were not scripted, we sense that she would win almost every time.
Also known as Kailey Dawn Farmer in real life, Kamilla is an American female professional wrestler who is currently signed to the National Wrestling Alliance.
She is the current NWA World Women's Champion in her first reign.
As far as inspiration, maybe it's just us, but doesn't the gorgeous Indie Pro Wrestler Kamilla Kaine arouse sensual dreams of Lady Thor?
For you guys out there already salivating, wouldn't she make a fantastic Session Girl if you are into wrestling beautiful, strong women who are will completely and erotically dominate you?
The pathways that Kamilla has traveled and can pursue are endless.
Her ascension to the big stage of the WWE seemed inevitable.
Kamilla would have made a wonderful American Gladiator regular.
We sense that you can see that too.
That speaks to future possibilities.
Here are the roads that she is presently participating in and the ones previously traveled.
Kamilla is currently an Independent Pro Wrestler hailing from Durham, North Carolina.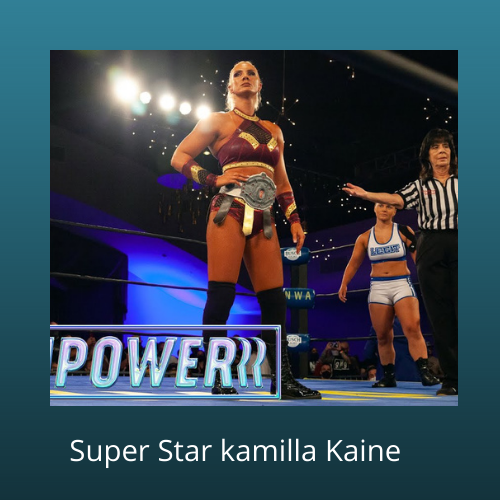 We took one look at her and had to review some of her matches.
This is from a Fem Competitor Magazine writer three years ago.
Dynamite Didi vs Kamila Kaine at Platinum Pro Wrestling DDPW
"When this match was first announced, given DiDi's extensive experience, we thought she would completely dominate Kamilla but that wasn't the case. Kamila was in control of this match right from the beginning, complete with some near leg curl pins.
Still despite the brilliant effort by Kamilla, this one had a surprise ending."
Kamilla Kaine vs Samantha Starr CWA Wrestling Orangeburg, SC
"Samantha is the hometown favorite and should be the favorite to win this match but Kamilla is a big strong blonde southern sexy girl and in this match she won't be denied.
Samantha loves waving her championship belt around but Kamilla makes sure that belt waving is premature and immature."
REMATCH AGAINST DiDi CRUZ
"The first time we watched Kamilla wrestle DiDi, we were a little surprised at how well she did. Having said that, at the beginning of the rematch as the two combatants strolled around the ring, Kamilla is clearly a larger, stronger and more athletic specimen.
That is so evident.
When you read many of the online comments, the consensus is that Kamilla's ascension to the WWE is inevitable. She looks like a super action hero. Thor could be her brother.
So the second time around with DiDi was even easier and no surprise as Kamilla completely dominated her.
DiDi is a very sexy, shapely girl with butter in the right spaces but not enough real muscle in the right places. At least not against Kamilla."
RPW 8-1-17 Kamilla Kaine vs Roxy Rouge
"Going up against a Fem Competitor who enters the ring in a box lets you know that you're in for the unexpected. Kamilla gets just that in the regional favorite Roxy Rouge.
Roxy is a big girl and a very experienced one in front of her fans.
Kamilla's match with Roxy is a bruising knock down drag out affair. You'll love it."
That was fun. Very sexy fun at that.
In terms of her resume, it truly ranks Action Heroine in stature.
Kamilla has competed in the brutally tough Legends Football League.
The Legends Football League (LFL) is a women's 7-on-7 tackle American football league, with games played in the spring and summer at NBA, NFL, NHL and MLS arenas and stadiums. The league was founded in 2009 as the Lingerie Football League and was rebranded as the Legends Football League in 2013. The league's administrative offices are located in Los Angeles.
Once the former Lingerie Football League, the newer version, featuring girls like Kamilla are bigger, harder hitting and tougher. They are super sexy with shapely butts but are not just eye candy like their female predecessors.
Just ask Kamilla. She makes it clear the practices are far tougher. She competed for the Atlanta Steam.
Our athletic model attended Northern Durham High School in her youth.
Kamilla participated in many sports and activities including soccer, basketball, dance, ballet and began swimming at the tender age of four which she continued through high school.
Being an athletic specimen our Southern Beauty loved playing volleyball but at 5' 9" just wasn't tall enough to go Division One.
She was once named Regional Player of The Year and accepted a full ride collegiate scholarship in softball where she had a cannon for an arm and with that physique routinely hit the ball out of the park.
Kamilla achieved her degree in Communications Studies with a minor in Management from Campbell University.
After graduation she tried working in an office but decided it was not for her.
We are so thankful for that.
Kamilla clearly is a ring natural and comes alive in the square circle.
When she enters the ring she loves to give the Bull City thumbs up with her two heroine fists pounded together
Seemingly prepping for a celluloid future, Kamilla loves being a heel and gets instant gratification from the enthusiastic reaction from the fans.
If we could, we would show her love.
Right now we're watching her enter the audience realm against Kiera Hogan. Kamilla decides whose hands she will slap and ignore. With style. Looks fantastic in their lingerie football attire.
She is a feminine muscle machine. You should Google her.
Kamilla keeps evolving. Her names reflect that.
Kamille.
Kamille Brickhouse. She certainly is that.
This one is an entrance on the sandy beach against Brooklyn Creed. Yummy. https://www.youtube.com/watch?v=G5m86YbFcAM while it lasts.
Kamilla is a stunner.
Whenever the female Thor decides to visit planet earth and needs a body double for a Hollywood movie, we have the perfect suggestion.
~ ~ ~
OPENING PHOTO fciwomenswrestling.com femcompetititor.com grapplingstars.com TY-Lim-Shutterstock-photo-credit-Editorial-use

https://en.wikipedia.org/wiki/Kamille_(wrestler)
https://en.wikipedia.org/wiki/Campbell_University
https://www.huffingtonpost.com/entry/watch-out-wonder-woman-female-superheroes-are-on-the-rise_us_55a167f8e4b0b8145f72e10a
https://en.wikipedia.org/wiki/Thor_Girl
https://artsbeat.blogs.nytimes.com/2015/05/12/marvel-comics-reveals-a-female-thor/
https://www.youtube.com/watch?v=x9Vhx3S7Oeg
https://www.youtube.com/watch?v=RhOSmmbJamw
https://www.youtube.com/watch?v=0TDcW9cqoB8
https://www.youtube.com/watch?v=IthdlqNmvkY
https://www.youtube.com/watch?v=x9Vhx3S7Oeg
https://player.fm/series/tapped-out-wrestling-podcast-network/kamilla-kaine-roar-awe-lfl-indy-superstar
https://en.wikipedia.org/wiki/Legends_Football_League
https://en.wikipedia.org/wiki/Durham,_North_Carolina
https://www.lonelyplanet.com/usa/the-south/the-triangle
https://www.fcielitecompetitor.com/
https://fciwomenswrestling.com/