Tekla DWW Wrestling Rose!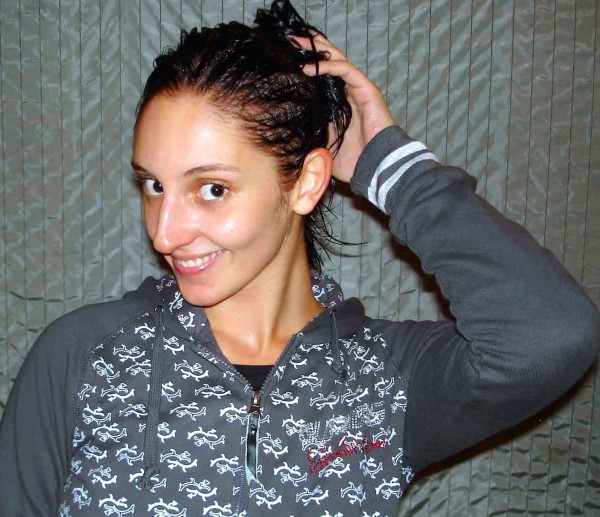 Tekla is a DWW wrestler who possesses a soft sex appeal that gently touches the hairs on your arm and catches you by surprise.
Tekla is a rose of a different kind.
"As one of the most enduring symbols for love and appreciation, it's no surprise that roses are among the most admired and evocative of flowers."………….. proflowers.com
Her name is not Luzia, Hana or Petra; beautiful and powerful roses all, still by her perseverance and smooth as silk wrestling style, the sensuous Tekla continues to demonstrate that all roses do not have to be red to be beautiful.
Fortunately for us, Tekla has a garden of matches under her belt and has a wrestling style that is a little mysterious and somewhat unpredictable yet sprinkled with enticing fertilizer. Her many matches are online and when she faces formidable foes like Antcha and Victoria those outcomes are somewhat predictable. It's when she faces competitors with the skill level of Roxy, Esmeralda, Pamela, Mary Ann , Leslie, Katharina, Estella and Gabi that question marks fly in terms of the adventure that leads to the outcome. Whatever the outcome; watching Tekla wrestle is always a memorable and sensuous experience.
An Aerobics Instructor, Tekla blossomed in Hungary.
[pullquoteleft] "Love planted a rose, and the world turned sweet"……..Katharine Lee Bates[/pullquoteleft]
The respected governmental website cia.gov informs, "Hungary became a Christian kingdom in A.D. 1000 and for many centuries served as a bulwark against Ottoman Turkish expansion in Europe. The kingdom eventually became part of the polyglot Austro-Hungarian Empire, which collapsed during World War I. The country fell under communist rule following World War II. In 1956, a revolt and an announced withdrawal from the Warsaw Pact were met with a massive military intervention by Moscow. Under the leadership of Janos KADAR in 1968, Hungary began liberalizing its economy, introducing so-called "Goulash Communism." Hungary held its first multiparty elections in 1990 and initiated a free market economy. It joined NATO in 1999 and the EU five years later. In 2011, Hungary assumed the six-month rotating presidency of the EU for the first time."
That was a very nice general description so let's refine that and focus on the nation's capital city of Budapest.
The great information site Wikipedia educates, "Budapest is the capital and the largest city of Hungary, and one of the largest cities in the European Union. It is the country's principal political, cultural, commercial, industrial, and transportation center, sometimes described as the primate city of Hungary.
In 2011, according to the census, Budapest had 1.74 million inhabitants, down from its 1989 peak of 2.1 million due to suburban growth. The Budapest Metropolitan Area is home to 3.3 million people. The city covers an area of 525 square kilometers (202.7 sq. mi.) within the city limits. Budapest became a single city occupying both banks of the river Danube with its unification on 17 November 1873 of Buda and Óbuda, on the west bank, with Pest, on the east bank.
Cited as one of the most beautiful cities in Europe, its extensive World Heritage Site includes the banks of the Danube, the Buda Castle Quarter, Andrássy Avenue, Heroes' Square and the Millennium Underground Railway, the second-oldest metro line in the world.
It has 80 geothermal springs, the world's largest thermal water cave system, the second largest synagogue, and third largest Parliament building. The city attracts about 4.3 million tourists a year, making it the 25th most popular city in the world to visit (and the 6th in Europe) according to Euromonitor.
Budapest is home to the headquarters of the European Institute of Innovation and Technology (EIT), and the first foreign office of the China Investment Promotion Agency (CIPA). Eighteen universities are situated in Budapest, including the Central European University, Eötvös Loránd University and the Budapest University of Technology and Economics."
Thank you Wikipedia, but as I think we all know, a trip to Hungary shouldn't just be about business, politics or education. Like watching Tekla take us through a pulsating exercise routine, a tour of this kingdom should include some fun!
The travel site budapest.com is very helpful in this regard. "Whether you like atmospheric jazz bars, outdoor music lounges or palatial dance clubs, Budapest's exciting nightlife always has something in store for you!
Every weekend, and even on most weekdays, people love going out in Budapest. Most clubs, pubs, strip bars and discos are open until very late or even the next morning.
Budapest is a perfect venue for stag & hen parties, as the wide choice of clubs and the modest prices attract partygoers from all over Europe to Budapest."
Tekla's wrestling continues to be fun to watch as well. She's branching out and wrestling for other companies across the globe and gaining valuable experience along the way.
Rose.org shares, an important global act of appreciation occurred on November 20, 1986, when President Ronald Reagan, signed Proclamation 5574 declaring the Rose to be The National Floral Emblem of the United States of America.
With this proclamation, the Rose took its place among the beloved patriotic symbols of our nation, symbols that include the American Flag; the Great Seal including the U.S. Motto; the Bald Eagle; the National Anthem; the official March; and the National Tree, the Oak.
This writer is certain that as women's wrestling history peeks back over its shoulders, Tekla will be one of the emerging DWW beauties that displayed her grappling artistry with no thorns to prickle.
The important Captain of Industry, Dale Carnegie was quoted as saying, "One of the most tragic things I know about human nature is that all of us tend to put off living. We are all dreaming of some magical rose garden over the horizon instead of enjoying the roses that are blooming outside our windows today."
It's best to learn from one of the masters.
Why wait to fully appreciate Tekla's alluring wrestling skills in the future when you can enjoy this beautiful rose right now?

~ ~ ~
Some may find DWW Wrestling erotic in nature. If that offends you, please do not research the site.
[alert_green] Sources: brainyquote.com, DWWgalaxy.com, rose.org, britannica.com, Wikipedia, budapest.com, proflowers.com, fciwomenswrestling.com, thank you Wikipedia Commons for photos. Thank you DWW for Tekla's photo.
[/alert_green]