Sensational Julia Budd Enhances PFL Television Contract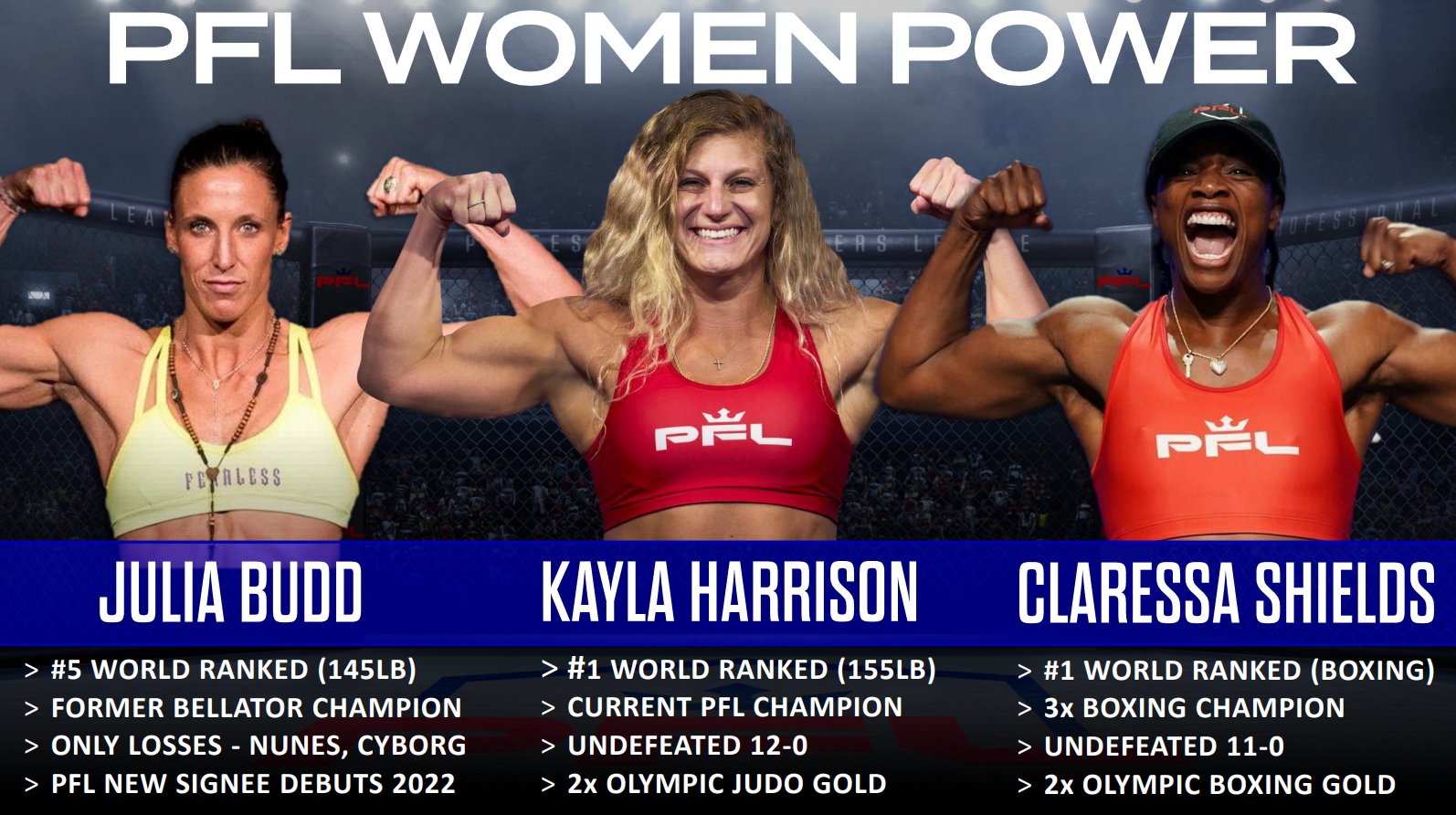 January 29, 2022,
She has made the most of her chances so this is not necessarily a second chance.
At 38 years old, that would not be the storyline.
Julia Budd signing with the Professional Fighters League is a new beginning, for both of them.
Bright and shining.
Julia Budd is a Canadian kickboxer and mixed martial artist competing in the Women's Lightweight division of Professional Fighters League (PFL).
She has fought in MMA promotions Strikeforce and Invicta Fighting Championships and is the first and former Bellator Women's Featherweight world champion.
Ms. Budd is currently the #3-ranked 145-pound female MMA fighter in the world according to the Unified Women's MMA Rankings.
Time for some introductions.
Bellator MMA is an American mixed martial arts promotion founded in 2008 and based in Santa Monica, California owned and operated as a subsidiary of ViacomCBS.
It is one of the largest combat sport promotions in the world and the second largest in the United States.
The promotion takes its name from bellātor, the Latin word for "warrior".
Then there is Invicta.
Invicta Fighting Championships, also known as Invicta FC, is an American professional mixed martial arts (MMA) promotion dedicated to Women's mixed martial arts that was founded in 2012 by Janet Martin and Shannon Knapp. The promotion is currently owned by the Canadian-based Anthem Sports & Entertainment.
The company's name comes from the Latin word for "invincible and incomparable", which appears in the feminine form.
Simply put, Julia has fought in the largest venues of female MMA, survived and thrived.
Signing with the PFL is another major step due to television exposure.
Currently, Kayla Harrison is the major marque name in the PFL.
For good reason. No one has even come close to defeating her. She has absolutely put the PFL on the map.
Can Julia become a major marque name?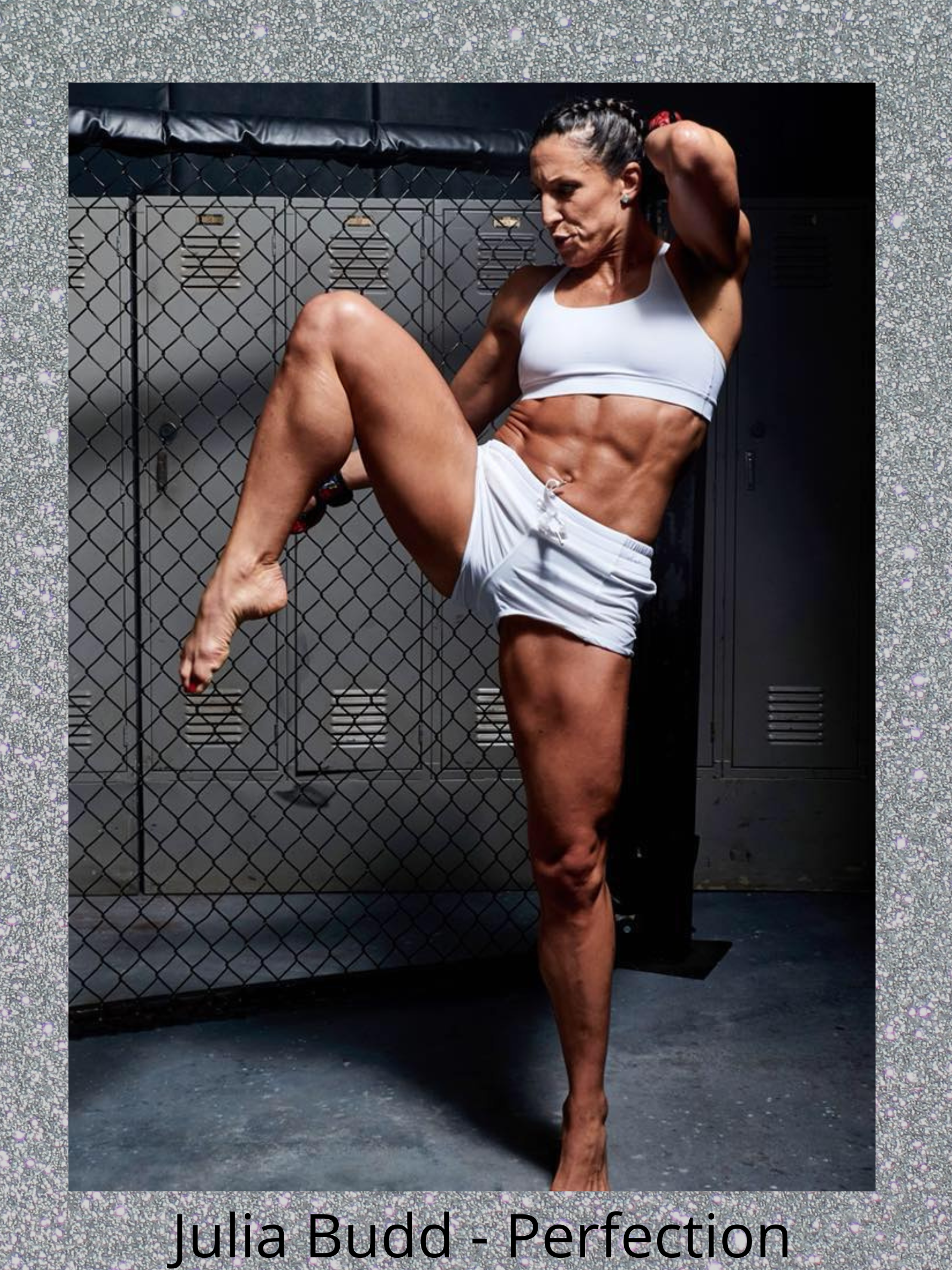 Yes, but just not in the realm of Kayla Harrison and that's fine. The PFL can't just hang their hat on one super star fighter, even if she is winning in brutal dominant fashion all of the time.
Every promotion needs variety.
Julia certainly provides that.
In watching her fight Chris Cyborg when she was the reigning Bellator champion, the fact that Cris was the challenger and the favorite was revealing.
In watching the fight, early on it was competitive but it soon became clear that Cris kept getting Julia in weaker positions and tenderizing her for the TKO. Julia looked less and less confident as the fight wore on and her camp tried to inspire her, by telling her that she can win this fight, but we could feel the confidence oozing out of her.
Julia practiced Muay Thai for many years and later became the only woman to defeat American Gina Carano in Muay Thai competition.
That really put her on the female MMA map.
Her second and final loss in the ring came by Germaine de Randamie, after which Budd made the move to MMA.
Her Muay Thai record is 10–2. She began training in MMA at the end of 2008 and avenged her loss to de Randamie when she defeated her via unanimous decision in a 2011 MMA bout.
In viewing Julia's professional record of 16 wins and 3 losses, she has established that she can achieve an important competitive goal.
You must defeat the people that you are supposed to defeat and hope to defeat the champion at least once. Then you have a championship season.
Who are Julia's three losses against?
Amanda Nunes, Ronda Rousey and Chris Cyborg.
Very telling.
So she is not there yet. At 38 years old, will she ever be?
Maybe that is not the important question.
The PFL needs another marque name to help fill out their brand roster.
For good and important reasons since they are not partnering with ESPN.
Reaching the upper elite level will be challenging but defeating the people that she is supposed to?
That's TV entertainment.
PROFESSIONAL FIGHTERS LEAGUE REACHES MULTI-YEAR RENEWAL WITH ESPN FOR EXPANDED MEDIA RIGHTS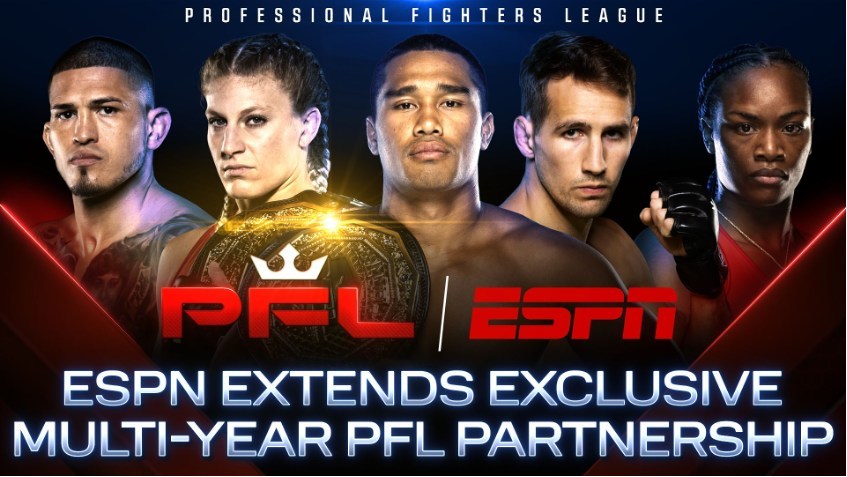 Deal includes expanded coverage of 2022 season and exclusive content on ESPN linear networks and ESPN+
Seven PFL events to feature on ESPN and simulcast on ESPN+, with additional broadcasts on ESPN2
PFL Regular Season kicks off on April 20
ESPN+ available on ESPN.com and ESPN App for mobile and connected TV devices
To subscribe visit ESPNPlus.com/pfl
News provided by
Professional Fighters League (PFL)
Jan 25, 2022, 09:07 ET
NEW YORK, Jan. 25, 2022 /PRNewswire/ — The Professional Fighters League (PFL), the fastest growing and most innovative sports league, and ESPN have announced a new, multi-year media rights agreement that will see expanded coverage on ESPN linear networks and ESPN+. Under the deal, the entire 2022 PFL Playoffs and majority of Regular Season events will be televised on ESPN, as well as simulcast on ESPN+, with additional event coverage broadcast on ESPN2.
In addition to live events, ESPN platforms will bring fight fans pre- and post-event coverage, as well as exclusive PFL content. The agreement begins with the telecast of the 2022 PFL Regular Season kickoff event on April 20, with specific details on scheduling and programming to be announced in the coming weeks.
"After two successful years of providing fans with premium MMA content alongside ESPN, PFL is proud to extend and expand our agreement," said PFL CEO Peter Murray. "As MMA continues to evolve as a sport and rights property, our differentiated product and unique approach will help shape its path forward and in 2022 fans can expect more events, matchups between the world's best fighters and innovative content than ever before."
Matt Kenny, ESPN Vice President of Programming and Acquisitions, said: "As the home of combat sports, ESPN looks forward to continuing to deliver exciting, live PFL events and powerful storytelling to fans, across all platforms."
ESPN was the home of PFL in the United States during its breakthrough 2021 season, including all 10 events from the regular season through the playoffs and final in October. MMA's biggest night, the PFL World championship saw six fighters earn world championships and $6 million in prize money, which also featured a live performance from global icon and PFL partner Wiz Khalifa inside the SmartCage at Seminole Hard Rock Hotel & Casino in Hollywood, Florida.
In addition to live events, ESPN+ exclusively aired Claressa Shields, a four-part, all-access series that chronicled the two-time Olympic gold medalist's PFL debut in June and quest to become an MMA world champion.
Professional Fighters League is the No. 2 MMA company globally and features an elite talent roster with 25 percent of its fighters independently ranked in the top-25 of the world, including 2021 PFL champions Kayla Harrison, Ray Cooper III and Movlid Khaybulaev. With live event coverage in 160 countries on leading distribution platforms, a portfolio of blue-chip brand partners, and backing from major institutional and high-profile individual investors, PFL is accelerating its global expansion to deliver a unique, innovative product to the more than 600 million MMA fans globally.
SOURCE Professional Fighters League (PFL)
~ ~ ~
OPENING PHOTO fciwomenswrestling.com femcompetititor.com grapplingstars.com Femcompetitor.com PFL-photo-credit-YouTube-screen-shot-Editorial-use

https://en.wikipedia.org/wiki/Julia_Budd
https://en.wikipedia.org/wiki/Bellator_MMA
https://en.wikipedia.org/wiki/Invicta_Fighting_Championships
https://www.fcielitecompetitor.com/
https://fciwomenswrestling.com/