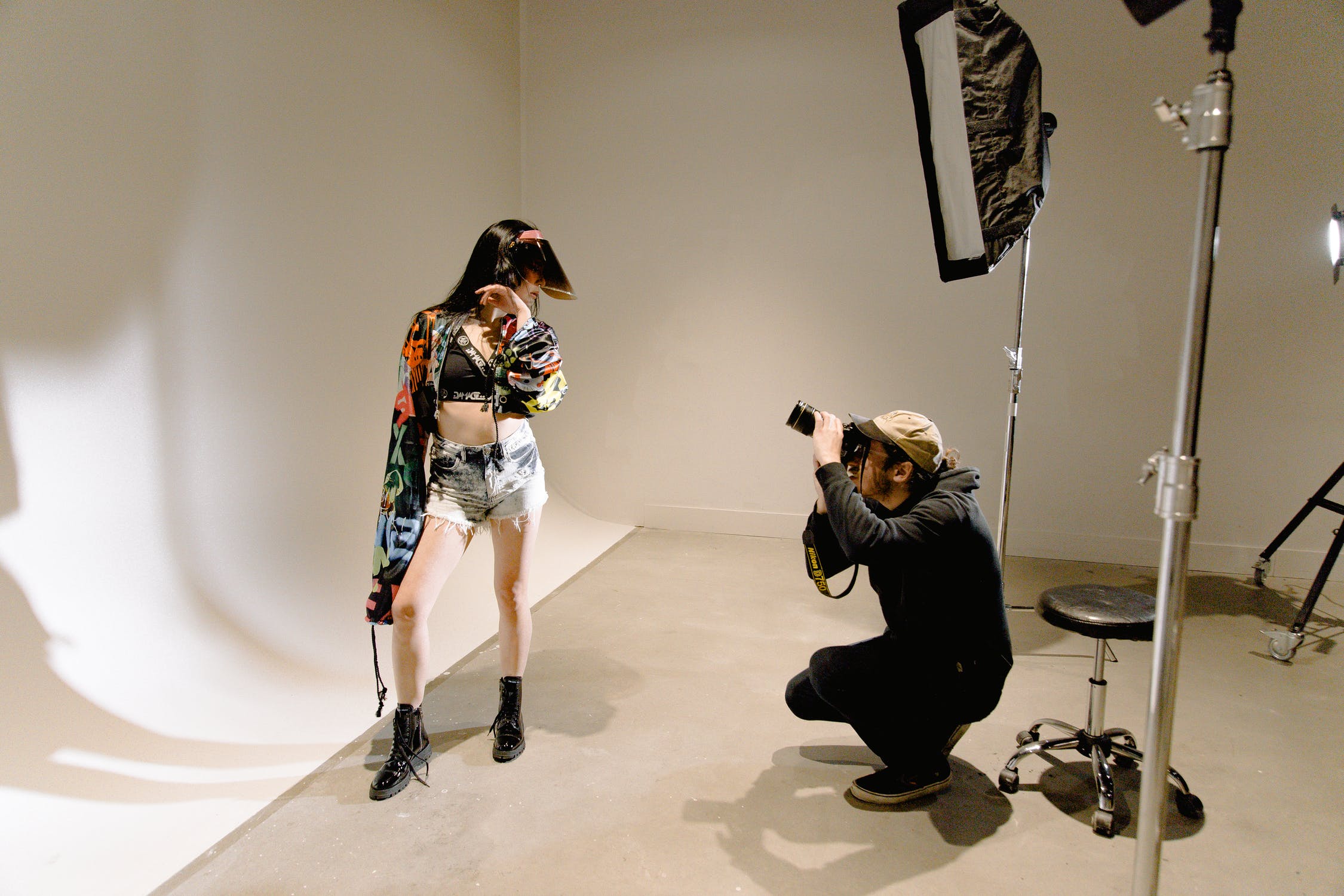 [intro] There is something magnetic about watching Toronto's Rachel Dubois. You can't help but feel something.
[/intro]
It's hard to place a finger on it or pin it down but it's there.
It reminds me of when I when to my high school reunions and I would see women who were once girls that I was mesmerized with and frightened of from a distance. When they were young, they were usually the beautiful types full of challenge and dare and if you were a male of courage, you could enter into their hypnotic often erotic and electric world where there was rarely a dull moment.
The timid or frightened need not apply.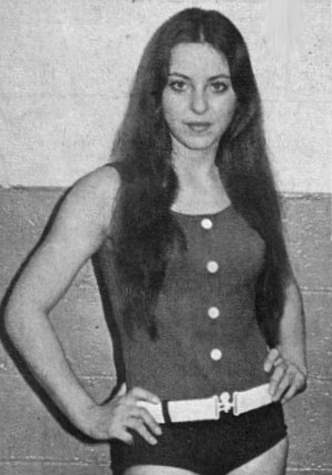 I've never met Rachel but looking at her photos, with her runway model looks, I feel something powerful, erotic and hypnotic.
[pullquoteleft] "Thoughts are the shadows of our feelings – always darker, emptier and simpler"…..Friedrich Nietzsche
[/pullquoteleft]
Singer songwriter, Morris Albert, born in Sao Paulo, Brazil captured what I feel in the 1975 classic, "Feelings."
According to cagematch.net, Rachel's ring career began in 1969 and finished in 1974, right before Morris made his classic.
She was considered wrestling royalty being the daughter of Wildman McKigney – who had a brief but memorable ring career. We preach constantly at FCI that women wrestlers travel the world yet Rachel had a more limited wrestling journey, according to research, primarily wrestling around the Ontario, Canada area.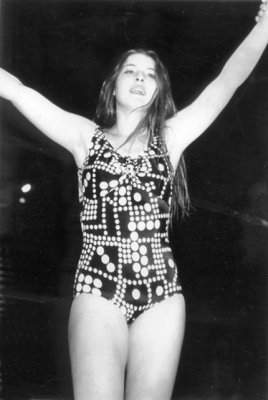 According to wrestlingdata.com, Rachel was born in Toronto, Canada. Let's visit one of the world's great cities.
The fantastic information site Wikipedia shares, "As Canada's commercial capital, it is home to the Toronto Stock Exchange and the five largest banks in the nation. Leading economic sectors in the city include finance, business services, telecommunications, aerospace, transportation, media, arts, publishing, software production, medical research, education, tourism, and engineering. Toronto is considered an alpha world city by the Globalization and World Cities Research Network and is placed among the Global Leaders in the Global Financial Centers Index. The city is also consistently rated as one of the world's most liveable cities by the Economist Intelligence Unit and the Mercer Quality of Living Survey.
Toronto is a city of high-rises, having 1,800 buildings over 30 meters (98 ft.).
Toronto theatre and performing arts scene has more than fifty ballet and dance companies, six opera companies, two symphony orchestras and a host of theatres. The city is home to the National Ballet of Canada, the Canadian Opera Company, the Toronto Symphony Orchestra, the Canadian Electronic Ensemble, and the Canadian Stage Company. Notable performance venues include the Four Seasons Centre for the Performing Arts, Roy Thomson Hall, the Princess of Wales Theatre, the Royal Alexandra Theatre, Massey Hall, the Toronto Centre for the Arts, the Elgin and Winter Garden Theatres and the Sony Centre for the Performing Arts (originally the "O'Keefe Centre" and formerly the "Hummingbird Centre")."
In a February 28, 2014 article the New York Times adds, "At present, Toronto is home to one of the largest Somalian populations outside of Africa; Sri Lankans have settled in the Jamestown neighborhood, while Iranians have established a firm foothold in North York. One paradox of Toronto is that even as the city enables new arrivals to assimilate into Canadian life — people talk about how a certain neighborhood was originally home to immigrants from one area, who then moved on to a more prosperous district, making room for the next wave of people from somewhere else — its ethnic neighborhoods are strongly evocative of their residents' countries of origin, and the shops (and most notably the restaurants) seem more authentic than they do in other cities to which immigrants have imported their culture and their cuisine.
At restaurants in Toronto, I notice racially and ethnically mixed groups of friends even more often than I do in New York neighborhoods celebrated for their diversity. I see a much wider variety of visitors to the city's excellent museums: classes of children lying on the floor and drawing at the Royal Ontario Museum, which features stellar collections of Asian and Middle Eastern art and of Canadian painting, and at the Art Gallery of Ontario, where popular recent exhibitions have included shows of Ai Weiwei's work and of ephemera connected with David Bowie's career.
Everywhere, glimpses of residents going about their daily routines — the Sikh policeman directing traffic, the Vietnamese and Filipino reporters broadcasting the TV news, novelists from the Caribbean reading their work at the city's annual International Festival of Authors — testify to the welcome that Toronto has given the immigrants who have sought refuge here."
A fascinating village to spend time in.
During Ms. Dubois reign, her most notable feuds were with Beverly Shade and Carmen Monge.
The world in the early 1970s was a very different place. While Rachel was wrestling on the mats, what was the world wrestling with?
The site that walks us back in time, history1900s.about.com shines the spotlight. In 1970, the Beatles finally break up and the computer floppy disk was introduced. The world was shocked by the Kent State shootings. In 1971 VCRs were first introduced. The year 1972 was a busy one. The long running TV show MASH premiered, Mark Spitz wins seven gold medals, pocket calculators were introduced and now for two blockbusters; the Watergate scandal broke and terrorists attack the Olympic Games in Munich.
Let's move up the timeline to 1973. Roe vs Wade legalize abortion in the U.S., Paul Getty was kidnapped, the Sears Tower was built and the U.S. pulls out of Vietnam. Finally in 1974, Rachel's final year competing, Patty Hearst was kidnapped; serial killer Ted Bundy begins his killing spree and President Nixon Resigns.
A person is influenced so much by the village they were raised in and the time period they lived in that it often emanates from them.
[pullquoteright] "Feeling gratitude and not expressing it is like wrapping a present and not giving it".………….William Arthur Ward[/pullquoteright]
The female wrestling world would have benefited to see Rachel wrestle for a longer period of time. When looking at her photos you can see she certainly had the charisma and sense of humor to entertain much longer.
There seemed to be something behind that knowing smile, the sexy sultry looks and youthful maturity.
Rachel Dubois could be a star in any time period. I surmise that because truthfully, when I look at her, I feel something very powerful.
~ ~ ~
[alert_green] Sources: brainyquote.com, Wikipedia, fciwomenswrestling.com, nytimes.com, .imdb.com history1900s.about.com, OWW Obsessed With Wrestling, cagematch.net, wrestlingdata.com, womensprowrestling.blogspot.com, photos of Toronto, thank you Wikimedia Commons.
[/alert_green]