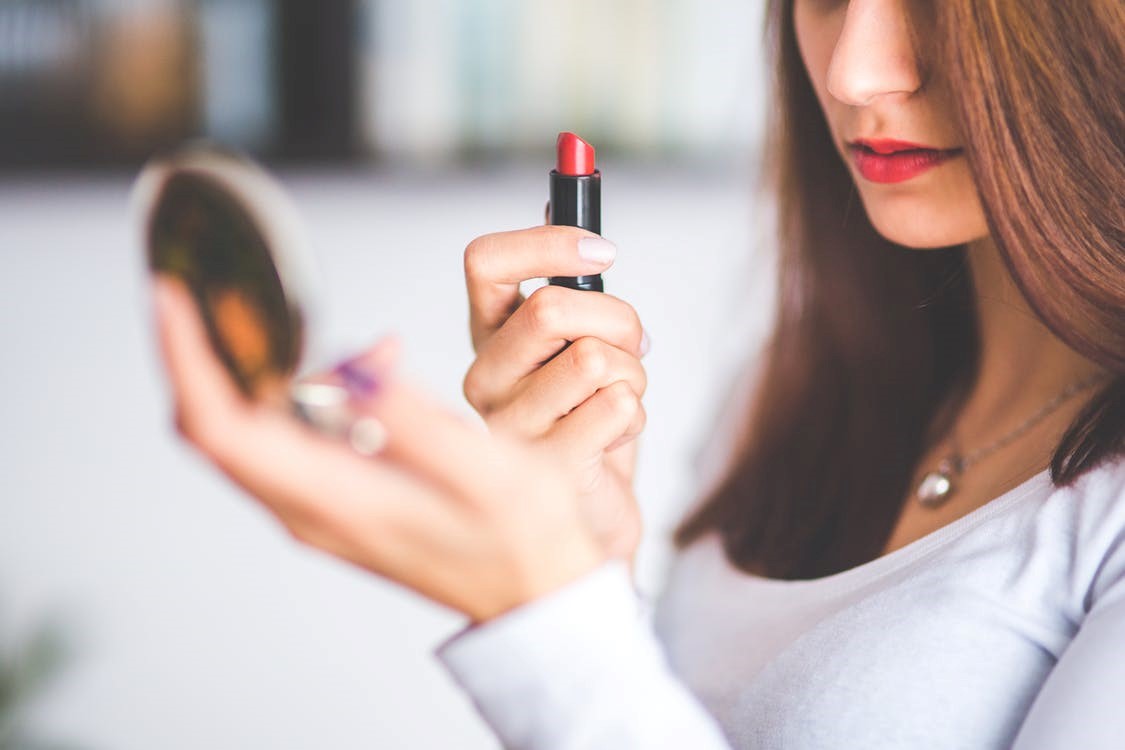 Olivia, from the San Jose area, is a mother, hairstylist, wrestler and intense competitor.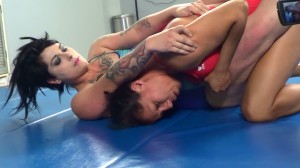 "Wow, they are really going at it!"
That's what a relative exclaimed after viewing video of Olivia battling Kait at an intense San Jose private wrestling shoot. I remember thinking to myself, that's Olivia all the way.
[pullquoteright] Drama usually has some sort of intense conflict.
……….Clint Eastwood[/pullquoteright]
This writer first met Olivia at a private wrestling company's video shoot. Fciwomenswrestling.com had made a decision not to form an affiliation but cooperate with them in terms of being a primary women's submission wrestling news source as their group finalized structuring and marketing their online store.
Having grown up in the San Francisco bay area, as I made the drive down a familiar freeway that connects to the major San Francisco airport located on the east side and provides you with a view of the majestic and property expensive rolling south peninsula hills that wall off the pacific ocean on the west, with every mile soon behind me, as I headed south toward San Jose, I was engulfed with excitement. I had researched her, dreamed about her, in a professional way of course, and now I was going to meet her.
She was very shy, polite, shapely and extremely sensuous. Her photos didn't do her justice. I had researched her matches and she seemed to have the distinct pattern of defeating the people she should easily defeat but struggled and mostly lost to the people she might exact victory over and always lost handily to those where she was a clear underdog. In the latter case, it was as though she quietly enjoyed being dominated. She was however very consistent in all cases.
Her matches were intense.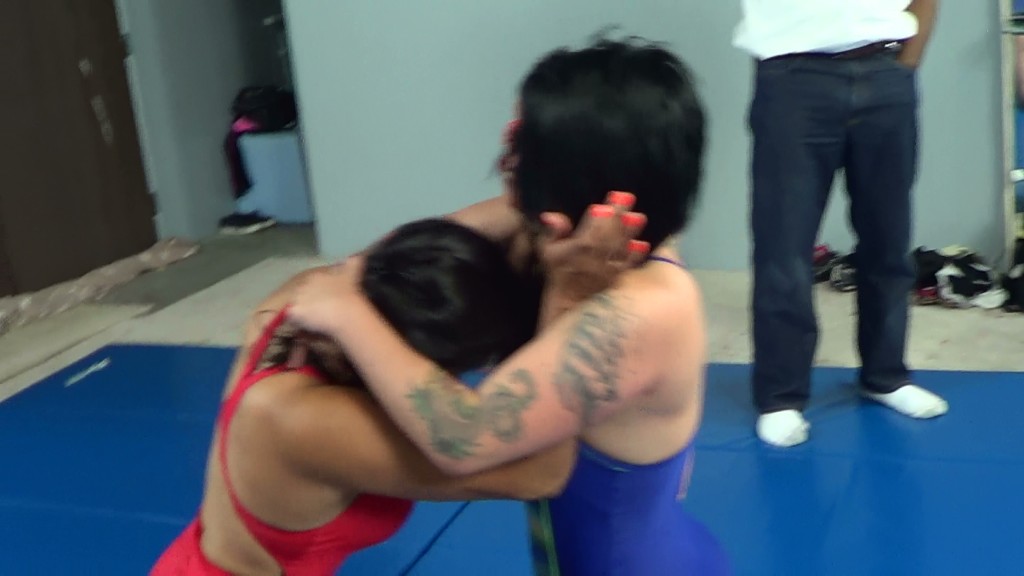 That day she would go toe to toe with a slightly newer competitor who she had previously defeated and things got so intense, the match had to be stopped and discussed for fear of injury.
Olivia is an interesting case study in the sense that it's challenging to get her to open up. It would take time. Still, like slowly peeling away to reach the center of a soft, delicious artichoke, it's worth the effort.
In the San Jose women's submission wrestling circle, Olivia is good friends with the eternal super star Isamar and fortunately brought along a young fresh faced new wrestler named Poppy (See fciwomenswrestling.com, August 29, 2013, Poppy Submission Wrestler).
After the shoot, as is our group's custom, we always treat the competitors to a sit down lunch. Part of the cultural shift that Female Competition International is trying to influence is that women's submission wrestling should evolve into a product that corporations would desire to sponsor and that those who produce matches should view the finished wrestling event in a business manner, complete with an enjoyable but strictly business sit down lunch at a nice restaurant.
Too often my previous experience in the women's submission world is that there was a veiled courtesan approach where the competitors would have a mixer or social with the male customers, sharing drinks and engaging in flirtations with the hope of securing a session where they are paid to erotically wrestle in a private setting.
Our view is that women's submission wrestling will eventually be viewed as a real sport so to speak like women's tennis, gymnastics, volleyball, swimming, lacrosse, soccer and other female competitions where male customers may pay to enjoy a women's wrestling event and it's clear sex appeal but leave any notions of post erotic contact at the door to exist only in the fantasy realm.
On a typically clear, calm sunny San Jose day, Olivia, Poppy and I enjoyed a tasty meal at a Japanese restaurant.
Female Competition International, fciwomenswrestling.com loves participating in and shooting wrestling matches in the sunny San Jose area (see fciwomenswrestling.com January 19, 2014, Women's Wrestling San Jose). A group that is doing a great job promoting San Jose is Team San Jose.
San Jose Performing_fountains
Team San Jose promotes San Jose as a destination to stimulate economic development.
Team San Jose is an innovative partnership unifying the San Jose Convention and Visitors Bureau, hotels, arts, labor and venues to deliver an exceptional visitor experience and serve as the gateway to San Jose as a destination. Their company manages the San Jose Convention Center and Arts and Entertainment venues including the California Theatre, the Center for the Performing Arts, Montgomery Theater, Parkside Hall, City National Civic and South Hall.
Team San Jose Values:
• We empower leaders in the Arts, Business, Labor, and Hotel communities to work together.
• We are dedicated to an open and honest dialogue among diverse partners.
• We are devoted to making San Jose a desirable destination for local, national and international visitors.
• We are committed to fiscal responsibility and accountability to the customer.
• We are dedicated to providing a unique and compelling customer experience.
An important information site sanjoseca.gov asks the question, did you know that San José has been ranked one of the fittest and most active cities in the U.S.? This may come as no surprise since San Jose has 82 tennis courts and 43 sports fields, including eight lighted fields. Even better is the fact that you can reserve these sports fields for your sponsored teams, leagues or organized play.
FCI has found San Jose to be a great sports town, home to the professional soccer team; the San Jose Earthquakes, a minor league baseball team; the San Jose Giants, arena league football; the San Jose SabreCats and more.
We found this group to be a fun addition as well.
They are also home to the Silicon Valley Roller Girls. When you think of roller derby, visions of professional wrestling on skates might come to mind complete with villains, over the top theatrics and fake results. That is not case here. It's very real and legit. As far as the excessive fighting once associated with the infamous exhibitions of the past here is what the group has to say about fighting.
"Like most contact sports, fighting is discouraged. Any fighting could lead to expulsion from the game and disciplinary action from the league".
Silicon Valley Roller Girls is a member league to the Women's Flat Track Derby Association (WFTDA) and choose to skate on a flat track. Banked tracks in modern roller derby, as popularized by the derby revival in Austin, Texas, are very expensive for today's skater-owned, skater-operated leagues. Flat track is a much more accessible and popular choice for derby leagues nationwide.
Fascinating!
Now back to Olivia.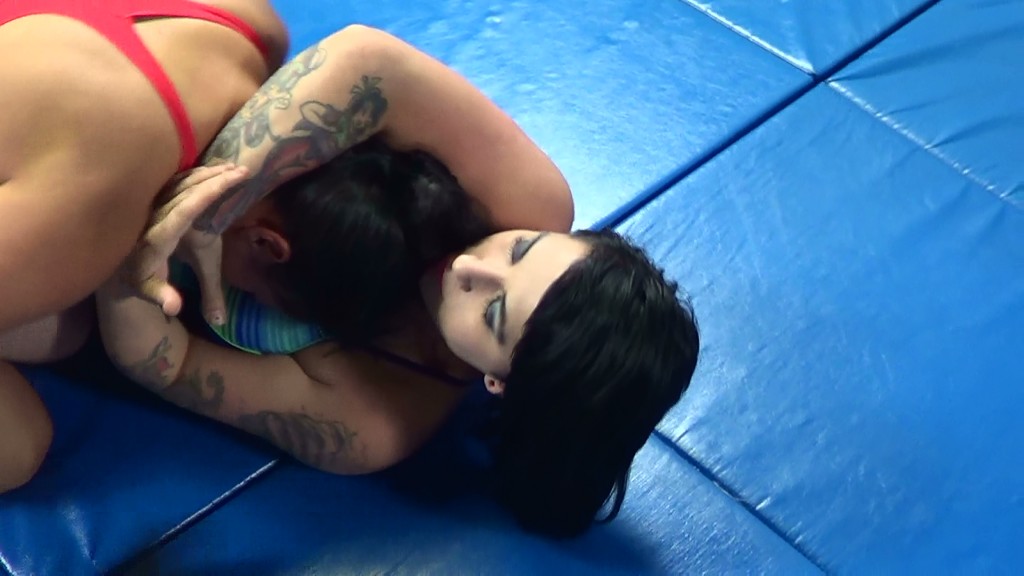 One of the things I found out that day was that Olivia is a mother and professional hair stylist. We spoke of many subjects and the time easily slipped away into early evening. All said and done, it was a great day.
The following is part of an exclusive interview with Olivia for fciwomenswrestling.com.

FCI: What was your introduction into the women's submission wrestling world?
Olivia: I wrestled with a private company for about seven years.
FCI: I thought you were new to the scene. That's quite a bit of time.
Olivia: Yes, I did take a little hiatus, which I've done before but I always come back.
FCI: In researching your matches I notice that you are improving and winning more matches. Do you think that's simply a result of repetition or are you doing something different to enhance your skills?
Olivia: With each match I try and learn something new from it and gain more skills that I try and apply to the next match.
FCI: Today you are going to go up against a superstar wrestler in Isamar. What's your strategy going to be against what could be considered a superior opponent?
Olivia: (smiling). I've been wanting to wrestle her for some time. I've always admired her and have a lot of respect for her. We have wrestled before but it's been awhile. Today, I'm in it to win it!
Working with Olivia that day convinced me and I'm certain all involved that she is a star on the rise. Fciwomenswrestling.com is already scheduled to work with her again so please stay tuned.
At end of day I would follow Poppy and Olivia behind Poppy's car as they guided me back to the most efficient way to hit the freeway. Beautiful weather, competitive women's wrestling, great food and a scenic drive; it's fantastic when reality is far more rewarding and satisfying than the pre-event dream.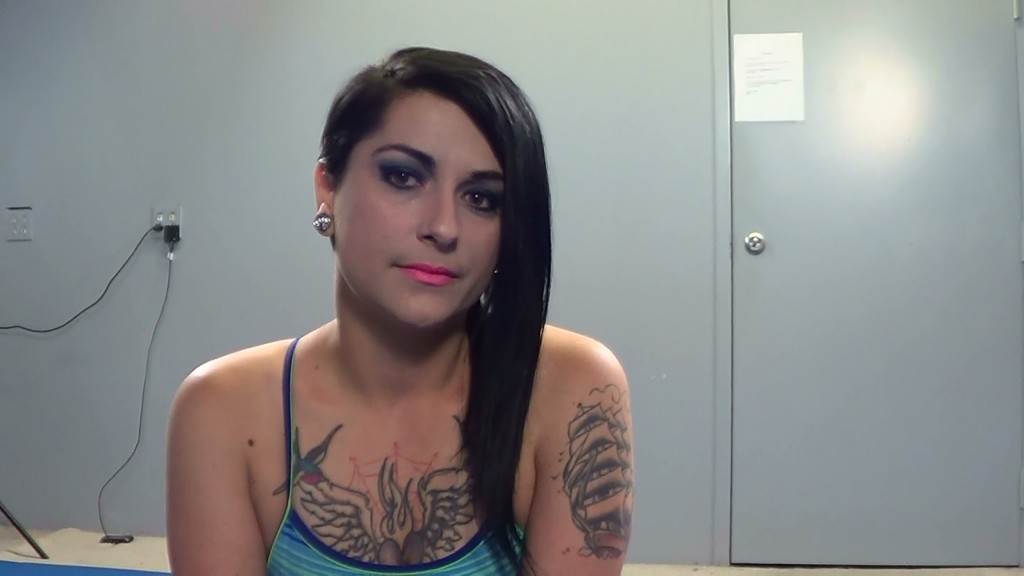 ~ ~ ~
[alert_yellow] Sources: Female Competition International, fciwomenswrestling.com, brainyquote.com, svrollergirls.com, sanjose.org, sanjoseca.gov, Olivia's photos copyright fciwomenswrestling.com, San Jose photo's thanks to Wikimedia Commons, Roller Derby photo credit svrollergirls.com website, [/alert_yellow]