MMA Star Holly Holm, Is It Time For Kicking And Screaming?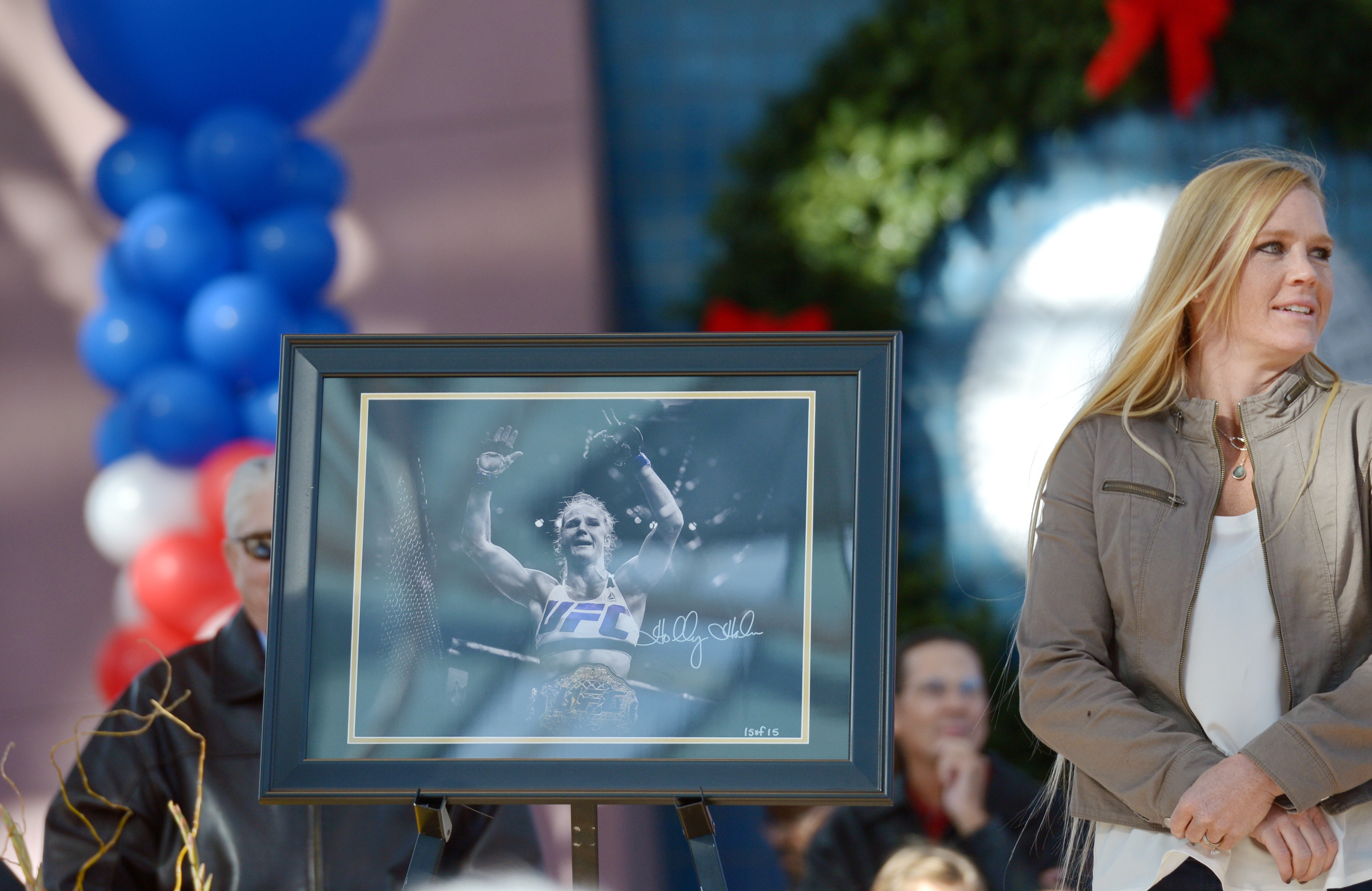 December 10, 2021,
Eric Dickerson was arguably one of the greatest running backs in Los Angeles Rams NFL football history.
One day he met an even greater running back and legend in the Chicago Bear's future Hall of Famer, Walter Payton.
A then newer and younger Eric Dickerson approached him and words to the effect reminisced, "I put out my hand and said, 'I'm Eric Dickerson'. The great Walter Payton then said, 'I know who you are'."
If you are Eric Dickerson, that is something that you will never forget.
Holy Holms in currently a top ranked MMA fighter.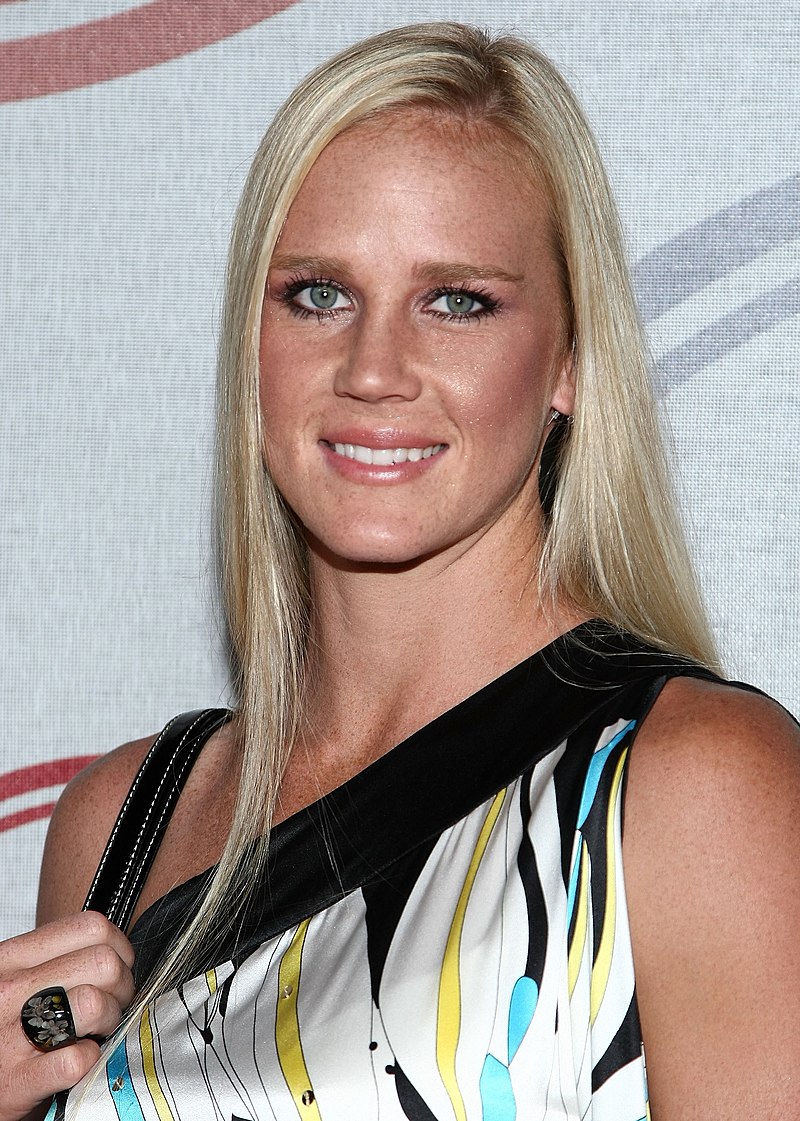 We've all heard of her.
We all know who she is.
How can you not?
Here is a tale of the tape.
Holly competes in the Ultimate Fighting Championship.
She is the former UFC Women's Bantamweight Champion, and a former professional boxer and kickboxer.
She was a multiple-time world champion in boxing, defending her titles 18 times in three weight classes, and a two-time Ring magazine fighter of the year (2005, 2006).
She is ranked by BoxRec as the best female professional boxer of all time. She has the notable distinction of being the first (and currently only) fighter to hold a world boxing title and a UFC title.
Previously she defeated a then undefeated Rhonda Rousey and turned the female MMA world upside down and sideways. This fight is generally considered to be one of the biggest upsets in combat sports history.
It wasn't just that she won. It was how she won with two rounds of devastation.
Talk about a ball of confusion.
After that shocking victory, Holly Holm surged to prominence but according to bloodyelbow.com, "Since making her mark in the UFC by knocking out Ronda Rousey to win the bantamweight title, Holm has gone 2-4 in her last six."
There has been a recent upswing.
On January 18, 2020, Holly defeated Raquel Pennington and later, on October 4, 2020, she took out Irene Aldana by unanimous decision.
Nothing much since.
Hearing about her is one thing. Watching her compete is clearly another. She is an absolute vivacious winner. In pre-match introductions she moves around so much that she makes Mick Jagger's movements look like a slow motion prance.
The challenge with achieving that type of notoriety is that it is incredibly hard to keep it up.
Even harder to keep up with it.
Especially as you pass the 30 years of age mark.
As of this December 3, 2021 writing, Holly is 40.
After defeating the previously undefeatable Rhonda Rousey, Holly possessed a pristine 10-0 record.
Now she stands at 14-5.
Yes, you can do the math but for emphasis, won 4, lost 5, in her last nine matches.
When you look at her record and how she initially carved out those impressive ten victories, most were in 3 or 2 rounds. Only one victory was in a five rounder back in 2014 against Juliana Werner.
Her other four 5 round matches all resulted in losses.
Ms. Holm employs frequent lateral movements while working stiff jabs to an opponent's head.
When standing within the pocket, she often waits to attack with counter-strikes, usually employing a straight left hand. She is also known for her punching combinations, typically done while her opponents are against the cage.
So when we had an opportunity to view her match against Valentina Shevchenko, we had the distinct feeling there was a little desperation creeping into Holly's game.
This seemed like a must win deal and it was indeed winnable but as the two began to engage, even though Holly got off to a good start, soon we sensed that Valentina was not only the more skilled fighter but a more powerful one as she went on to defeat Holly in a match that we felt the score did not accurately reflect.
It really wasn't that close.
In some ways Valentina dominated.
Make that most ways.
At 40, what other sports could you compete in at a very high level?
Tom Brady, now 44, recently won a Super Bowl.
There may be longevity at the quarterback position.
The average age of an NFL player in 2020 is 25.8.
The average age of a player in the NBA is twenty six.
The average age of a Major League Baseball player is 28.91 years.
We sense you get the point.
"There's a little bit of pain in every transition, but we can't let that stop us from making it. If we did, we'd never make any progress at all."…Phil Schiller
Still, Holly hangs in there and receives big fights.
As recent as October 6, 2021 ESPN reported, "Former UFC bantamweight champion Holly Holm has been forced to withdraw from a featherweight main event against Norma Dumont on Oct. 16, sources told ESPN on Wednesday. The UFC is working on finalizing 26-year-old Aspen Ladd as a replacement."
Almost.
We should appreciate that. We love watching Holly compete. At a high level.
So do people world over. Against Rhonda, how many people attended?
It was UFC 193 (November 15, 2015), in front of a record-breaking crowd for a UFC event (56,215 people) in Melbourne, Australia.
Holly was born in Albuquerque, New Mexico, and grew up in nearby Bosque Farms, the youngest of three children.
We've traveled through Albuquerque more than once. It is a very unique city located in a naturally majestic region.
Albuquerque also known locally as Duke City and abbreviated as ABQ, is the most populous city in New Mexico.
It is the 32nd-most populous city in the United States, with a census-estimated population of 558,545 in 2017.
It is the principal city of the Albuquerque metropolitan area, which has 915,927 residents as of July 2018.
What we remember most about the area was the orange and brown sunsets that felt so spiritual.
Evenings were so quiet.
The world travelers at Lonely Planet have seen myriads of sunsets, spiritual and otherwise. Regarding Albuquerque they smile, "Albuquerque has plenty of understated appeal beneath its gritty urban facade. Good hiking and mountain-biking trails abound just outside of town, while the city's modern museums explore Pueblo culture, New Mexican art and space. Take the time to let your engine cool as you take a walk among the desert petroglyphs or order up a plate of red chile enchiladas and a local beer."
Her father, Roger, is a Church of Christ preacher so it seems fitting that as a fighter, Holly would later be nicknamed "The Preacher's Daughter".
Preach on.
Consistent with the new world of female sports where girls compete in a variety of sports at a very young age, Holly played soccer and participated in gymnastics, swimming and diving.
Yes, Holly is very athletically inclined and given any upcoming fight against Amanda Nunes, she will need to call upon every fiber of strength, stamina, smarts and pure power that she can muster.
Especially in the first round.
Most of Amanda's opponents don't last past it.
Amanda Nunes has also heard of Holly Holm.
Before their fight, she couldn't stop talking about her. She also wants to beat her up. Nothing personal. Or is it?
In speaking with the informative MMA team at bloodyelbow.com she expressed, "Well, she is not a champion anymore," Nunes said. "Of course she has holes in her game. Miesha Tate exposed her a lot. Valentina Shevchenko exposed her a lot. She has a bunch of fights even that she won that she have a lot of holes."
Holy cow. Preach on.
That's very direct.
The fight took place on July 6, 2019. We looked forward to it.
It didn't last. Being very consistent, Amanda took her out in the first round.
Did it seem like a must win for Holly? We can hear the coyotes howling outside of Albuquerque.
We think so. Otherwise it could lead to something that most of us absolutely dread as we get older.
Transitions.
Her contemporary Nicco Montano, at age 32, recently found that out.
You have a choice as you age. You can take steps to make your transition less painful or your transition out will be forced upon you. Often painfully.
Nicco Montaño is an American mixed martial artist who competed in the flyweight division of the Ultimate Fighting Championship. She was the inaugural UFC Women's Flyweight Champion.
On August 4, 2021, as reported at espn.com, "Nicco Montaño was released by the UFC this week, officials confirmed with ESPN on Wednesday. The decision comes on the heels of Montaño missing weight last Friday by 7 pounds, forcing the cancellation of her scheduled fight with Wu Yanan on the UFC Fight Night."
Will Nicco get another chance? Time will tell. It always does.
A transition into a new life that we didn't expect or want. Especially if we loved our old one that we can no longer stay in, where over 52,000 people in one place once screamed for us, as it pushes us out while we are kicking and screaming.
Holly has done her share of kicking. One was right to Rhonda Rousey's head that floored her.
Her opponents have done their share of screaming.
Time has a way of making 40 year old fighters do both.
~ ~ ~
OPENING PHOTO femcompetitor.com, fciwomenswrestling.com, grapplingstars.com article Editorial-credit-Carlos-Montoya-Shutterstock.com-photo-
https://www.phillyvoice.com/ranking-nfl-teams-age-after-53-man-cutdowns-2020-edition-falcons-jaguars-eagles/
https://www.espn.com/mma/story/_/id/31957851/nicco-montano-first-women-flyweight-champion-released-ufc
https://en.wikipedia.org/wiki/Nicco_Monta%C3%B1o
https://twitter.com/HollyHolm?ref_src=twsrc%5Egoogle%7Ctwcamp%5Eserp%7Ctwgr%5Eauthor
https://en.wikipedia.org/wiki/Eric_Dickerson
https://en.wikipedia.org/wiki/Holly_Holm
https://www.bloodyelbow.com/2019/6/27/18761428/ufc-239-amanda-nunes-opponent-holly-holm-holes-game-mma-news
https://www.espn.com/mma/story/_/id/32351703/holly-holm-ufc-fight-night-main-event-norma-dumont-aspen-ladd-likely-replacement-sources-say
https://en.wikipedia.org/wiki/Albuquerque,_New_Mexico
https://www.bloodyelbow.com/2019/6/27/18761428/ufc-239-amanda-nunes-opponent-holly-holm-holes-game-mma-news 
https://www.lonelyplanet.com/usa/southwest/albuquerque
https://www.brainyquote.com/topics/transition