MISSOURI VALLEY LADY VIKINGS RELOAD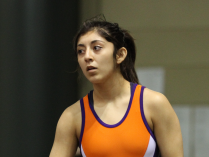 RELOADED – REINVIGORATED – READY TO WIN BIG!
Do you enjoy a challenge? Do you want to take your wrestling abilities to the highest level? Wrestling at an elite level requires self-sacrifice and rigorous training. If you strive for greatness on the wrestling mat and in the classroom, Missouri Valley may be the right choice for you.
Female high school wrestlers who compete at a high level and hope to wrestle with The Missouri Valley Lady Vikings, one of the top programs in the nation, welcome to the culture. There certainly have been large shoes to fill by departed alumni. Former MV College wrestlers Clarissa Chun and Leigh Jaynes competed at the Fila World Championships in 2012, representing The United States at the competition. Led by Coach Carl Murphree, Missouri Valley finished an impressive sixth in the WCWA rankings, January 26, 2013.
Coach Carl Murphree came to Missouri Valley College in 2003 from Napa, Calif. Mr. Murphree has coached wrestling for 28 years—eight at the collegiate level. Coach Murphree led MVC to National titles in 2004 and 2005. In 2005 Mr. Murphree was named WCWA Coach of the Year. Coach Murphree was instrumental in establishing high school girls wrestling in California, and hosted the first NHSF sanctioned tournament in the United States—The Napa Valley Girls Classic. For his efforts Murphree was inducted into the California Women's Wrestling Hall of Fame in 2006.
The WCWA announced their 2012 – 2013 WCWA Scholar Athletes. To be eligible for this honor student – athletes must be nominated by their institution's head coach, must have a minimum cumulative grade point average of 3.5 on a 4.0 scale and must have achieved junior academic status in the classroom. Three Lady Vikings received scholar athlete recognition, Brittany Faust (Jr., Saxonburg, Mo.), Brittany Jones (Jr., Grapevine, Texas) and Samantha Lovelace (Jr., South Prairie, Wash.
Missouri Valley College is known for its dynamic, richly diverse, and friendly educational environment. The school offers many opportunities to grow in mind, body, and spirit. The faculty is personally and professionally engaged in preparing thoughtful citizens for meaningful lives and careers. Grounded in the liberal arts, undergraduate and graduate studies empower students to master interdisciplinary skills needed to succeed in a knowledge-based global society. Stewardship of resources will sustain innovative teaching to stimulate critical thinking, creativity, aesthetic appreciation, and the joys of lifelong learning.
Located in the town of Marshall, America's heartland, Missouri Valley College today is a vibrant center of higher learning with growing national and global outreach, a destination for students from all fifty states and some forty foreign countries. Its beginnings can be traced to 1726, when the Reverend William Tennant opened the Log College in Pennsylvania with plans to found dozens of other Presbyterian colleges along the way as pioneers settled the continent. Among them now are Princeton, Davidson, Westminster, and Missouri Valley College.
The core idea of basing a college on spiritual values, intellectual inquiry, family love, and service for people with special needs took root in western Missouri in 1840 when Archibald W. Ridings organized a college on his own farm so that his wife's young brother, handicapped in a hunting accident, could nevertheless receive a thorough education in the liberal arts.
Today's campus atmosphere is described as a nice, quiet college where you can get work done and the professors are very involved in what you do. One reviewer stated it's completely safe and campus police are always there when you need them. Another added, "Some of the instructors at this school are among the most patient and intelligent people I've ever studied under." When researching information and viewing photos of students, faculty and alumni, FCI was extremely impressed with the sincere warmth and camaraderie that flows through out.
As an example, if you want to see a fantastic website that houses great photos of Lady Viking matches, three of which are pictured above, please visit Laura Lewis Sports Photography. She says it best in her own words. "I do believe that being involved in a sport is good for young people and I try to capture the positive moments of their collegiate sports years. I am "just a mom with a camera" and having a blast!"
The town of Marshall has many attractions. With a wonderful array of musical styles, the Marshall Community Chorus celebrates concerts around the year for a variety of special occasions. In the Christmas and Easter seasons, they team with the Marshall Philharmonic Orchestra for community concerts. Marshall is a small town with a population of 13,065, located centrally in the heart of Missouri between Kansas City and St. Louis. This farming community is steeped in a rich history complete with amazing, charming Victorian homes. The greatest asset of the town lies within the people who call Marshall home. Marshall is a small town with a lot of character, a big heart and surging women's wrestling program. A recent view of the Missouri Valley 2012-2013 roster on the college website presents 25 competitors with only three graduating seniors. Can they challenge for the top spot in January of 2014? Reloaded, reinvigorated and ready to charge, they are clearly one of the frontrunners.
~ ~ ~
Sources: Laura Lewis Sports Photography, Wikipedia, Missouri Valley College Main website and Athletics Department, The Mat.Com, Cappex.com College Search Made Simple, Marshall Chamber of commerce, City of Marshall