Another competitor would have given up a long time ago.
The DWW Hungarian super star Viktoria M. had Maria trapped in a body scissors that clearly lasted over 2 minutes during their well-attended international match. Maria was in excruciating pain but she refused to give up. Earlier she had Maria pinned in an extensive smother. Maria endured that too.
That was Maria's trademark.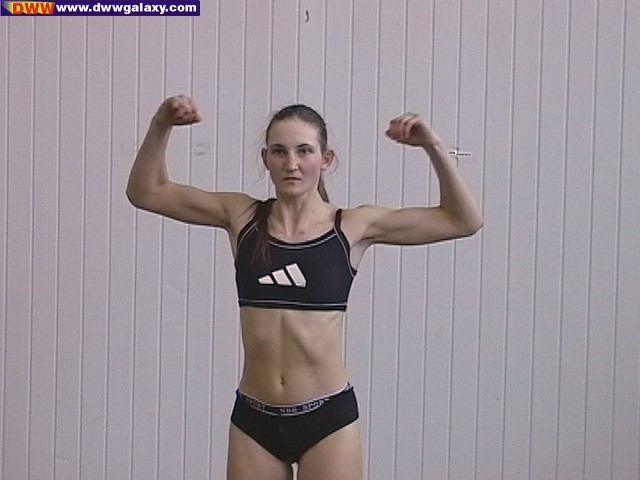 Her endurance during a match was legend. Her ability to absorb pain widely respected. Her training as a Black Sea Amazon paid off.
During her campaigns, Maria wrestled Alina, Nancy, Lilya, Edita, Valentina, Viktoria, Svetlana, Lessja, Reni and, Bea S among others.
Her reviews were always filled with admiration and excitement. Here are a few.
Maria was only 18 at the time of this match.
"After an approximately 3 minutes long warm up and muscle firework of beautiful kick boxer Maria, this submission wrestling match starts furiously. Once again we must warn you that this wrestling match is for the admirers of female athletes and of sports submission wrestling only. Once again, even the jiu jitsu techniques were allowed and used in this fight. This is one of the finest and most intense submission wrestling matches in our long line of sporting female wrestling matches. Experts will be astonished by the strength and skills and braveness of these true female athletes."
Maria could wrestle as well as box. She not only competed in the ring and on the mats but the beach as well. She took on all comers including Lilya. "Two pretty women wrestle each other on a sandy beach in front of their cheering girlfriends. This is a short but very intense submissions wrestling match between two beautiful, fit and athletic woman who both love to fight for real and who don't hold back anything at all. This is real wrestling on a sunny beach and we bet that you'd love being there, too. Simply said, you'll have to be at the right time at the right place. If you haven't been there, you may still watch that video to enjoy their real fight."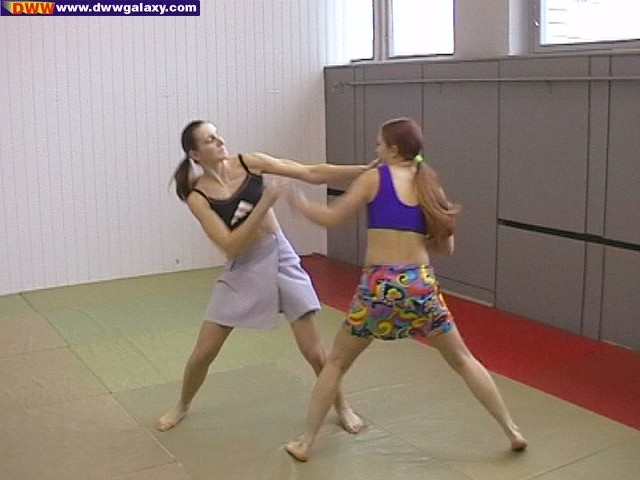 What I enjoyed when reviewing Maria's matches is that she virtually never lost to someone when she was the frontrunner or had a size advantage on them as she did when she faced the sexy blonde Valentina on the grass. This was Maria's match to win and she could have much easier if she was better at closing. So often she had Valentina in a position of weakness to exact a submission and she let her escape.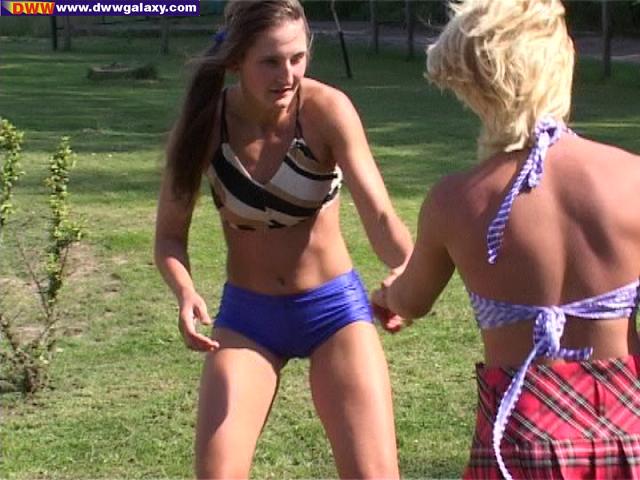 At least the two girls had fun as they rolled near a large mound of cut grass and when they rolled into it, laughter spilled out from the onlookers and competitors alike.
Sporting a sexy green outfit, Maria engaged DWW star Edita in front of an audience inside their famous padded studio with the blue mats. It was one tough struggle where Maria was constantly enduring Edita's lethal body scissors. Though very competitive, the two beauties show good sportsmanship, shaking hands before each re-engagement.
Maria is a tough fighter from Ukraine.
It's a country in the news given its concerns with Russia but it certainly has a cultural beauty and strong history.
Ukraine has long been a global breadbasket because of its extensive, fertile farmlands, and it remains one of the world's largest grain exporters. The diversified economy of Ukraine includes a large heavy industry sector, particularly in aerospace and industrial equipment.
Mutual customs are shared among the cultures of Russia, Ukraine, Poland, Belarus, Ukrainian Cossacks and Turkic peoples of Central Asia. Ukrainian customs are heavily influenced by the Eastern Orthodox Church and traditions from Slavic mythology.
When entering a region in many ways is hidden from the world, it's nice to have a guide. The sound cultural information site ukraine.com has agreed to help us navigate Ukraine's cultural landscape.
"Since Ukraine is geographically located between Europe and Asia, much of its culture exhibits both Eastern and Western influences. Today, the country is somewhat culturally divided with the western regions bearing a stronger European influence and the eastern regions showing a strong Russian influence.
Ukrainian culture is richly embedded in ancient traditions. Even today many historical songs such as the Dumy and the playing of the Kobza – which was popular during the 16th century – is still enjoyed. However, music has also come a long way since then and Polissia magic pop and Kolomiya rap have gained popularity. The culture scene has also seen a resurgence of Cossack songs and song poetry. There are also a number of cultural festivals such as the Tavriya Games which are most popular.
The Ukrainian people also enjoy their culture in the form of traditional dances and dance games. Many of these originated in rural Cossack villages and some of the oldest dances can be traced back to ancient cults. Traditionally many of these dances were performed only by males or females, but today both sexes sometimes mix and enjoy the dance together. Appreciation for these dances is usually kept alive by Ukrainian dance troupes.
Many people do not know that the tradition of the Easter egg had its beginnings in the Ukraine. In times gone by (and still sometimes today) these eggs were drawn on with wax to create patterns. Dye was then added to give the eggs their delightful colors – the dye not affecting the wax coated parts of the egg. Once the whole egg was dyed, the wax was removed leaving only the colorful pattern. The tradition is thousands of years old and predates the arrival of Christianity in the country. While Christian interpretations of this practice abound, many Ukrainians still believe that the egg has immense power and releases the earth from the restraints of winter. Even the designs have meaning and the eggs are usually given as gifts or used as decorations.
Ukrainians celebrate a number of holidays, namely Christmas, Easter, Whitsuntide, New Years and Ivana Kupala (St John's Eve)."
The world of competitive women' wrestling continues to educate and expand our minds.
Maria's wrestling career was an intense, painful and exciting demonstration of endurance and triumph. With her long flowing hair, sexy athletic 5ft, 7 inch body and boundless talent, Maria proved that female grappling is ideal for the tough and beautiful.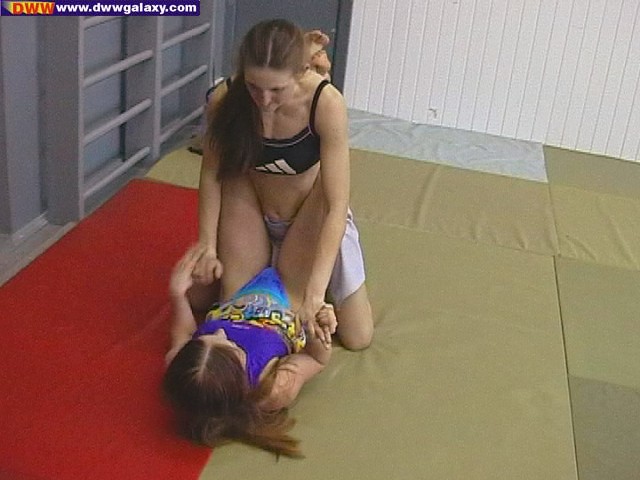 ~ ~ ~
Some may find other women's wrestling sites erotic in nature. If you are offended by depictions of women wrestling in erotic situations, please exercise caution in visiting women's wrestling sites.
Femcompetitor.com subscribes to fciwomenswrestling.com news source, no affiliation.
Sources: brainyquote.com, Wikipedia, fciwomenswrestling.com, fciwomenswrestling2.com, FCI Elite Competitor, femcompetitor.com, WB270.com, dwwgalaxy.com, photos thank you Wikimedia Commons.
http://www.ukraine.com/culture/