Lucrecia vs Jane Grappling
Prague is a fantastic city for many life adventures and enjoying a great meal and a movie in the same day is unbeatable.
If you are American and want some good home cooking, a restaurant in Prague that leaps in front of us with a finger licking good cuisine is Bad Jeff's Barbeque.
Doesn't that sound like a great name for a Prague restaurant?
Let's meet this Bad Boy.
The reviews are mouth-watering.
"My family barbecued a lot; good barbecue is more complicated than you think."……. Manish Dayal 
Here are two found at foursquare.com. "Everything is delicious, especially ribs and pork yum!"
And the other. "We had a pulled pork sandwich, it was juicy and delicious."
Jeff has opened 16 restaurants for other owners.
Jeff's lifelong dream of having a place of his own is finally a reality. In October 2014, he opens Bad Jeff's Barbeque, an American-style BBQ restaurant that pulls together everything he's learned over the course of his career.
At their site badjeff.cz, Jeff greets us in a very down home way. "Established in 2014, Bad Jeff's Barbeque brings something new to the Vinohrady neighborhood's thriving restaurant scene: American-style BBQ with a twist.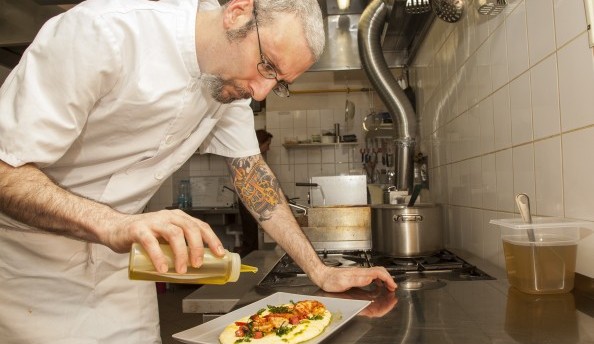 fciwomenswrestling.com article, badjeffs.cz photo    
Forget pigs-on-spits and blackened meat, though: Bad Jeff's Barbeque offers a high-quality dining experience from the front door to the back, combining fantastic food and sensational service in a style the man himself dubs "dirty casual".
Jefferey "Bad Jeff" Cohen certainly knows a thing or two about food. Bad Jeff's Barbeque is the 16th restaurant he's opened, in a career that's taken in world-renowned kitchens on either side of the Atlantic, but it's the first he's owned, and he's determined to make it something special.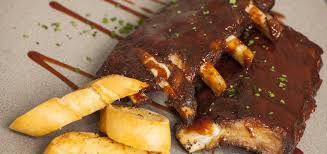 fciwomenswrestling.com article, badjeffs.cz photo
Signature dishes include Bad Jeff's mighty, mouth-watering ribs, plus a range of other juicy and delicious American barbeque classics prepared to perfection under the owner's watchful eye.
Jeff's award-winning gourmet burger (named Prague's best on numerous occasions) will also put in an appearance, but on a strictly "first come, first served" basis, limited to 25 covers per day. Please form an orderly line 😉
And Bad Jeff's beef jerky, the flavor-filled meat treat that became a Prague cult, will also be available again.
If you're new to barbeque, we recommend one of our combo platters, which let you sample a selection of mouth-watering meats by the gram, along with sides.
Despite the name, there's more to Bad Jeff's Barbeque than just barbeque, of course.
fciwomenswrestling.com article, badjeffs.cz photo
We also offer excellent cocktails, including our signature Smoked Bloody Mary and a little something we call the Anti-Margarita (made with grapefruit soda). We've also selected a range of excellent wines for you, and, this being the Czech Republic, having cold beer from Zemský brewery on tap is a must.
Our vegetarian friends will also be well catered for, with a range of veggie options that go beyond the usual leaves and cheese.
We're also planning some exciting events and, for the future, a catering service, all to Bad Jeff's very particular high standards.
In short, we offer big city quality in a friendly, neighborhood setting."
Jeff, that sounds very tasty. We love it. We love it better with a movie.
Here it is.
By Zweig on Mar 20, 2016 02:14 am
First ever Fight Pulse star meets the rising star! Our 4th Head-to-Head Contest pits the winner of HH-01, Lucrecia (stats), against the winner of HH-02, Jane (stats), in order to determine the better H2H competitor.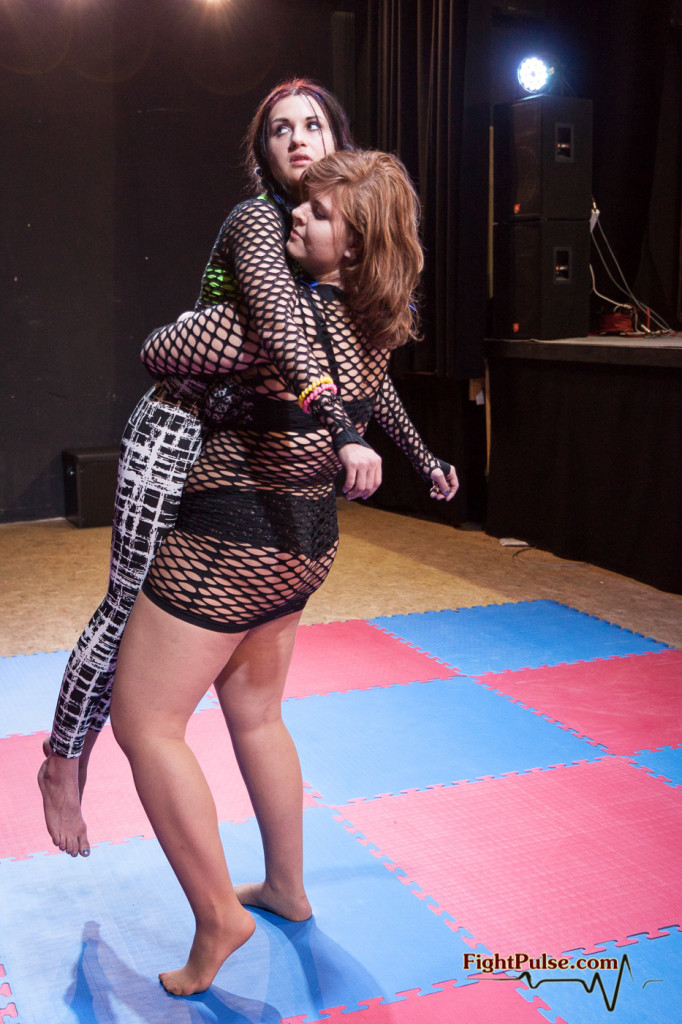 fciwomenswrestling.com article, fightpulse.com photo
H2H is a concept we introduced last year, which has since grown increasingly popular with our subscribers. It consists of a series of challenges that test two competitors against each other. As usual, for easy reference, below we present the outline and guidelines of H2H contests.
H2H contest consists of the following 11 challenges:
#1 Fingerlock wrestling – opponents lock their hands in a test of strength and try to get each other to either submit or get down on at least one knee
#2 Arm-wrestling – laying down on the mats; once with each arm (possibility of a tie)
#3 Lifting – the contestant who lifts their opponent and keeps them from touching the mats for the longest period of time wins this challenge; each chooses their lift type
#4 Push-ups – the contestants do push-ups on referee's count, and the one who stops sooner loses the challenge
#5 Leg wrestling – once with each leg (possibility of a tie)
#6 Schoolgirl pin challenge – this challenge follows the basic outline of our schoolgirl pin challenge videos (FW-12, FW-16 & FW-23); in order to get a point the contestant has to pin their opponent's shoulders down to the count of ten within a one-minute period; each can choose their favorite type of sgpin
#7 Bodyscissors – the contestant who withstands her / his opponent's body scissors for the longest wins the point
#8 Front headscissors – the contestant who withstands her / his opponent's front headscissors for the longest wins the point
#9 Reverse headscissors – similar rules to above
#10 Figure-four headscissors – similar rules to above
#11 Reverse figure-four headscissors – similar rules to above
Logically, the winner of most of these challenges is declared to be the winner. The maximum possible score is 11-0. The minimum possible difference is 0, since the challenge can easily end up being a tie. This could happen if 1, 3 (quite possible) or more (improbable, but not impossible) of the above challenges end up being a tie. The three challenges that can easily end up with a tie, as noted above, are arm-wrestling, leg-wrestling and sgpin challenges, when each contestant wins one of the rounds. As to other challenges, they could theoretically end up with a tie as well, if the times are so close that we find it extremely difficult to determine the winner on the stopwatch or the computer screen.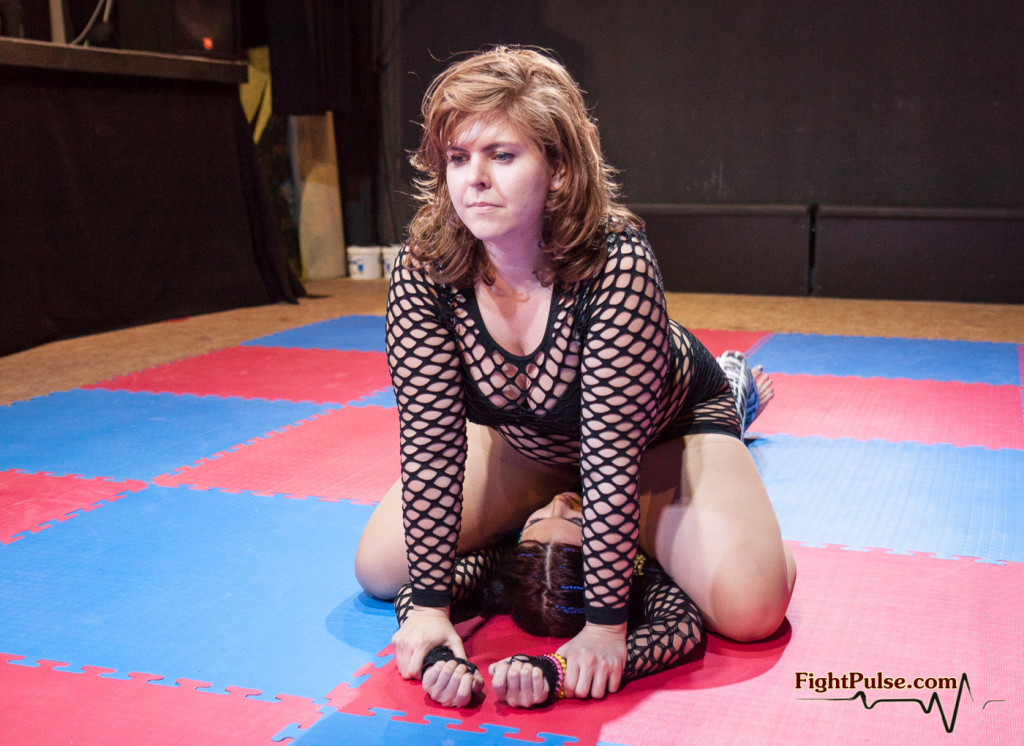 Video outline: introductory interviews, all the challenges listed above, victory pose, final interviews.
~ ~ ~
https://www.fightpulse.com/head-to-head/hh-04-lucrecia-vs-jane/
Sources: brainyquote.com, Wikipedia, fciwomenswrestling2.com, FCI Elite Competitor, photos thank you Wikimedia Commons.
https://foursquare.com/v/bad-jeffs-barbeque/5442cf09498e03294ce55184