Genetics can play a huge part in how attractive our body parts look.
So much thanks to our parents.
Sometimes though, mom and dad's code left us a little short, thin or not as physically beautiful as we would like to be.
Yes an opinion is like a nose and everyone has one, but some opinions can be very long.
Having said that, you are and can be how you view yourself in the mirror and dream into the future.
Feel your shoulders are too small? Visit that weight room.
Think your hips are too big? There are plenty of pathways to run around and vegan restaurants that embrace a variety in menus that sometimes you don't even know that you are eating vegetarian.
So when we watch these super sexy Lady Pro wrestlers enter into the wrestling arena, strutting their stuff, some girls display their package in such a way that is so extraordinary, so beyond the usual expectations that we have a hard time believing that they inherited that prize look naturally.
No offense mom and dad.
Jordynne Grace has to be one of the sexiest Indie wrestlers that has ever existed. When she walks into a wrestling room she has away of turning heads and captivating roaming eyes.
Our Indie star was born Patricia Forrest Parker and first began wrestling in Austin, Texas at 15 years old.
By age 17, she had wrestled in Mexico for Lucha Libre Femenilin Monterrey. Ms. Grace graduated from high school a year early, to relocate and pursue wrestling fully in St. Louis, Missouri.
We are so happy that she did.
Now that is a youth to remember.
Our Lone Star State rising star's major debut on the independent scene was on September 22, 2012 for MetroplexWrestling; where she wrestled a match won by Claudia.
The following year in 2013, she wrestled on a much larger schedule in promotions including Bad Boys Of Wrestling, IWA Mid-South, Lone Star Championship Wrestling, AAW Vanguard and Resistance Pro Wrestling among others.
She won her first title in Keystone Pro Wrestling when she won the KPW Vixen Championship on July18, 2015. Grace's first title defense was held on September 12, 2015 at the KPW Saturday Show.
Femcompetitor Magazine loved her so much and wrote about her.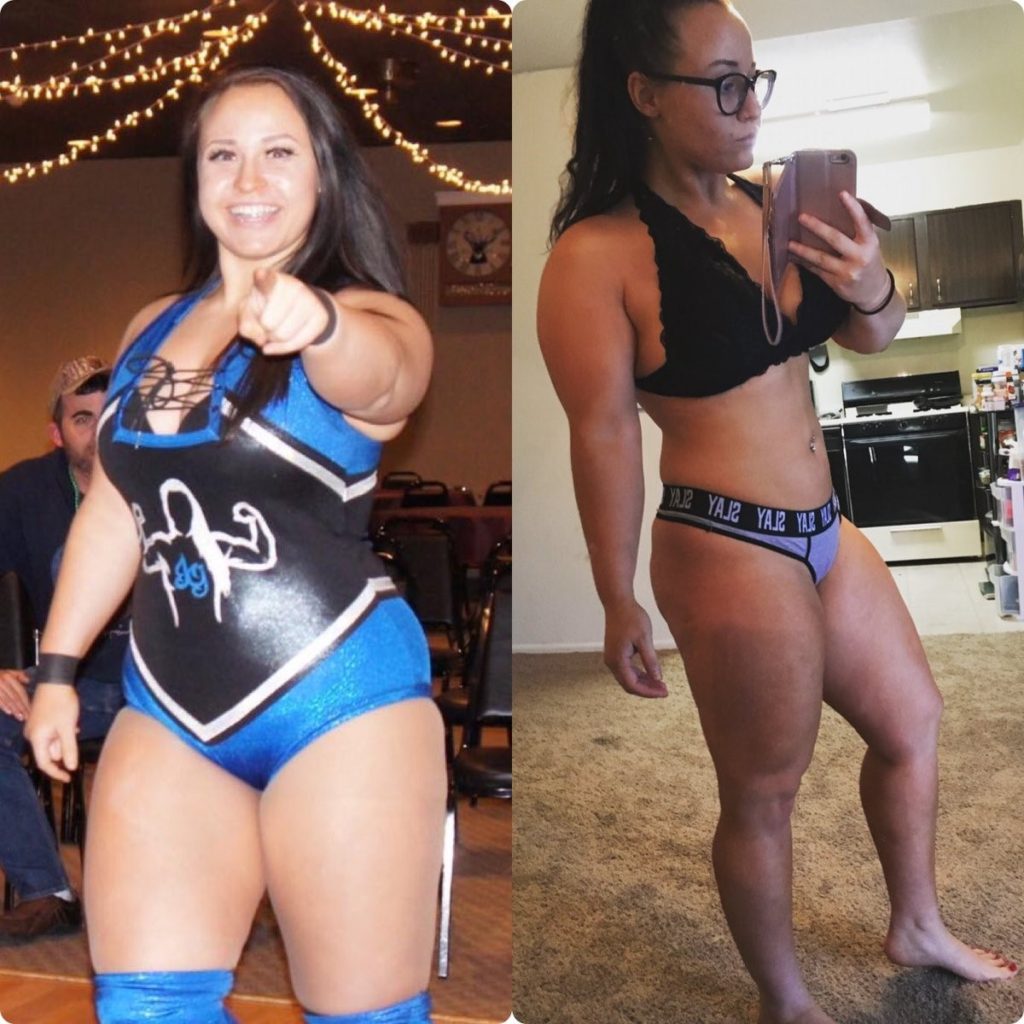 Watching now super star Jordynne Grace enter the ring we can't help but notice how large her thighs are.
They're huge. Sexy huge. Love to watch her dominate huge.
Now if you didn't notice those thighs, we wonder which match you are watching.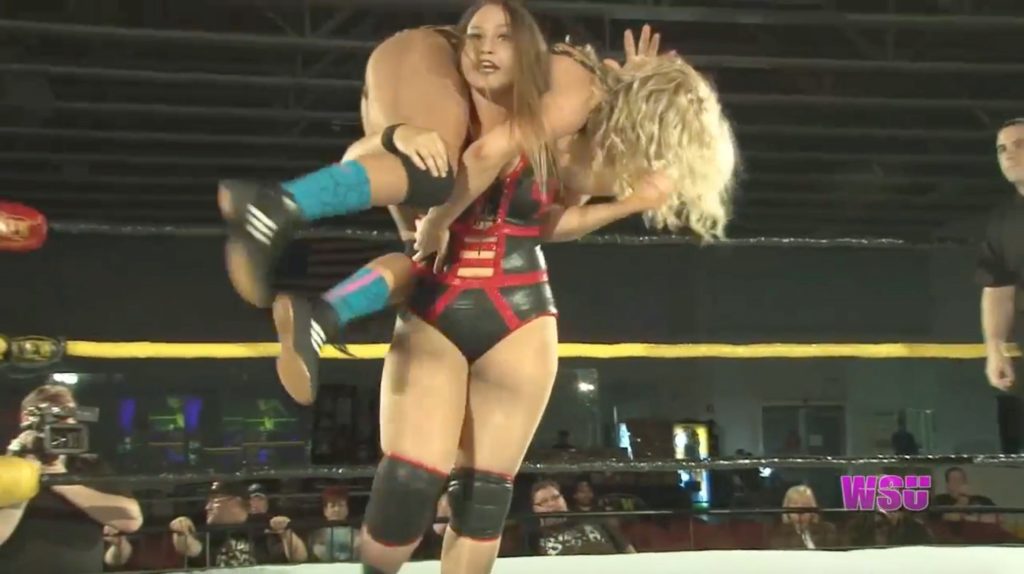 And you know what? Jordynne makes sure that you notice them because when she is introduced to the crowd, she does squats. During the match, she loves to lift her opponents over and across her broad feminine shoulders before plopping them down to the mats with a loud thud.
According to her Twitter page introduction, Jordynne is an avid weight trainer and states she can bench press approximately170 pounds and squat press 225 pounds.
Now that our friends is how you acquire some thighs to die for even if they didn't come naturally from mom and pop.
"When I was younger, my coach, Liang Chow, made all the decisions. I would go to the gym for practice, do exactly what Chow told me to do, go home, come back and start all over again. If Chow told me to do 50 squat jumps, I did 50 squat jumps."… Shawn Johnson


One of the fantastic aspects of falling in love with the female wrestling industry is that she has a gorgeous cousin in the Session Girl industry. In the Session Girl world, there are a number of girls who can squat press 225 pounds as well.
Another Southern girl at that.
Please meet Maggy who sessions out of Atlanta,Georgia.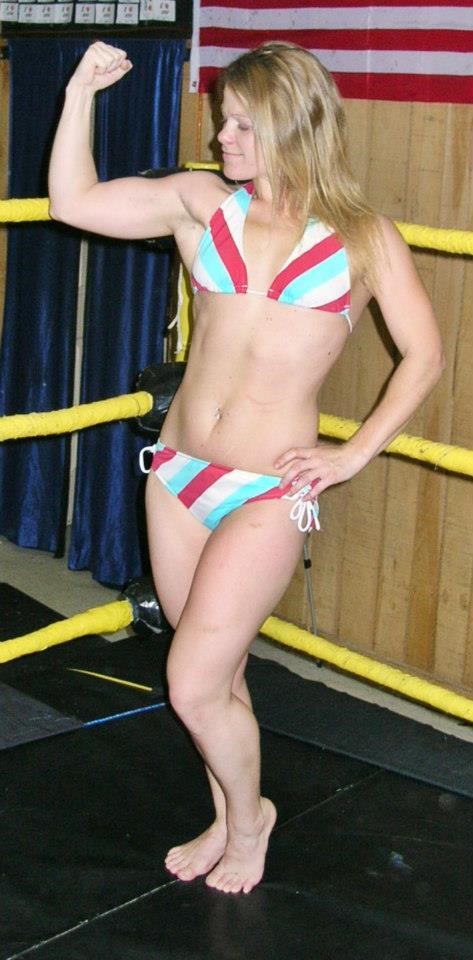 She smiles at her wb270.com profile, "Let me assure you my skills are better than average and improving daily. I am a very active person. I enjoy kayaking, rock climbing, playing pool. I also enjoy reading, writing, acting, singing, and dancing. I was active growing up.I was captain of the rifle/ pistol team (3x Jr. Olympian) and I did track where I threw shot put and discuss. I'm multi-lingual and converse with visiting clients better than most (French, Latin, Japanese very well; conversational Mandarin, Spanish, Italian and ASL)"
Wow. This beautiful girl continues to impress.
Why do we say that?
She can also leg press 500 pounds. She is definitely enhancing what mom and dad gave her and we love it.
So do her customers who have made memories with her. Here are two examples.
"Maggy was one of the best sessions I've ever had. We set up a "theoretically" semi-comp session – but after feeling her strength and skill, my competitive instincts took over, and I soon found myself giving full effort.
Not that it made much difference, as she proceeded to steamroll me with (what seemed like) ease. I've had many wrestling sessions,and never have I been so thoroughly dominated by a female as petite as Maggy.Triangles, scissors, smothers…she calmly & patiently maneuvered me into them all, and then turned up the pressure until I tapped…repeatedly. Maggie is surprisingly strong, deceptively cute, undeniably skilled, extremely intelligent and, above all, addictively fun."
Ouch. He mentioned scissors. We hope getting caught between those powerful thighs didn't hurt too much but hey, sometimes pain and pleasure are like boyfriend meeting girlfriend.
Here is one more.
"Although I had seen pictures of her, I was still taken aback at how gorgeous Maggy looks. She has nice blue eyes and has a very pretty smile. She was very polite and prompt while also ensuring that she understood everything I was looking for in the session. Her scissors and guillotines had me tapping over and over while she continuously taunted me. She displayed a vast array of wrestling holds and moves and I must say, this was one of my favorite sessions."
There we go. Those sexy scissors again. May we have another squeeze please?
If you would like for Maggy to be your main squeeze, you can email her at: MagPieWrestles@gmail.com
Sacrifice, hard work and dedication describes both of these girls.
We are entertained. We are impressed.
Whatever motivated them, it worked, because as we know, without those three ingredients applied to enhance your thighs far beyond what your mother and father gave you?
A Fem Competitor's efforts wouldn't mean squat.
~ ~ ~
http://prowrestling.wikia.com/wiki/Jordynne_Grace
https://www.wb270.com/ind/maggyOH.htm
https://www.brainyquote.com/topics/squat%20 
Tags:
Jordynne Grace
,
squats
,
strong
,
submission