Lady Pro Wrestler Kayla Rossi, Body Perfection, A Rising Star In The AEW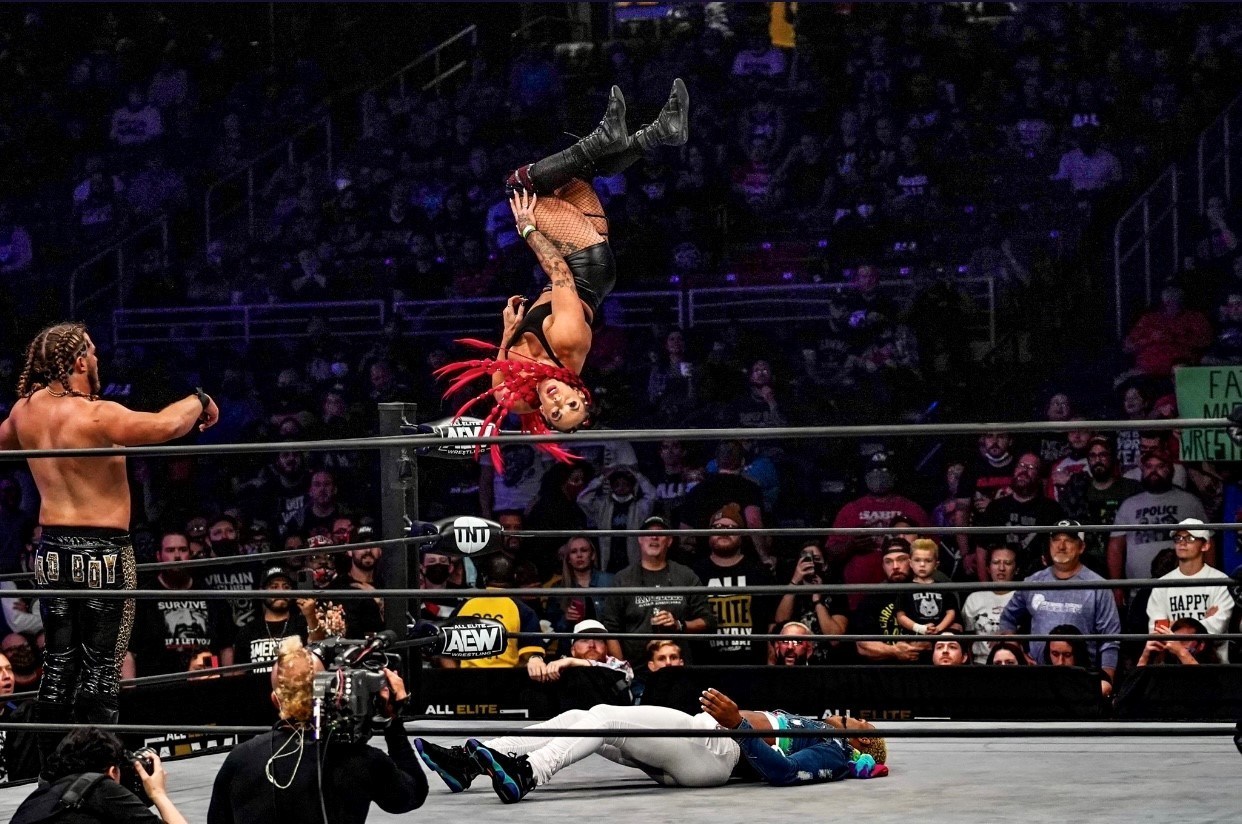 February 14, 2022,
Hard work in the gym does indeed pay off.
It is the separator between looking good and being in pretty good shape as opposed to being in phenomenal shape and a physical specimen.
A look close to perfection.
As professional wrestling companies are in an arms race to secure the most prolific female wrestlers, being in incredible fitness model shape and looking like a physical specimen appears to be the new normal of bare minimum requirements.
Kayla Rossi far exceeds the bare minimum requirements.
By a muscle mile.
All you have to do is take one look at this AEW star wrestler and it becomes extremely obvious that she is the real deal.
If you want, you can take more than one look. We sure have.
Talk about gorgeous feminine muscle.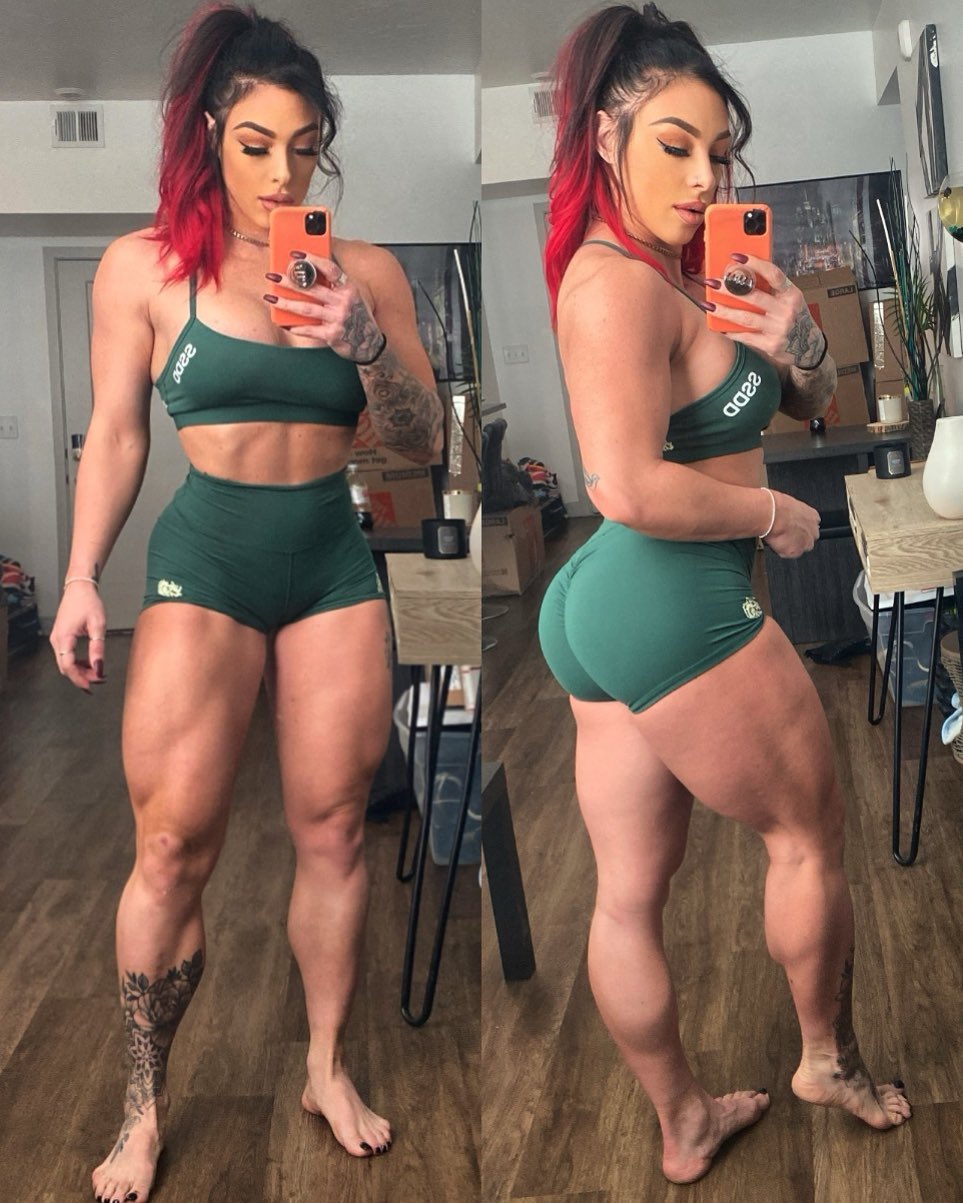 The International Federation of Body Building and Fitness (IFBB), headquartered in Las Rozas (Madrid), is an international professional sports governing body for bodybuilding and fitness that oversees many of the sport's major international events, notably the World and Continental Championships.
The IFBB annually holds more than 2,500 competitions at the local, national, regional, continental, and World Championships levels.
Kayla is an IFBB PRO bodybuilder and a rising star in the AEW female wrestling ranks which boasts luminaries like Britt Baker, Leyla Hirsch, Tesha Price and other female super stars.
As of February 13, 2022, there have been four reigns between four AEW Women's Wrestling champions.
Riho was the inaugural champion.
Hikaru Shida's reign is the longest reign at 372 days, while Nyla Rose has the shortest reign at 101 days. Riho was the youngest champion at 22 years old while Rose is the oldest champion at 37.
Dr. Britt Baker, D.M.D. is the champion in her first reign. She won the title by defeating previous champion Hikaru Shida on May 30, 2021 at Double or Nothing in Jacksonville, Florida
All Elite Wrestling, commonly shortened to AEW, is an American professional wrestling promotion based in Jacksonville, Florida.
It is considered the second largest wrestling promotion in the United States behind WWE.
Let that one sink in.
That was surprising news to many.
Except the WWE.
Based upon our research, given how well-funded AEW is, they appear to be very serious about continuing to invest in their burgeoning wrestling product.
AEW is owned by Shahid Khan and his son Tony, who founded the company in 2019.
Its headquarters are located at TIAA Bank Field, the home stadium of the NFL's Jacksonville Jaguars, a team also owned by Shahid Khan.
Since October 2, 2019, AEW has produced a two-hour weekly television show, AEW Dynamite, airing live on TBS in the United States.
CBS Sports described AEW as "the first company with major financial backing to take a swing at beginning to compete with WWE on a major level in nearly two decades."
Time will tell.
We will excitedly continue to watch.
Kayla Rossi is absolutely one of the myriads of reasons why we plan to.
The informative team at sportskeeda.com educate, "In a recent episode of AEW Dark, Joey Janela had a backup in the form of a mysterious woman. That woman is none other than Kayla Rossi, and she looks like the future of AEW. Rossi is one of the latest recruits for AEW and has a bodybuilding background."
Kayla is the future and in terms of pure female wrestling excitement, the future is right now.
What a perfect specimen.
IFBB Pro Kayla Rossi Takes Pro Wrestling by Storm in AEW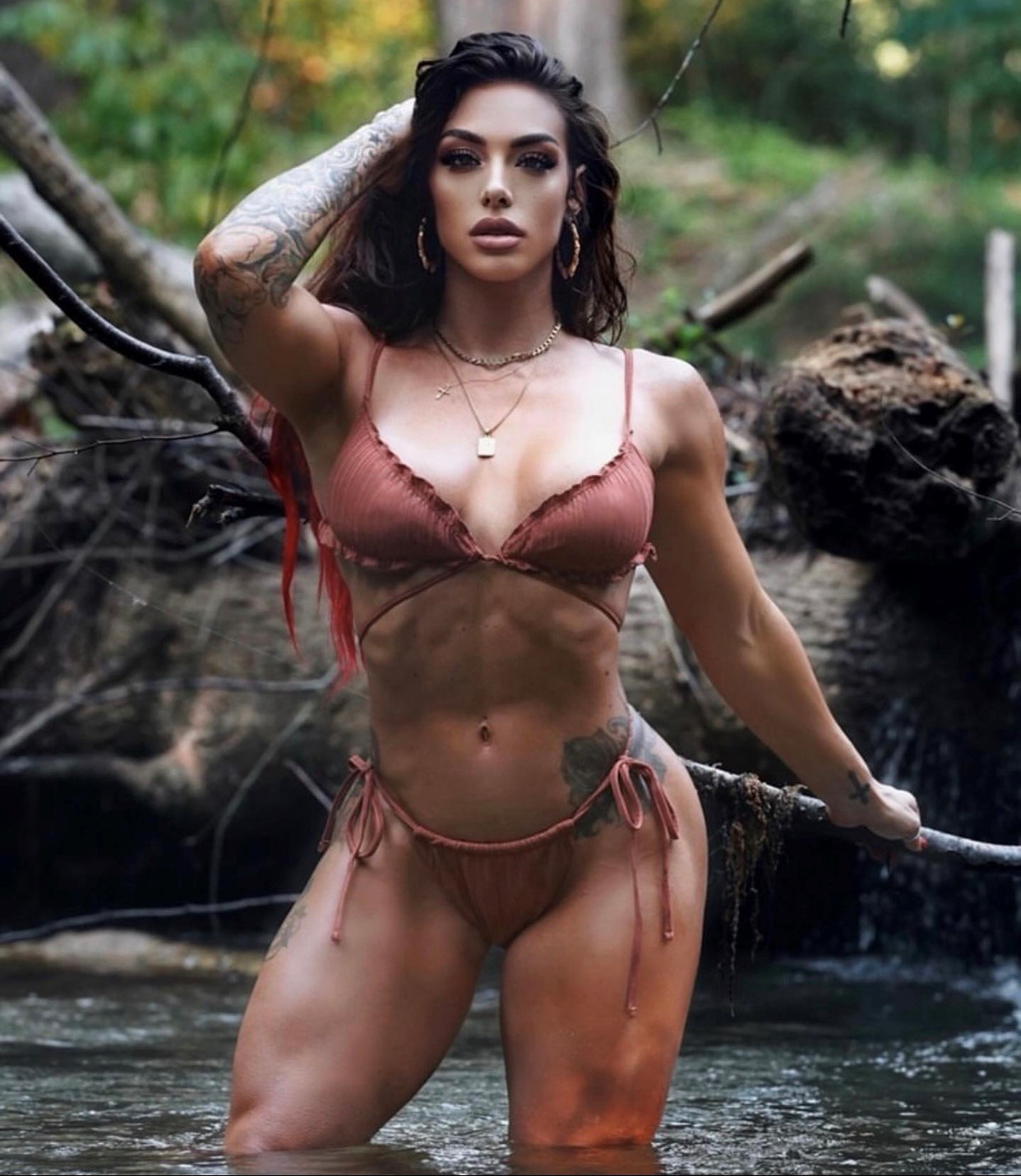 News provided by
Feb 11, 2022, 08:33 ET
LAS VEGAS, Feb. 11, 2022 /PRNewswire/ — If you're into fitness at all, the name Kayla Rossi rings every bell in your brain. If not? One look at her physique and the familiarity will be astonishing. Kayla amassed a huge Instagram following by publishing rigorous training videos and showcasing an insane amount of athletic ability for such a muscular woman. Her background in elite gymnastics paired with her stunning physique alone made her unique- and now? She has the world of professional wrestling shook as AEW's newest face of the women's division.
Kayla made her AEW Dark debut in September as a mysterious bodyguard accompanying fan favorite Joey Janela. Instantly, Twitter went into an uproar. "Who is SHE?!?" Became the only tweet found in AEW's mentions, and she became a weekly staple for the show. Within 6 months of training, Kayla continued to shock fans. She showcased elite level athleticism with aerial attacks like: Standing Moonsault Double-Stomp, and 360 SkyTwister- while attracting fans with her dark image and daunting physique.
The Nightmare Factory initially reached out to Rossi, offering her a sponsorship to their wrestling school in Atlanta Georgia. The Nightmare Factory is home to some of AEW's biggest talents like Jade Cargill, Brandi Rhodes, Glacier, Julia Hart, Anna Jay, and is owned by superstars Cody Rhodes and QT Marshall. She quickly moved, joined the school, and made her first appearance within 8 weeks!
On top of currently being one of the fastest rising stars in the history of wrestling, Rossi has been continuing to make waves in the fitness community. Her subscription-based personal training app will be released later this month and is sure to attract thousands of users. The app will feature fully guided workouts, with videos of Kayla explaining the exact movement- and even includes a "Kombat Kardio" section, sponsored by Hayabusa.
We only had two questions for Kayla:
Q: Why do you do what you do?
A: I want to show the world that a woman can be strong, fierce, and sexy at the same time. We're not all one dimensional. I want to inspire women to be their true self.
Q: What can we expect to see next?
A: My life has been so crazy, I can't even answer this! Follow me on Instagram @KaylaRossiFitness and Twitter @KaylaRossi_ for real time updates as I try to do everything at once.
Contact:
Landon Suggs
713.899.8053
329498@email4pr.com
SOURCE Kayla Rossi; AEW
~ ~ ~
OPENING PHOTO fciwomenswrestling.com femcompetititor.com grapplingstars.com, article, Kayla Rossi performs a Sky Twister Press from the Top Ropes onto Sonny Kiss as Joey Janela watches._AEW-photo-credit-PR-Newswire-Editorial-use

https://en.wikipedia.org/wiki/All_Elite_Wrestling
https://en.wikipedia.org/wiki/AEW_Women%27s_World_Championship
https://www.sportskeeda.com/aew/who-aew-star-kayla-rossi
https://en.wikipedia.org/wiki/International_Federation_of_BodyBuilding_and_Fitness
https://www.fcielitecompetitor.com/
https://fciwomenswrestling.com/