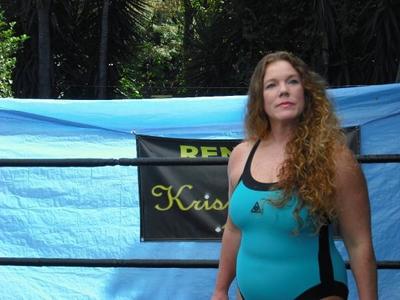 Can she leap tall buildings in a single bound?
Maybe.
She seems to be able to do virtually everything else. Lift a beautiful woman over her shoulder and toss her around like a rag doll? She could have done that to a sensuous new comer named Nicole at a recent Las Vegas Women's wrestling event. I should know. I was there with the two in a private room having a session watching the over the shoulder lift. Fortunately for cute Nicole, there was no tossing around.
I mean, I could have been next. Well, actually I was next and she put my head between her thighs and sqeeeeeeeeeeeeezed! I cried uncle faster than you could say….well, uncle.
That hurt. It actually really did!
Kristie Etzold is amazing.
She has wrestled all over the world competing against many of the best including Robin, Christie Ricci, Raquel, Malibu and more! Some of her victories are legend.
One of my favorites was when she met a sexy shapely brunette named Charlie at a south Florida club who had previously performed well and the company decided to prance her out like a prize pony to wrestle Kristie.
Within minutes there was screaming, moaning, disappointment and down-right embarrassment complete with a Kristie face sit. The pretty young girl from Cleveland had two pistols tattooed on her back but trust me, that day not only did they fire blanks; most of the time they didn't fire at all. She would have been better served with a water pistol. The only thing that could have saved her that day was a Charlie Horse.
Besides wrestling, Kristie is extremely good at other things as well including entertaining and talking.
Only Penny Barber from San Francisco talks more.
Much more.
I should know. I had dinner with Penny and others at a Japanese restaurant in San Jose. Hmmn…I think Bella, Isamar and I said a total of 300 words and Penny 3,000. Truly. I verified it on word count.
I love Ms. Money Penny!!!!!!!
This writer had an extremely enjoyable dinner with Kristie and other friends in Las Vegas at a stylish hotel's posh restaurant and Kristie provided some enlightening insights and captivating stories.
She warmly shares who she is at her website.
"Over the years I have wrestled hundreds of guys and gals in private sessions and videos for companies such as Les Femmes Fatales, Ken Star Productions, Video Sports, Mass Muscle, APL ( Portugal) and many others. I've been a favorite for my always happy mood, and my flexibility to take on anyone, anywhere, anytime. I am very healthy, flexible and strong. I have wrestled women much bigger and more technical than myself, like invincible Helen Von Mott, Kasie Cavanaugh etc."
"I started wrestling as a mud and whip cream wrestler in night clubs in L. A. and Orange Counties. Pretty soon I had fans coming to those night clubs to see my extremely energetic fighting style again and again. I could feel the excitement in the crowd when I got into the mud pit, they were sure that they would witness a wild jungle cat kill her prey before their eyes."
At WB270, here is what a satisfied customer at to say about her.
"Wow, can this girl wrestle. She's solid and power packed. She beat me 3 falls to 1 and did so convincingly. I'm 6'4″ and 280lbs. she was able to wear me down and beat me. Her upper body strength is pretty good, but her legs… once around your head it's over. She'll beat big men and smaller men alike. She's extremely skilled as well, she knows how to leverage and keeps you off balance and she's quick. She's not a bodybuilder, but just has a nice powerful body, with some tone to it. She'll mix up the match any way you like. I told her to go all out and I would try not to lose, which was an unrealistic proposition if you ask me. She's very accommodating, bringing water and towels when needed, too. Very talkative and personable. Good at making you feel comfortable. She wrestles out of her home, which is nice, it's in a good neighborhood. "
This writer can add his own testimonial since I have sessioned with Kristie as well. She's extremely warm, a great listener and will design a session specifically for what you need. Nicole, Kristie and I were all together and spent so much time laughing and having a fun time. Kristie is tanned, thick and very sexy. My diabolical plan was to have her meet a sexy plump newbie, about 180 lbs. and I was going to instruct Kristie to completely dominate her with folding pins, leg curls, cross pins with a count to 15 and in the end, the erotic face sit. Unfortunately for me, my newbie showed up too late.
I would love to session with Kristie again.
Kristie's neighborhood is Tustin, California.
Wikipedia informs Tustin is a city located in Orange County, California, in the Los Angeles metropolitan area. As of the census of 2010, Tustin had a population of 75,540. The city is located next to the county seat, Santa Ana, and does not include the Tustin Foothills.
Because of a top 10% ranking in per capita and one of the shortest commutes in Southern California, the city was chosen in 2009 by Forbes as one of the top 25 towns to live well in America.
The official site of the city, tustinca.org remarks, "People who know this area well sometimes refer to Tustin as "The City of the Trees." Although a variety of trees are responsible for this nickname, this is a distinctive quality of the area which dates back centuries, actually to the time of the early Spanish explorers.
The first Europeans in Orange County came with the Portola Expedition in 1769. This expedition, which had two padres (including Father Juan Crespi) and a small contingent of the army, set out north to establish the string of missions throughout California. (Father Serra, who was in charge of this project, was not along on this expedition, remaining in San Diego to establish the mission there.) A few years later, the early Spanish Grijalva scouting party (The Anza Expedition, 1776) identified the area from Santiago Creek to Red Hill as El Alisal, the Sycamore Grove. At that time, the land was dotted with massive, white-barked sycamore trees. It is of some note that three of the massive trees still exist, although today they are on a private property.
Today, almost all the orchards are gone; now Tustin is an urban area. However, if you know where to look, you can still see signs of the City's proud history. Historic old buildings, some dating back to the 1880s, are maintained in "Old Town" on Main Street and El Camino Real. The museum shows a living history of those times gone by. And there's more: three trees yet remain of those original massive sycamores. And finally, everywhere lining the streets, one still sees trees, trees and more trees in Tustin, The City of Trees."
Quite a history!
As you can see, Kristie is a good decision maker as well. Tustin appears to be a dream American city to live in.
Kristie is a legend who just seems to keep getting better and is a great ambassador for our female submission wrestling industry. She appears to be very goal oriented tackling one important quest after another. Before her time is up will she defeat virtually all the top female wrestlers on the planet?
I would not bet against her.
~ ~ ~
Femcompetitor.com subscribes to fciwomenswrestling.com news source. Not affiliated.
Sources: fciwomenswrestling.com news bureau, kristieetzold.com, wb270.com, Wikimedia, Wikimedia Commons photos.