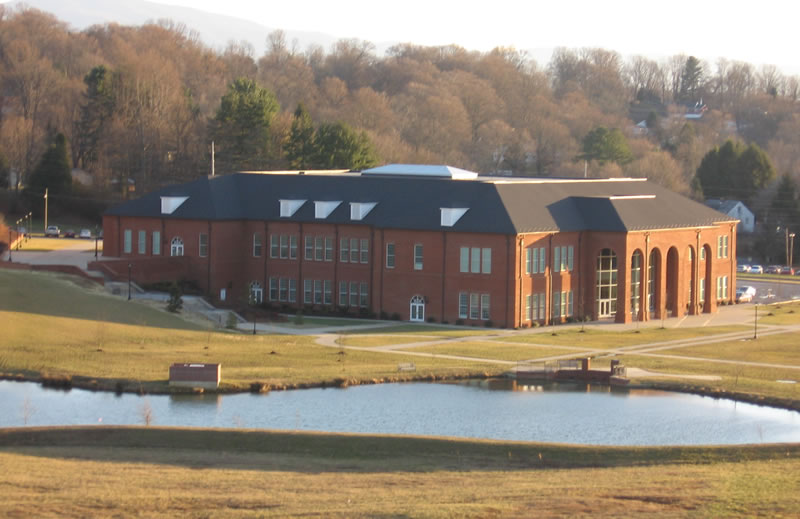 KING UNIVERSITY LEADERSHIP, PROGRESSIVE AND INNOVATIVE
Heraclitus, a Greek philosopher of the late 6th century once stated, "Nothing is permanent but change." In January of 2013, King College President Greg Jordan announced to students that the 146-year-old College nestled in Bristol, Tennessee, is officially becoming King University, effective June 1, 2013. Founded in 1867, the school is known for its high academic standards and for producing quality graduates. King has been listed among America's Best Colleges in U.S. News & World Report for the past 23 years and The Princeton Review's best schools for the past nine years.
The ability to achieve high standards is a hallmark of King University's young women's wrestling program. Under the exceptional leadership of Coach Jason Moorman in just four years of competition The Lady Tornado has become a powerhouse. Since the program's inception in 2009, Jason Moorman has built King Women's Wrestling into one of the most successful collegiate programs in the world. In just four short years, Mr. Moorman has groomed at least three individual National Champions and counting while guiding his team to as high as second overall in the Women's Collegiate Wrestling Association (WCWA) ending the 2011-12 season and third at the conclusion of 2012-13.
Mr. Moorman joined the King Men's Wrestling staff as an assistant coach in 2007. Coach Moorman joined his younger brother, Nate, who had been named to head the new program the in 2006. After just two years, Mr. Moorman helped the program meet early success coaching four All-Americans including one national finalist at the NAIA National Championships. The Tornado reached a team ranking as high as 13th in the country and finished in the top-10 academically.
At the conclusion of the finals in January 2013, fourteen King wrestlers were awarded All-American honors for placing in the top-8 of their respective weight brackets. This included five fourth-place finishes Shannon Constantine, 101; Kayla Brendlinger, 116; Amanda Hendey, 143; Lorrie Ramos, 170; Malexis McAdoo, 191), one fifth-place finisher in Samantha Klingel, (116), two sixth-place finishers Ashley Iliff, 101; Victoria Nguyen, 116), and Kerri Bumper's eight-place finish at 170.
The WCWA recognizes wrestlers and teams with strong academic standings. King was one of three schools that earned the Team Scholar Award, joining OCU and Wayland Baptist. To qualify, the team must sponsor a minimum of 10 wrestlers at the National Championships and have a team grade point average of 3.0 or higher. Victoria Nguyen represented King on an individual basis and was named a WCWA Scholar-Athlete, one of only 12 in the tournament (must be sophomore status and have a 3.5 GPA or higher).
There is a school of thought that when people are placed in positions of strength, they tend to make better decisions. When they are surrounded by a great village, it enables them to make exceptional ones. The campus is nicely located on 135 wooded acres and Georgian-style architecture buildings provide a quiet, beautiful learning environment that's just two minutes away from bustling downtown Bristol, Tennessee.
Bristol is an area to enjoy with four distinct seasons all in moderation. The average spring/summer temperature is a warm and sunny 78° F and in the fall and winter a mild 38° F, with a few snowflakes to cover the breathtaking mountain scenery. American Demographic Magazine described Bristol as one of the most livable cities in the United States. Bristol, as part of the Tri-Cities region, was awarded the All America City recognition by the National Civic League in 1999.
All the big city amenities of ballet, theatre, concerts, along with a world of great foods from gourmet dining to fast food restaurants, are found in Bristol. Race fans can enjoy the world-famous Bristol Motor Speedway, the host of many NASCAR events. Bristol is still small when it comes to a low crime rate – tenth lowest in the country. Strong neighborhood ties and a sense of genuine southern hospitality make this possible. Housing choices in Bristol vary with above average quality and below average cost – 30 percent lower than the national average. Bristol's unique location offers a variety of country or city settings for homes. Only a 10 – minute drive to the city, Bristol's homes are close to work and school.
A gentleman from the South, President Bill Clinton once stated, "The price of doing the same old thing is far higher than the price of change." King University not only seems to recognize change, but embrace it. Creating and supporting a dynamic women's wrestling program is an indicator these progressive changes are leading the university and the Lady Tornado program in the right direction.
~ ~ ~
Sources: King College Marketing and Development, King University website, Wikipedia, City of Bristol Tennessee website, USA Wrestling The Mat.com, Photo courtesy Wikipedia Commons.