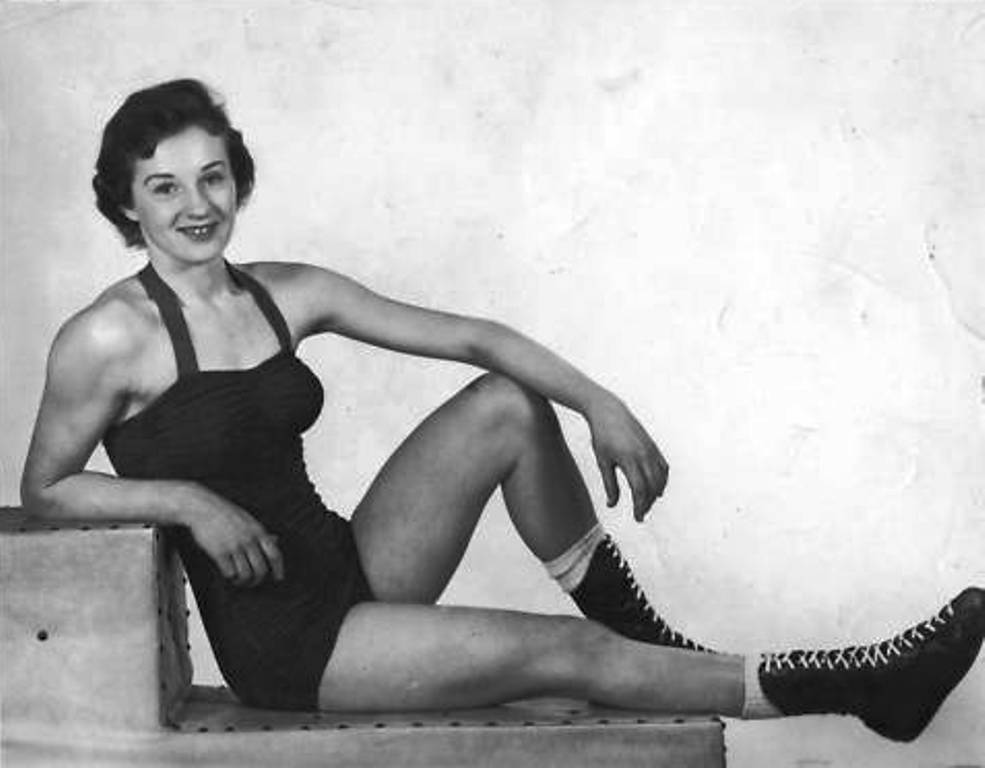 In a time period of suburban sprawl, gated communities, planned sub-divisions and Mega-Cities, it's hard to imagine that at one point, America was primarily a very rural society.
You can see much of it in the songs from the 1950's and 60's by artists like Sue Thompson who had many mega-hits including Norman. Today we would call those songs "Country" but back in the day they were simply common place Americana.
Watching lady pro Kay Noble wrassle reminds of that more country roads time period where both girls and boys would go out on the gravel or grass fields and scrap.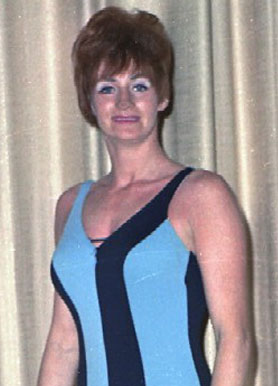 As Kay would circle around in the ring and sometimes spit in her hands and send some beauty sprawling from a Monkey Flip or a Drop Kick, you knew she was one tough cookie.
The film Wrestling Queen, starring the shapely Canadian beauty Vivian Vachon in her youth, show cased her battle with Kay Noble in the squared circle that was one rough and tumble affair.
Kay like a true country girl spit in her hands for grip and went back at it often capturing Vivian in painful leg holds. Kay looked athletic and gorgeous in her powder blue bathing suit and full hair style popular in the 1960s.
The fans in the audience were just as much a bunch of characters as the girls in the ring. One fan interviewed described Kay as having dirty tactics. Another passionately exclaimed, "I get excited and I want to jump up into the ring too."
Both were women.
The foundation of Kay's wrestling past is based upon respect and great talent.
Mary Charlene Noble (October 15, 1940 – April 27, 2006), known from childhood by her nickname Kay Noble had a career that spanned from the 1950s to the 1980s, during which time she was known for her toughness in the ring.
She worked along well-known female professional wrestlers such as Penny Banner, The Fabulous Moolah, and Gladys Gillem.
During her almost thirty years wrestling, she held the Texas Women's Championship, Central States Women's Championship, and AWA World Women's Championship. She was also honored by the Cauliflower Alley Club in 2001.
Ms. Noble first wanted to become a professional wrestler at age 15 and wanted promoter Gust Karras to help her break into the business. She, however, did not began her professional wrestling career until 1957 at the age 18 after being approached by a promoter in her hometown of St. Joseph, Missouri.
She was trained by Laura Martinez and Sonny Myers.
She later helped train male professional wrestler Colonel DeBeers. During her career, she held both the Texas Women's Championship and Central States Women's Championship. Throughout her years wrestling, Noble was known for her toughness and strength. She was also a high-flying wrestler.
Her well-known opponents included Penny Banner, The Fabulous Moolah, and Gladys Gillem. In 1963, she won the vacant AWA World Women's Championship by defeating Kathy Starr in Minnesota, and she held the tile for approximately eight years, losing it to Vivian Vachon in November 1971 in Canada.
She was named WFIA's "Girl Wrestling of the Year" in 1971.
Her praises rang out from many corners in the professional wrestling world. The well-researched wrestling site slam.canoe.com expresses, "Kay Noble, one of the greats of women's wrestling from the 1950s to the early 1980s. Coming in at just 5-foot-7 and 132 pounds at the height of her career, the St. Joseph, Missouri-born Noble was able to look legit whether against the bigger girls or those smaller than her."
The site quotes Sonny Myers who helped train her. "Kay Noble was a tremendous girl wrestler. She just absolutely was great. She didn't back up from nothing. If she had a job to do, it was done."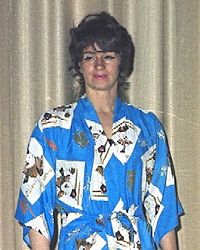 The accomplished Pro wrestling Hall of Fame site pwhf.org relates, "Mary Charlene "Kay" Noble weighed only 132 pounds at the peak of her career, but this is one case where you don't judge a book by its cover."
The powerful news source the Washington Post printed, "Kay Noble, 65, a gutsy grappler whose fresh-faced femininity and no-holds-barred ferocity in the ring won her an enthusiastic following among professional wrestling fans.
Ms. Noble, who went by Kay Noble-Bell in her retirement years, held the Texas Women's Championship and the Central States' Women's Championship and was the 1971 Girl Wrestler of the Year.
Fans who flocked to grimy small-town arenas and big-city coliseums across North America knew they'd get their money's worth when she was on the bill, whether tangling with Gladys "Kill 'Em" Gillem, Lillian "Fabulous Moolah" Ellison, blonde bombshell Penny Banner or a host of other well-known female grapplers during her prime in the 1960s and 1970s.
At 5 feet 7 inches tall and a wiry 132 pounds during the peak of her career, she was tough and extremely agile, friends and former ring foes agreed."
They add that Ms. Noble loved to dress beautiful clothes outside of the rig even though she played the tough girl inside of it.
Respected by all segments of society, the New York Times added, "Kay Noble, was one of the best-known women in the sport. A native of St. Joseph, Mo., she was known for her toughness in the ring. She began her pro career in 1957 and continued wrestling until the early 1980's."
The world's leader in sports and entertainment, ESPN praised her as well. "For many years, Noble-Bell, who wrestled as Kay Noble, was one of the best-known women in the sport. The St. Joseph, Mo., native, known for her toughness in the ring, began her pro career in 1957 and continued wrestling until the early 1980s.
After retiring, she owned and operated Kay's Upholstery in Amarillo and worked with children at a local hospital."
Perhaps we can briefly travel to St. Joseph, Missouri, Kay's childhood town.
St. Joseph is a city in and the county seat of Buchanan County, Missouri.
It is the principal city of the St. Joseph Metropolitan Statistical Area, which includes Buchanan, Andrew, and DeKalb counties in Missouri and Doniphan County, Kansas. As of the 2010 census, St. Joseph had a total population of 76,780, making it the eighth largest city in the state, third largest in Northwest Missouri. The metropolitan area had a population of 127,329 in 2010.
St. Joseph is located on the Missouri River, but is perhaps best known as the starting point of the Pony Express and the death place of Jesse James. St. Joseph is also home to Missouri Western State University.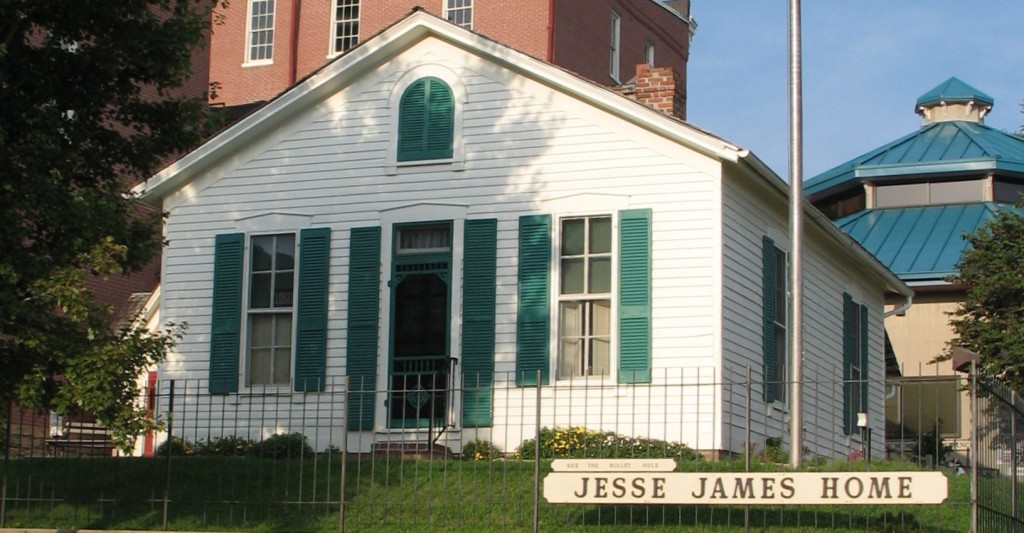 The informative site stjomo.com excitedly shares, "Some things you just can't learn from a history book.  Like seeing where the Pony Express began & Jesse James ended. Today, St. Joseph retains its links to the past while looking toward the future. The city is home to 13 distinctive area museums, 12 annual festivals, amazing architecture listed on the National Register of Historic Places, and the Kansas City Chiefs Summer Training Camp. You'll also find great outdoor recreation throughout 48 parks, 26 miles of beautiful Parkway, outdoor concerts, and an arts culture unlike any other."
Sounds like a great place to re-visit history and enjoy the present.
Sadly Kay at age 65, died of stomach cancer, April 27, 2006 in Amarillo, Texas.
Reviewing an interview of Kay, she appeared to be a person who easily heaped praise on others including her opponents as she received it. She complimented Vicki Williams stating "Vicki Williams is a top contender and deserves every bit of recognition that she gets and has a great chance of coming out with that championship belt."
Looking back on Kay Noble and Vivian Vachon, both now deceased, certainly is a reminder of how important every day in our life is and how we should make them all count. In their day, it was like they would bless us with their beauty, talent and entertainment forever and then one day, they are gone and we will never see them again.
Kay Noble made her mark and made her moments count and contributed to making our wrestling enjoyment one of the highlights of our lives as well.
~ ~ ~
Sources: brainyquote.com, Wikipedia, fciwomenswrestling2.com, FCI Elite Competitor, photos thank you Wikimedia Commons.
http://slam.canoe.com/Slam/Wrestling/2006/03/15/1489715.html
http://www.pwhf.org/halloffamers/bios/noble.asp
http://www.washingtonpost.com/wp-dyn/content/article/2006/05/04/AR2006050402115.html
http://www.nytimes.com/2006/05/03/sports/othersports/03bell.html?_r=0
http://www.onlineworldofwrestling.com/bios/k/kay-noble/
http://www.cagematch.net/?id=2&nr=3802
http://sports.espn.go.com/sports/news/story?id=2429570
https://commons.wikimedia.org/wiki/File:Jesse-james-home1.jpg#/media/File:Jesse-james-home1.jpg