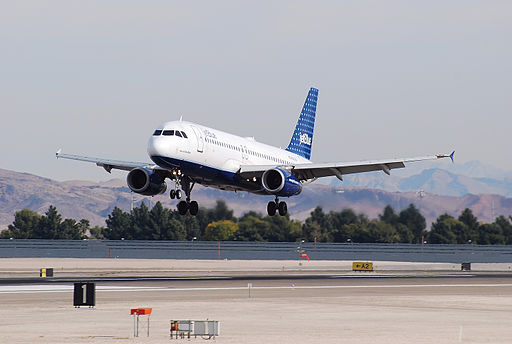 Female Submission Wrestlers constantly travel the globe but given the sizable number of competitors that compete and provide great sessions in California and Nevada, there is great news coming out of the news room of Jet Blue Airlines.
Female submission wrestlers and their teams travel the airways constantly. Female Competition International (FCI) would like to remind our readers of who the female friendly airlines are and what they are doing to enhance exceptional levels of customer service.
In a January 5, 2015 press release published at http://investor.jetblue.com/ the popular carrier announced "JetBlue Airways (NASDAQ: JBLU) today launches new service from San Francisco International Airport (SFO) to Las Vegas' McCarran International Airport (LAS).
The award-winning airline will offer twice daily non-stop flights on this route.
Fares are available on JetBlue.com, with a special celebratory fare of $59 one way between San Francisco and Las Vegas available until January, 11, 2015, valid for travel January 19 – April 30, 2015 (a). JetBlue Getaways also offers customers heading to Las Vegas the opportunity to bundle flights and hotels, as well as with car rentals and other amenities and activities. Travelers can enjoy access to an exclusive 24-hour support desk dedicated to Getaways customers before, during and after their trip. Services include JetBlue Getaways Best Price Guarantee (b) and TrueBlue points on every eligible dollar spent (c). More information can be found at www.jetblue.com/vacations."
While this special rate has expired, it might be wise to be on alert that Jet Blue is aggressively offering competitive specials and you might want to visit their site on a regular basis.
The release continues by sharing how customers responded to this great offer. "With the overwhelming customer response to our premium offering, Mint, now between San Francisco and New York, as well as more frequencies between these two cities, the natural next step for us was to expand our presence in San Francisco, with service to Las Vegas, a market where customers have continually been seeking a better airline experience," said Scott Laurence, JetBlue's senior vice president of airline planning.
If you are not familiar with Jet Blue Airlines, let's please take a closer look. They spoke about Mint. What is that exactly?
At jetblue.com they explain, "Sit back (all the way back) and relax! JetBlue Mint includes lie-flat seats in the front of our cabin, four of which are suites. These super-comfy seats offer plenty of room, a massage feature, cushions with adjustable firmness and the ability to lie completely flat for much-needed naps. And for extra privacy, Mint suites have their own door."
Sounds great! I can feel my shoulders relaxing already.
Why don't we look in on their Customer Bill Of Rights.
"JetBlue Airways is dedicated to bringing humanity back to air travel. We strive to make every part of your experience as simple and as pleasant as possible. Unfortunately, there are times when things do not go as planned. If you're inconvenienced as a result, we think it is important that you know exactly what you can expect from us. That's why we created our Customer Bill of Rights. These Rights will always be subject to the highest level of safety and security for our customers and crewmembers."
We love to fly safe and enjoy the trip along the way. This is a team that seems to excel at that as well. Even if there are minor challenges, here is one way that they respond. "JetBlue will provide customers experiencing an onboard ground delay with 36 or more channels of DIRECTV®*, food and drink, access to clean restrooms and, as necessary, medical treatment. JetBlue will not permit the aircraft to remain on the tarmac for more than three hours unless the pilot-in-command determines there is a safety or security-related reason for remaining on the tarmac or Air Traffic Control advises the pilot-in-command that returning to the gate or another disembarkation point elsewhere in order to deplane would significantly disrupt airport operations."
Jet Blue also has a track record of giving back to the community. Female Competition International would like to share this feel good report from the respected news source huffintonpost.com.
In a September 30, 2013 article the highlight the introduction of a very special program. "Around 300 children and their families gathered at JetBlue's Terminal 5 as part of the inaugural Blue Horizons for Autism, a new program from JetBlue and Autism Speaks that aims to help kids with autism become familiar with flying. It's the first autism travel practice event ever held at JFK–one of the nation's busiest airports. The Transportation Safety Authority and the Port Authority also participated.
In aligning with Autism Speaks, the world's largest autism advocacy group, JetBlue also is able to tap into a powerful disability organization with a community of around two million people in the U.S. Blue Horizons will allow JetBlue, which is headquartered in New York City, to run the program in its own JetBlue terminals around the country.
What's more, most of the staff volunteered their time under the company's new corporate social responsibility program, Inspiring Humanity, which aims to "better the lives" of JetBlue's customers and the communities it serves. Another travel provider that caters to families of kids with autism is Wyndham Worldwide, which provided a grant for the program.
The merits of a both a well-trained and humanity-inspiring staff were in full effect at Terminal 5 on Saturday. The plane may have only left the gate briefly, but among many of these families, courage and newfound contentment –and perhaps a deeper affinity for JetBlue–took flight."
As an Independent Contractor who is constantly on the go, you deserve to receive the best customer service that can from your airline of choice.
Now that we've had a chance to get a closer look at Jet Blue Airlines, maybe this carrier in the friendly skies can connect with you to show you how they can make your travel experience a safe, inexpensive and enjoyable one.
~ ~ ~
Femcompetitor.com subscribes to fciwomenswrestling.com news source, no affiliation.
Sources: brainyquote.com, Wikipedia, fciwomenswrestling.com, fciwomenswrestling2.com, FCI Elite Competitor, femcompetitor.com, jetblue.com, huffingtonpost.com, photos thank you Wikimedia Commons.
Amy Jo Martin is an American author, speaker, entrepreneur, and founder and CEO of Digital Royalty.