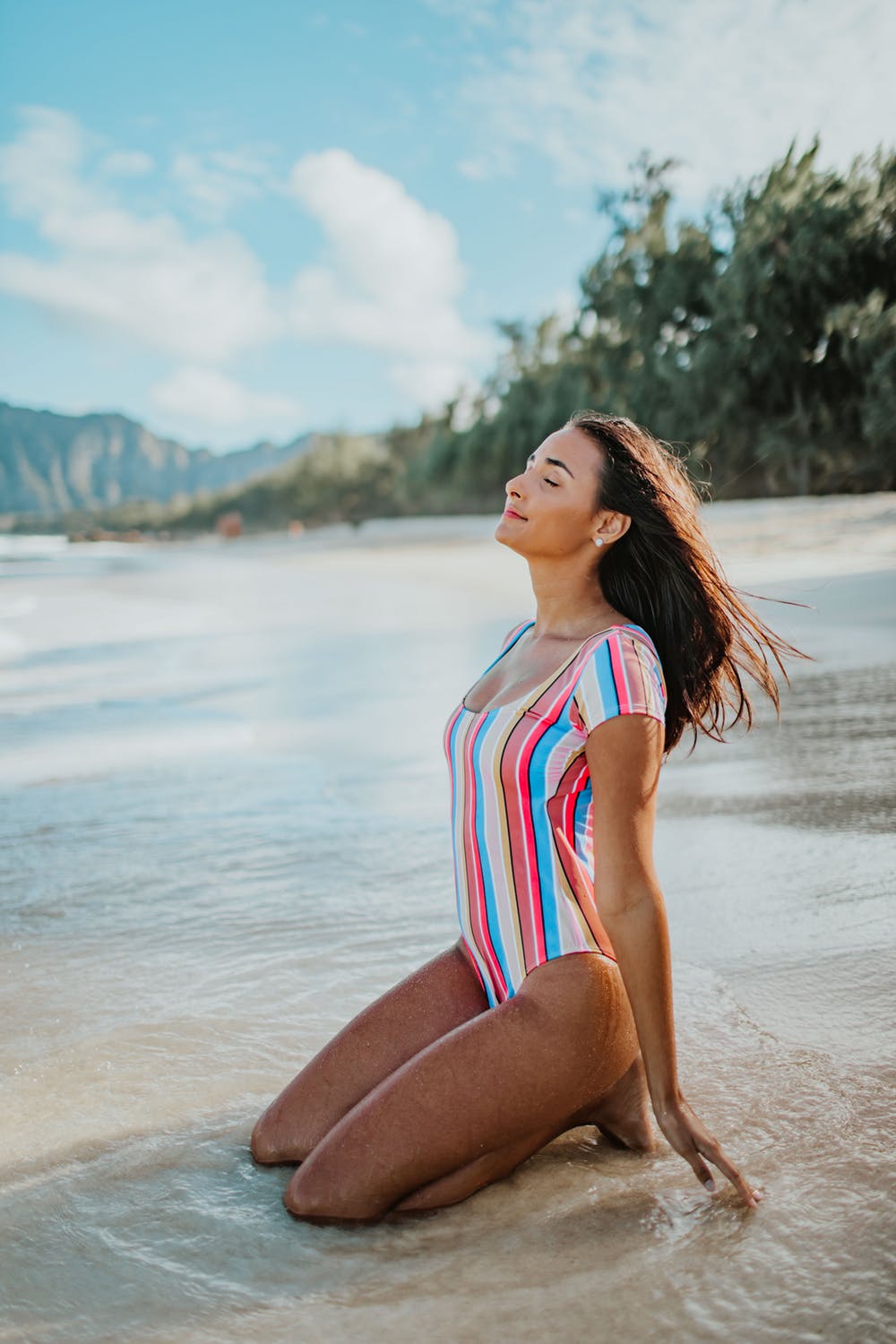 Sometimes the travel experience is like the wind. It changes from day to day, it can greatly refresh and affect you in so many important ways.
More than not, travel is extremely good for us.
The interesting site mindbodygreen.com shares, "Travel is important because it fundamentally transforms us. This experience of waking up to the power of your own transformation fires you up to "be the change you want to see in the world," as Gandhi puts it.
By taking a break from your daily life, unplugging from the pulls and pushes of technology and engaging in new activities in new places, you have an easier opportunity to release unwanted habits. Also, it is empowering to surround yourself with people who don't know the encyclopedia of your past. It reinforces your willingness to broaden your horizons, to get unstuck and to move in new directions."
No doubt you have felt that way and apparently so does DWW wrestler Janine who listed travel as one of her important interests.
Janine is a gorgeous blonde who was one of DWW's short term stars but still made an impact on fans and reviewers.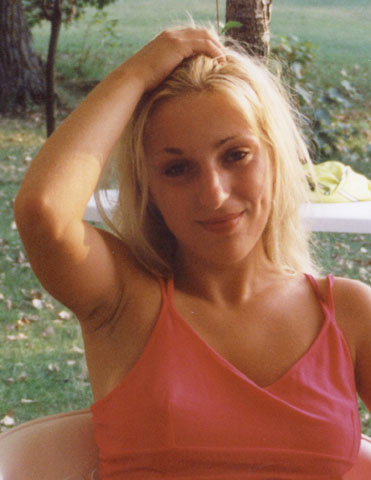 One fan expressed, "I always thought Martina and Janine were two of the prettiest girls that ever worked with DWW. Unfortunately for them, they started at the same time as did all the more well-known "stars" of the late 90's such as Eva, Luzia, Barbara, Denise and Ingrid and tended to be somewhat overshadowed. Here Martina and Janine face off in a really fine and evenly-matched battle, in a style that's very entertaining to watch.
They were wowed again when Janine met Denise. "Denise and Janine do battle in the second match. This fight takes place in the famous wine cellar/dungeon/whatever so prominent in DWW videos until a couple of years ago. Again, both girls score submissions and spend almost equal time at the mercy of the other. While the first match had more of an athletic quality, this match is a bit more on the sensuous. Same rousing action as the first match, with short breaks only."
When Janine met Monika both were new but up for a good match as this review describes, "The second fight is between Monika and shapely blonde Janine when they were novices. It was the first catfight for both and each was pretty keen to stay on top.
The meaner one wins here too, and she clearly enjoys dominating and humiliating the nearly defenseless loser. If you really like a loser to lose, this one's definitely for you."
One sided matches are certainly for some. Watching Janine wrestle is for most.
What is also for most is good food when traveling. Janine should know since she traveled a lot.
What food would she recommend?
Greek food was her favorite.
Maybe here are some reasons why.
The resourceful adventure site travelwithbender.com provides us with some introductory suggestions.
1. Gyro
In Greece they have Gyros, Souvlaki and Kebab, which where I am from is pretty much the same thing so we asked our guide to explain the difference to us. A Gyro is when the meat is roasted vertically turning on the spit. Slices of it are then placed in pita with typical accessories – sauce (tzatziki), tomatoes, onions, lettuce and often French fries/chips. They are cheap and so yummy! But very messy for kids, try the alternative.
2. Souvlaki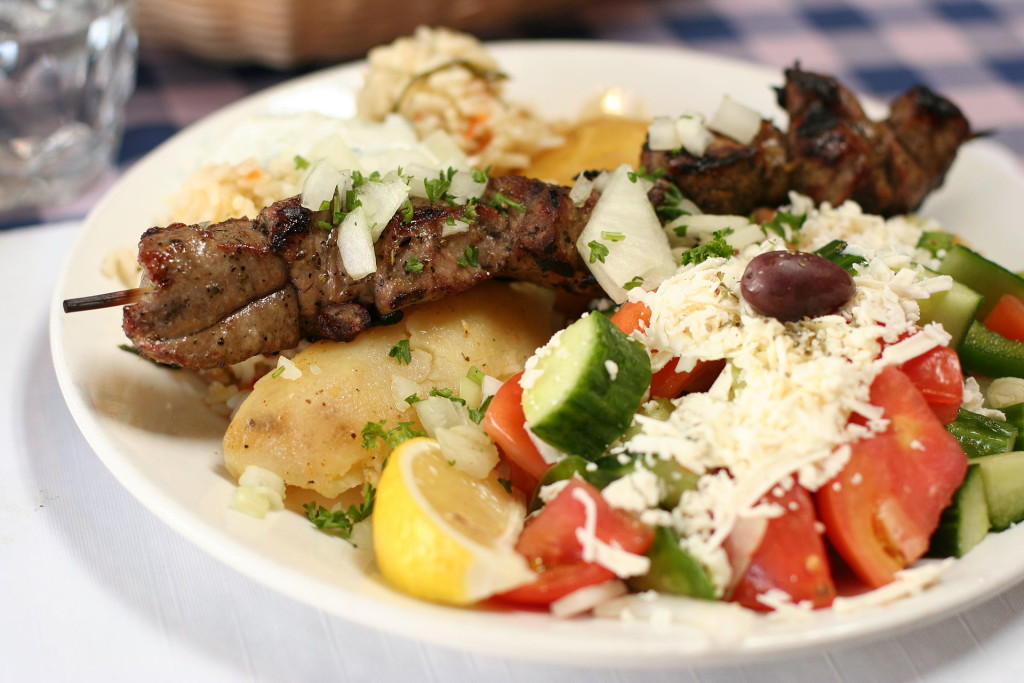 Means a skewer, so this is anything grilled on a skewer (lamb, chicken, pork, etc.). These are great for the kids (and adults too). Sometimes these can be served in a similar style to a gyro, wrapped in pita bread with sauce and garnish. Other times just the meat on a stick.
3. Kebab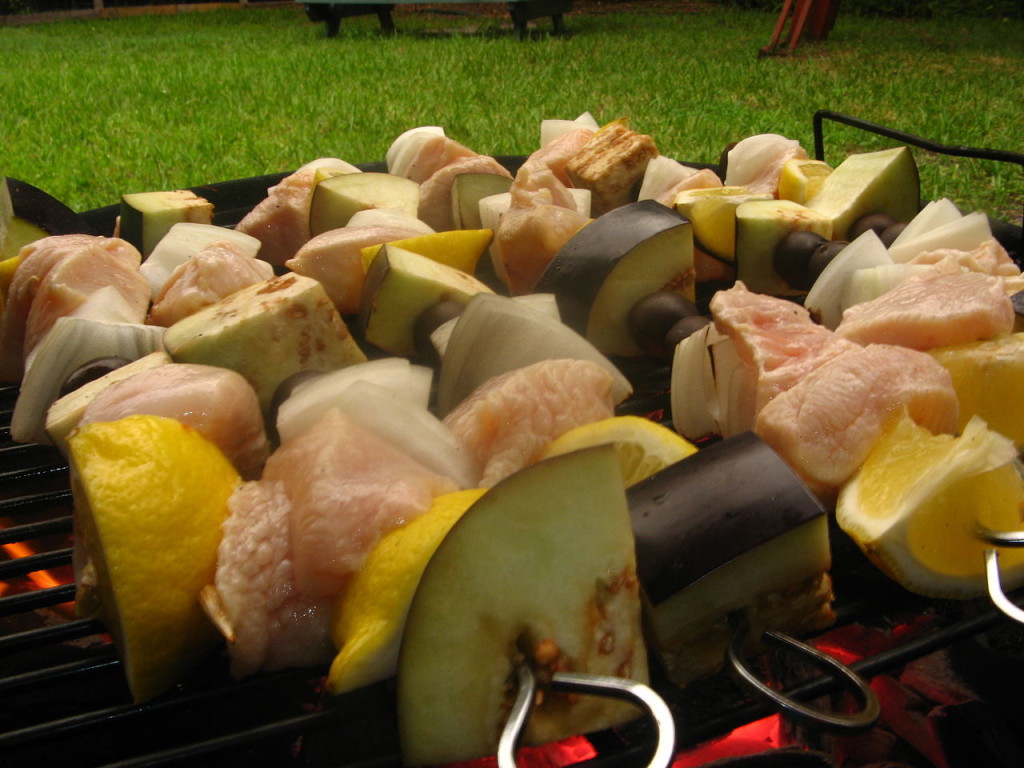 A kebab is an elongated piece of meat, kind of like a burger patty. Its meat all minced and squished together into a sausage-look-alike. These are great for the kids. A good kebab will pack a lot more flavor than you may expect.
Have you ever tried any of those mouth-watering Greek dishes?
Let's get another opinion. What about some great Greek food for beginners? The fun site gicthevillacollection.com expands:
Moussaka – the national dish of Greece, moussaka is well known to most people. A real moussaka however is a world away from the shriveled up excuse that bears the same name as is found in British supermarkets. It is prepared with sliced aubergine, minced meat, onions, tomatoes and other secret touches according to what the chef was told by his/her mother.
Greek Salad – A tomato and cucumber salad seasoned with onion, olive oil, feta cheese and oregano. Easily distinguishable as one of few salads that contains no lettuce or any green leaves.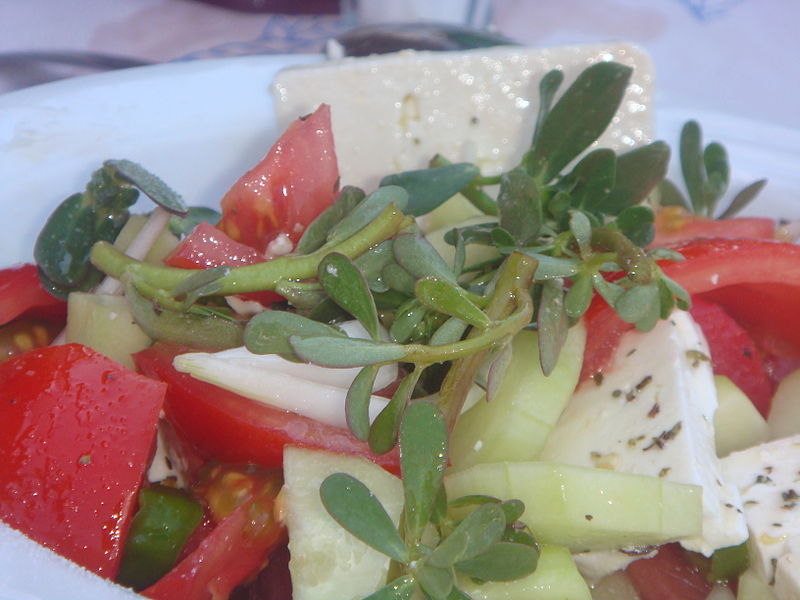 Baklava – every country in the eastern Mediterranean serves a version of baklava, and each claim that theirs is the best. Who is right? You'll have to consume a lot of sugar to find out! Made up of multiple layers of nutty glazed filo pastry soaked in honey. Very filling.
Dolmades – vine leaves stuffed with rice and worked into small rolls, then served cold as a starter. Although they appear very simple, dolmades take a lot of preparation (and some skill) to prepare well.
Spanakopites – this delicious triangular filo pastry snack is filled with baked spinach and feta cheese and then baked until brown and crispy.
This is a great starting place for the novices.
Janine is another great example of how women's competitive wrestling tastefully tastes us all over the world.
Janine had great taste in hobbies, powerful energy in wrestling and wonderful taste in food.
The timeless and emotionally penetrating writer Ernest Hemingway was quoted as saying that you should never go on a trip with anyone you do not love. Makes good sense. We loved Janine's wrestling so it was very easy to travel to Greece with her.
~ ~ ~
Sources: brainyquote.com, Wikipedia, fciwomenswrestling2.com, FCI Elite Competitor, photos thank you Wikimedia Commons.
http://blog.gicthevillacollection.com/2011/04/a-beginners-guide-to-eating-greek-food.html
http://travelwithbender.com/travel-blog/greece/top-20-foods-you-must-eat-greece
http://www.mindbodygreen.com/0-4403/10-Reasons-Why-You-Should-Travel.html
https://commons.wikimedia.org/wiki/File:Greek_American_souvlaki_grilling_at_2011_Greek_Festival,_Piscataway,_New_Jersey.jpg#/media/File:Greek_American_souvlaki_grilling_at_2011_Greek_Festival,_Piscataway,_New_Jersey.jpg
https://commons.wikimedia.org/wiki/File:Lamb_souvlaki.jpg#/media/File:Lamb_souvlaki.jpg
https://commons.wikimedia.org/wiki/File:Greek_shish_kebabs_on_a_grill_-_20100906.jpg#/media/File:Greek_shish_kebabs_on_a_grill_-_20100906.jpg