Ivy, Historical Fightingstyle Women's Wrestling Super Heroine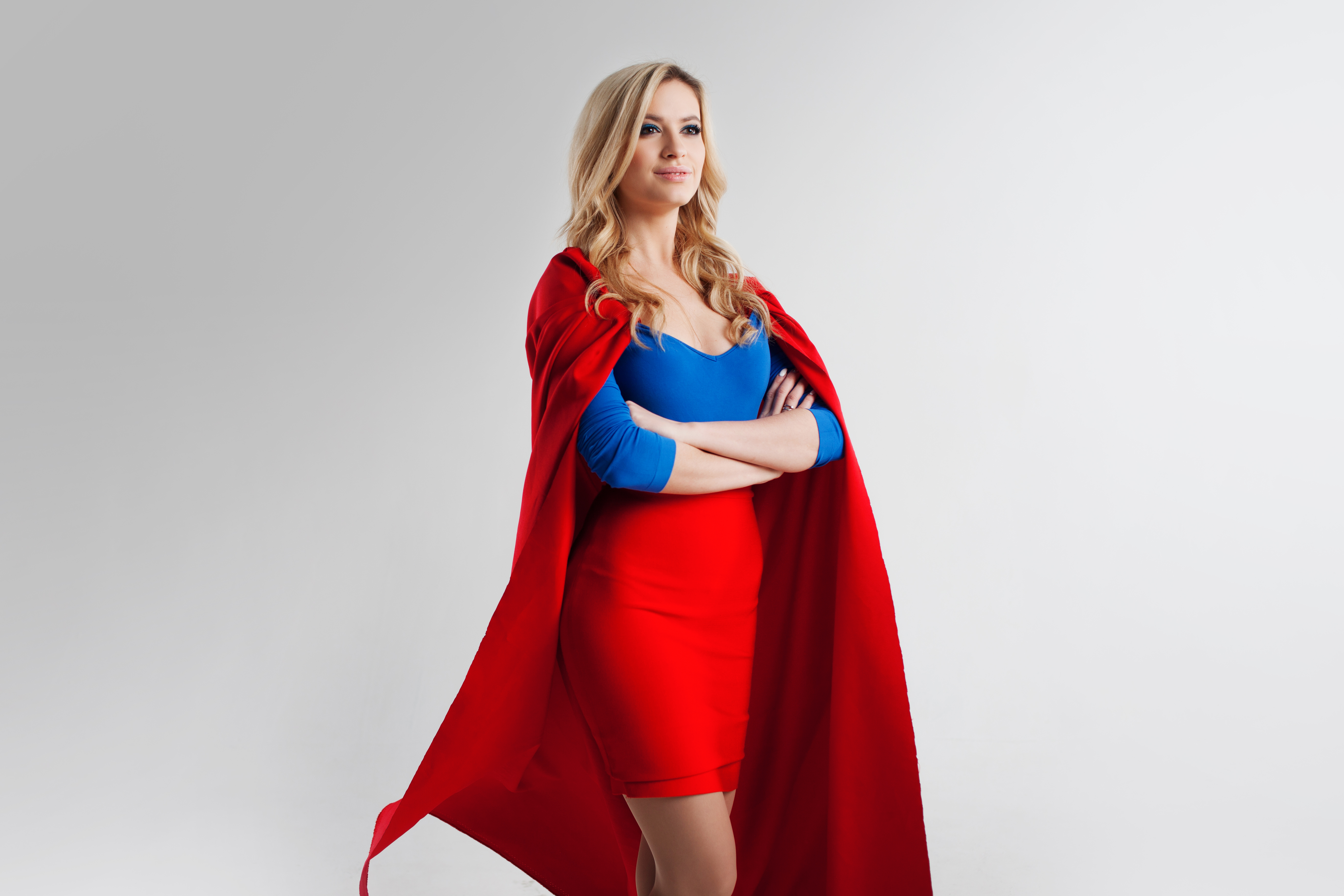 October 12, 2021
Names can be very powerful, instantly evoking images of strength, eroticism, intelligence, a warrior's spirit and more.
Other names may conjure up images of cunning ravenous women.
At least Hollywood seems to think so.
Look at the films that contained the name Ivy in them and please tell us it's not a coincidence.
Ivy is a 1947 American crime film noir directed by Sam Wood and written by Charles Bennett, based on The Story of Ivy, the novel written by Marie Adelaide Belloc Lowndes. The drama features Joan Fontaine, Patric Knowles, Herbert Marshall and Richard Ney.
The film was entered into the 1947 Cannes Film Festival.
Ivy Lexton (Joan Fontaine) is a woman with a hunger to seduce men. Though she already has a husband, Jervis (Richard Ney), and is having an affair with Dr. Roger Gretorex (Patric Knowles), Ivy becomes obsessed with wealthy Miles Rushworth (Herbert Marshall), and is determined to have him.
Look out for that seductress named Ivy. Even in the 1940s it was a name to raise eye brows.
In the 1990's it was still in vogue to be a little wary of Ivy.
Poison Ivy is a 1992 American thriller drama film directed by Katt Shea. It stars Drew Barrymore, Sara Gilbert, Tom Skerritt, and Cheryl Ladd.
It was nominated for the 1992 Grand Jury prize of Best Film at the Sundance Festival.
Sara Gilbert was nominated for Best Supporting Female at the 1993 Independent Spirit Awards. Although it did not fare very well at the box office, grossing $1,829,804 with its limited theatrical release to 20 movie theaters, the film received favorable word-of-mouth, and became a success on cable and video in the mid-1990s.
Here is the story line. "Dejected about her relationship with her father, Darryl (Tom Skerritt), a teen girl, Sylvie Cooper (Sara Gilbert), grows closer to a fiery fellow student named Ivy (Drew Barrymore). But as much as Sylvie craves Ivy's wildness, Ivy, in turn, is attracted to Sylvie's comfortable home life. Ivy seduces Darryl in an attempt to have that life for herself, and also takes steps to kill Sylvie's mother, Georgie (Cheryl Ladd), who is seriously ill, making it look like Sylvie is the guilty one."
The film was uncomfortable but unforgettable to watch.
As a result, the film spawned three sequels that are, by subtitle, Lily, The New Seduction, and The Secret Society.
That is a lot of films with Ivy in them.
We have seen a number of films with a sexy shapely girl named Ivy in them. Primarily her matches were battled out at the legendary Fighting Style events.
Gorgeous Ivy, bottom row, blue bathing suit, second from the right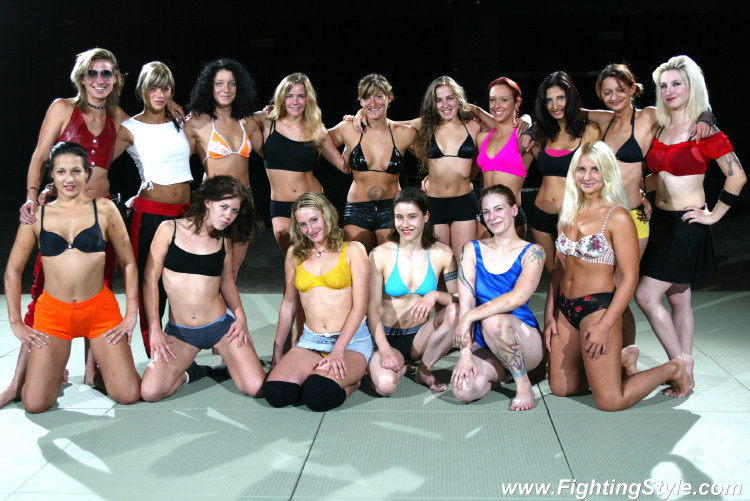 Our Ivy looked so good in her full bathing suits and fought with an attitude, she honored her namesake by being mesmerizing and very unpredictable to watch.
Let's review a few of her matches.
VS KIM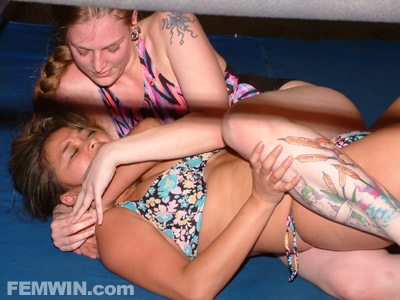 This indoor match potentially takes on the effect of a semi-competitive match.
Part of the reason is that Ivy is talking and screaming so much. We also hear a guy obviously in a session in the background screaming, hollering and having fun as well.
In terms of skill, Ivy completely controls Kim. There is one moment when Kim has Ivy in a folding pin. Ivy screams at the top of her lungs. At one point Kim asks her to please stop screaming in her ear.
This one is Ivy's to control, dominate and win, securing a submission with only 30 seconds left.
Time to happily walk back in time and watch Ivy compete at Fight Style and the Berlin Expo.
We'll start with what was perhaps Ivy's two toughest matches.
Battling the extremely tough British Kathy was a tall order. Kathy has sensational ju-jitsu skills and other European girls like Mary, Lin and the shapely feminine Wenke felt her sting.
Ivy would too. No shame there.
She also met a girl named Veronica whom few of us have ever heard of before so we didn't know what to expect.
Ivy didn't seem to either. As this match would show, Veronica has extensive fighting experience.
The two warriors circled each other and Veronica had one of the most intriguing fighting styles we have ever seen. She continues to back pedal and as Ivy tries to engage her, Veronica would slap her hands away and then go on the attack herself.
This is a very erotic match in the sense that Ivy looks fantastic in a one piece blue and black bathing suit. She has gorgeous thick legs that began to struggle as submission by submission Veronica begins to dominate her.
One particular sequence that stands out is when once again Ivy rushes Veronica who pushes her hands away and charges forward and ferociously wraps Ivy's head in a brutal head lock and takes her down.
She then begins to exact a vicious grapevine from which Ivy barely escapes. Veronica is relentless and keeps Ivy pressed to the mats. She then encloses Ivy in a side body scissors and squeezes hard.
Ivy is done and taps out.
Her match with a slightly larger European girl is seen here. Our American stat look gorgeous in a full black one piece bathing suit. This match went back and forth and like most of Ivy's matches proved to be very competitive.
One scene that found Ivy in struggle was when she was underneath the shapely girl and couldn't escape. This went on for minutes as she tried to smother Ivy out. Ivy fought and fought and finally relented.
She got her revenge though.
As the match wore on she trapped the girl in a standing bear hug where they circled around until Ivy attained the dominant position. Once one the mats Ivy was very impressive in pressing an arm joint lock. Finally the European beauty submitted.
Though the match went back and forth in the end Ivy had her hands raised as the winner.
Ivy's journey did not get an easier. She had to face the extremely tough Nadia which of note was very competitive. This time adorned in a blue bikini and white sports bra, Ivy fought aggressively.
She also met a slightly muscular girl name Rebecca where the match went back and forth. Rebecca not only sported feminine muscle but a wonderful tan that contrasted well against a black bikini and sports shorts combination.
She looked cute but tough and proved it.
Rebecca got off to a bad start during this sequence. Ivy had her encased in a floor to kneel body scissors and was squeezing the tanned beauty in a headlock choke.
Could Rebecca escape?
She does. Standing up and pressing against Ivy she breaks the hold and soon forcing Ivy to give up her back. Bad mistake. Rebecca takes advantage of that and from the top squeezes Ivy out in a body scissors.
Ivy is not one to be intimidated.
In another sequence she is the aggressor as Rebecca has her back to the floor. The two beauties struggle until Ivy locks Rebecca's head in a fierce head scissors. It's too much for Rebecca and she taps out.
We would later see Ivy spread her wings and actually serve as a referee during a match between Kitten and Britney at Tuff Wrestling Company. It was a tuff match that went right down to the end with Kitten winning 1-0 before a raucous crowd rooting for Britney.
"No matter what a woman looks like, if she's confident, she's sexy."… Paris Hilton
We're always rooting for Ivy.
She's very confident and extremely sexy.
She seductively gorgeous, especially in those one piece bathing suits, energetic and passionate in her wrestling. We wish the industry had more money so girls like Ivy would have long brilliant careers.
Ivy appears to be long retired.
Still we appreciate the memories.
As far as her wrestling movies go, we're always ready for a sequel.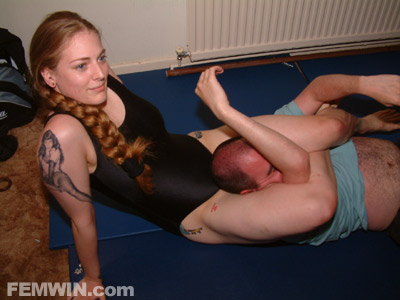 ~ ~ ~
OPENING PHOTO femcompetitor.com, grapplingstars.com fciwomenswrestling.com,By-Lia-Koltyrina-Shutterstock-photo-credit-Editorial-use
https://fciwomenswrestling.com/
https://en.wikipedia.org/wiki/Ivy_(1947_film)
https://en.wikipedia.org/wiki/Poison_Ivy_(1992_film)
http://www.imdb.com/title/tt0119908/