Germany's Julia Dorny, PFL Challenger, Master Of Many Disciplines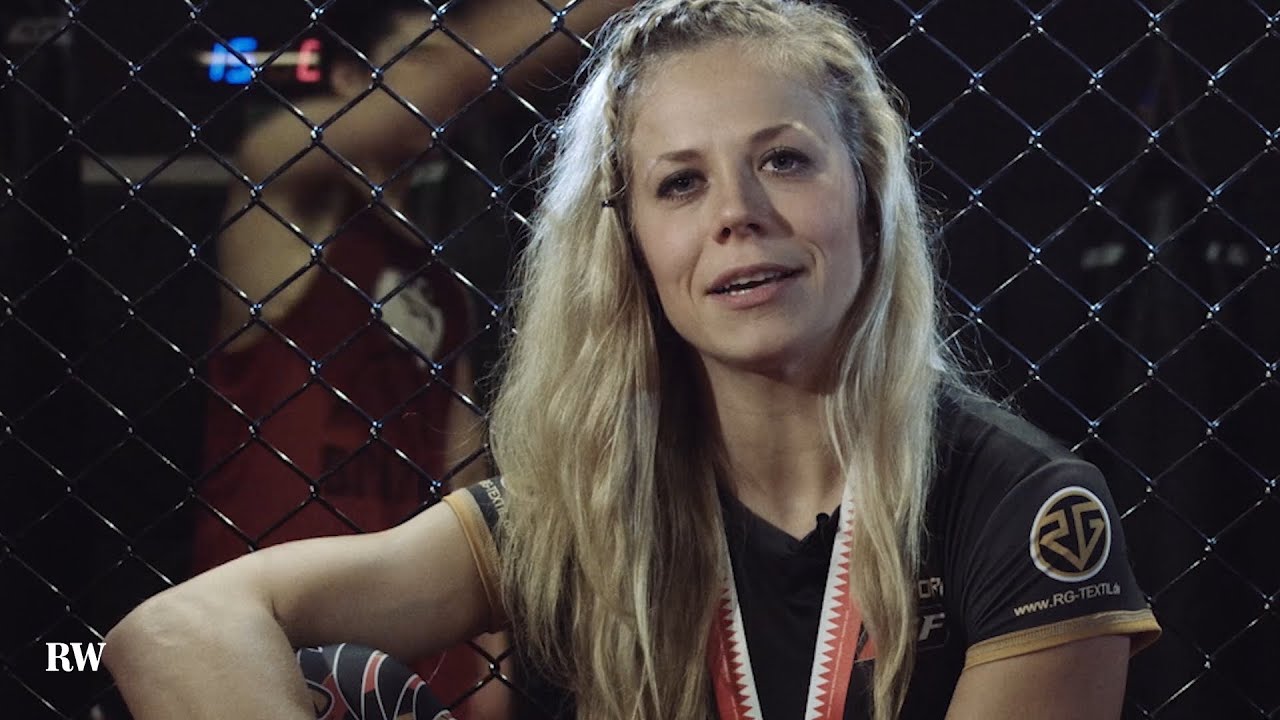 March 3, 2022,
For a strikingly beautiful woman, Germany's Julia Dorny has done a lot of striking.
Consistently hitting the mark.
A lot of fighting too. And hitting.
But the biggest fight of her young life will occur when Julia takes on American Jeslen Mishelle, March 2022, for a chance to win a Professional Fighter's League contract.
She is the only female athlete in the world who has won championships in judo, mixed martial arts and sumo wrestling. She was the first German woman to become MMA European Champion and MMA World Champion in featherweight within the IMMAF amateurs.
That is an incredible resume.
There's more.
In addition to her sports career, Julia works as a Media Scientist, journalist, and on-air reporter and presenter, for Deutsche Welle TV and N-tv.
She graduated with a bachelor's degree in journalism and corporate communications in 2013.
In 2017 she completed her master's degree in media studies at the Humboldt University of Berlin, majoring in the topic of "Framing in Journalism".
Since January 2020 Julia has been running her own podcast, "WOMEN HIT HARDER – The Female Power Podcast by MMA World Champion Julia Dorny" and regularly releases new episodes.
In April 2020 she was appointed to the "Athletes' Commission" of the IMMAF.
By the way, what is a Media Scientist?
Media Scientist, Researchers and Scholars research the role and impact that media has on the society. They observe and document the usage of different kinds of media such as newspapers, radio and TV and the response from society.
Intriguing.
With all of the anger in the world today, studying the media may make you want to fight.
Julia began fighting and competing long before today.
Now for the fascinating timeline.
At the age of 7, Julia began to be enthusiastic about judo.
Since the age of 14 she has been fighting in the German Judo League.
At the age of 17 she fought for the first time in the inaugural Judo Bundesliga (PSV Rostock).
At 18, she was awarded her black belt in judo.
Our Germanic Warrior is a multiple-time Berlin judo champion.
She was German vice-champion in the individual classification, several times winner of the national ranking tournament and has countless international successes to her credit.
In 2005 she qualified for the European Judo Championship, but was unable to compete due to injury.
We always have been puzzled why someone would become fascinated with Sumo Wrestling. Never met a person who did in our entire life.
In 2016 Julia began sumo training and later that year she became German champion, won bronze at the European Championships, and took 5th place at the World Championships.
Extremely impressive.
In her sumo career, Ms. Dorny became a multiple-time German champion (individual and open weight), secured 5th place at the 2017 World Games, and won silver at the 2019 US Open in Los Angeles.
What is starting to amaze us is the variety of disciplines that Julia participates with great success in each and every one.
You've heard of the "Jack of all trades, master of none" which is a figure of speech used in reference to a person who has dabbled in many skills, rather than gaining expertise by focusing on one.
Julia is the exception. She appears to become a master at everything competitive that she tries.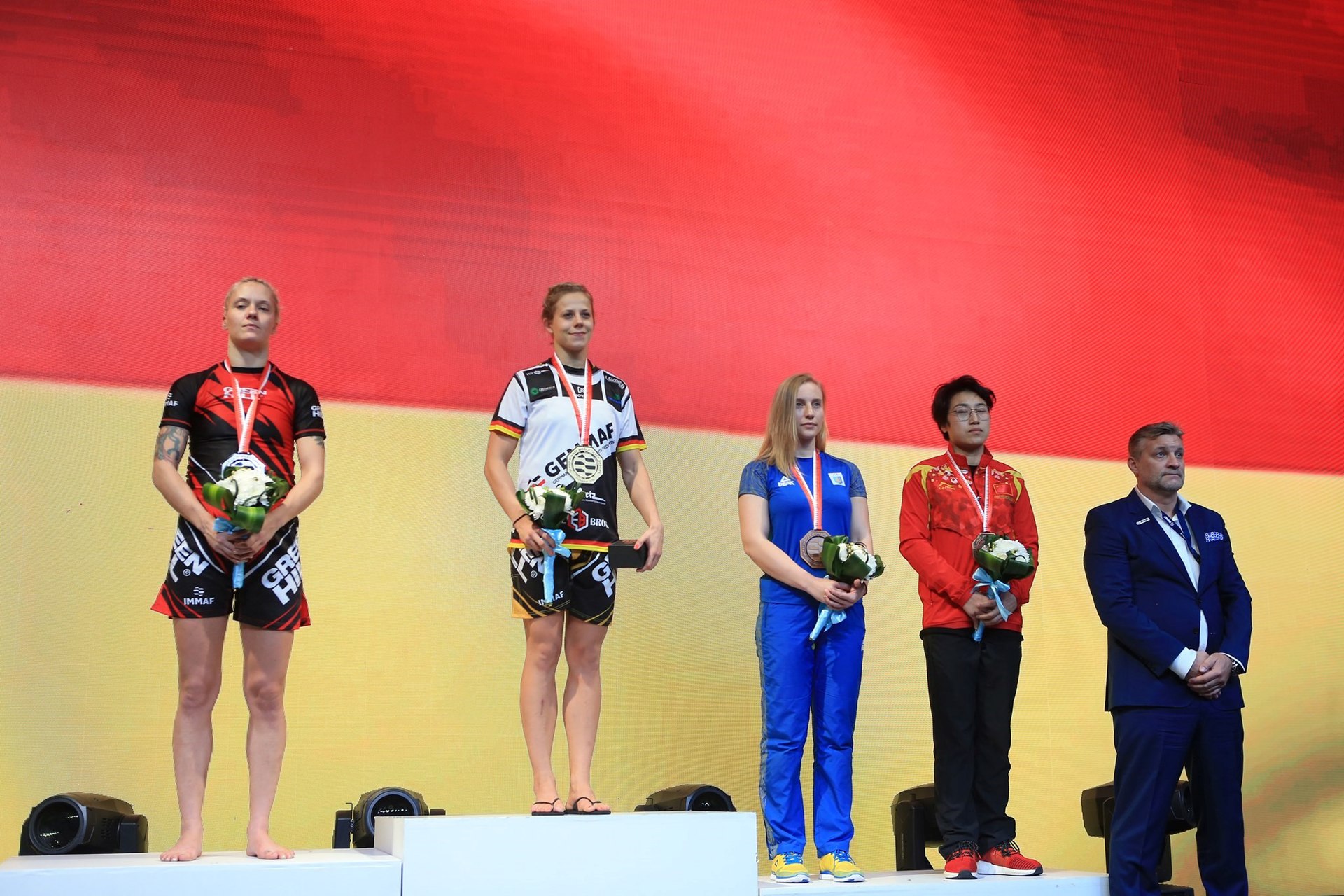 This is very unusual.
Let's continue to move up the timeline and view her transition into her MMA career.
Julia won her MMA debut as an amateur at the German Championships (GEMMAF) in 2015.
In the same year she was nominated for the IMMAF World Championship in Las Vegas, winning the bronze at her international debut.
She then proved to be a consistent performer by winning another bronze medal at the IMMAF European Championship in Birmingham.
Are you keeping track? It's hard to keep up.
In 2018 she took her performance to the next level and managed to become European and World Champion on her first attempt. This rare feat made her the first German European champion and the first German World Champion in the featherweight division.
Time for a pause.
Given Julia's incredible accomplishments across so many competitive pathways, it raises a question.
Why haven't we heard of her before?
Have you heard of her before?
Well now we have now. We absolutely want to see more.
We sense her participation in this PFL showdown is a very big deal.
Currently, she is 32 years old. Very young for everyday life, not so much for MMA life.
This PFL Challenger Series victory would put her on the map.
Given how much money and thought the PFL is investing in their events, with super star Kayla Harrison as the show piece on the mantle, there is a lot at stake for Julia and all of the other female competitors in the March competition to do well.
To get a second chance.
Again, our understanding is, they are not under contract and if they lose, it lessens the chance they will even get one.
Many of the Fem Competitors here, except for their camp and fans, are virtual unknowns to the masses. This is their opportunity to break out from the pack.
Julia is impressing us so much that we desire a closer look.
Here is a video of Julia speaking to her training and story.
While it lasts: https://www.youtube.com/watch?v=ksBI39mZxHQ
One thing that becomes very clear and is absolutely believable is that Julia believes in hard work. Very hard work. Putting in the road work, and it shows.
It you want to see Julia in brilliant action, check out her fight against Finland's super star Jenni Kivioja in the cage at the 2018 IMMAF –WMMAA World Championships.
While it lasts: https://www.youtube.com/watch?v=vPc31CrGqXA
After winning the European and World Championships, Julia made her professional debut in front of her home crowd on June 29, 2019 at GMC20 in Berlin against Miriam Santana Ramos.
She defeated Ramos in the first round by TKO (ground and pound).
This fight was also the first GMC women's fight broadcast on FreeTV. She had her second fight at GMC22 on October 12, 2019 against Mariam Tatunashvili, which she also won through TKO (ground and pound) in the second round.
PFL? Lookout.
Not only is she a Jane of all trades, she has mastered every single one of them.
~ ~ ~
OPENING PHOTO fciwomenswrestling.com femcompetititor.com grapplingstars.com, Uploaded-by-REALWOMEN-REALSTORIES-photo-credit-YouTube-screenshot Editorial use

https://en.wikipedia.org/wiki/Julia_Dorny
https://www.123test.com/professions/profession-media-scientist/
https://en.wikipedia.org/wiki/Jack_of_all_trades,_master_of_none
https://www.fcielitecompetitor.com/
https://fciwomenswrestling.com/