Extra, Extra! London's Submission Room October 23, 2021 Women's Wrestling Event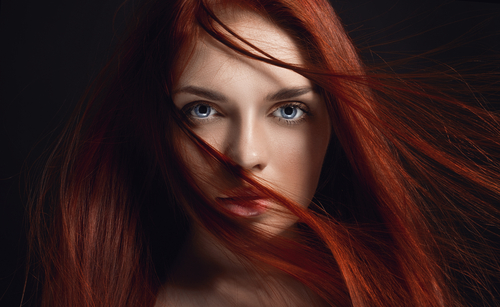 October 20, 2021,
Fully competitive female submission wrestling events don't come around often enough, especially during the Covid-19 era.
Thanks to the vaccines, hopefully most of that is behind us.
It is time to get excited.
The legendary Pippa, of England, is having another live fully competitive women's wrestling event with her team at the Submission Room and it promises to be very exciting.
She has a lot of experience at it since this is number 19.
The event takes place on October 23, 2021. Let's take a closer look.
At thesubmissionroom.co.uk Pippa shares, "Hi Everyone, I can't believe it's been two years since the last event. And what a two years it has been! After a long break things are back up and running at The Submission Room. For me, the lockdowns were a good chance to relax and have some time off, but I know it was very different for everyone. Plus I am making up for it now with a very busy schedule. I hope you all made it through and are ready for some Submission Room wrestling action!"
Yes we are. And we look forward to the videos too.
Who can you look forward to see throw down? Participating are Nixie, Venom, Hildr, Denise. Laken and Storm.
We have purchased some of her matches and one of our favorites is Denise. We saw her decimate Ivy Rain at another event.
Denise smiles, "Hi, I am Muscle Worship Girl (MWG) you may also call me Denise. I am a Pro Bodybuilder within the Woman's IFBB Figure Division. To date I have competed in over 15 events around the world winning many trophies.
I am 170cm tall, weighing up to 175lbs in my off season and around 150lbs in contest condition. I pride myself on being feminine, muscular and most importantly incredibly strong. I can Squat & Deadlift 140kg / Bench Press 80kg and I curl 20kg dumbbells for breakfast!
I love fantasy wrestling combined with muscle worship. Imagine being helplessly scissored and pinned by my 24inch quads while I make you run your fingers over my 15inch biceps. I'll leave that thought with you to ponder on. I can be extremely mean yet I'm also incredibly friendly and will always make you feel comfortable as a priority."
Mean? She is much sexier than mean and she is a great wrestler too.
Here is one of her mixed wrestling videos. "There's a new wrestler at the London Submission Studio and we had an opportunity to film a short fantasy video with her this last weekend. Denise (also known as Muscle Worship Girl) is a stunning bodybuilder who can bench-press 80Kg (176 lbs)  and Squat 140Kg (310 lbs). As you can see from the trailer, she is solid muscle and she loves dominating her opponents and making them worship her strong body.
The video starts with Muscle Worship Girl flexing, and showing off her defined biceps, triceps, quads and abs. After 5 minutes, she decides to put her muscles to use and grabs Chicken Boy from the sidelines. She then takes him down to the mats with a headlock and proceeds to put him into all sorts of wrestling holds, including schoolgirl pins, camel clutches, head-scissors, reverse head-scissors, a grapevine pin and a cross-body pin.
Chicken Boy really is "Trapped and Helpless" as he struggles in vain against Denise's muscles. But when you're faced with someone this strong, resistance is futile. When Chicken Boy finally submits, he is rewarded with the opportunity to worship Denise's muscles.
Muscle Worship Girl has a simply amazing physique and if you're a fan of watching a strong, muscular girl dominate a smaller guy, you will love this video."
Sounds yummy. Can you see yourself in that video?
We remember when Laken was just a baby but she has competed so often, can we call her legendary?
Pippa's team loves her and educates, "Already with a few years of wrestling experience under her belt, Laken, with her background in dance and aerial has proven herself to be a top female wrestler. She enjoys combining wrestling and BJJ styles in her sessions and her favorite hold is a triangle choke."
Ouch. Make that a sexy ouch.
There is a beautiful girlie girl on the menu and her name is Nixie. What a babe.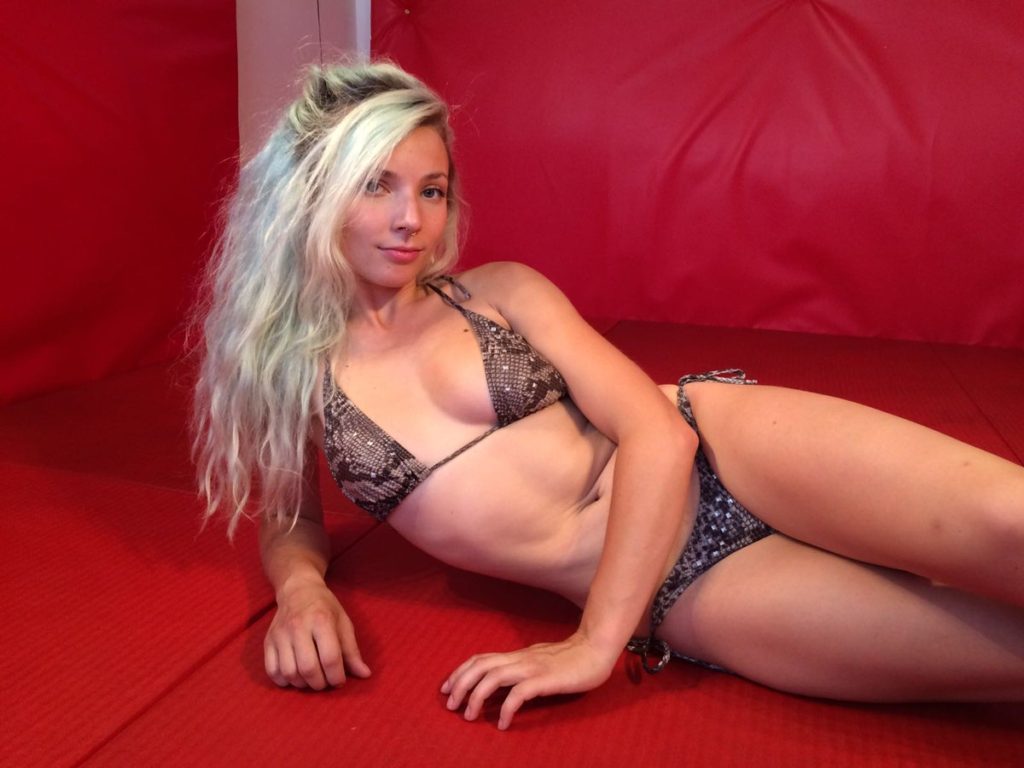 The Submission Room states, "Going from strength to strength, femme fatale Nixie is a force to be reckoned with on the mats. Knockout looks to match her knockout scissors, this girl has not only trained in BJJ, wrestling and judo, but is an acrobat and dancer as well. Sweet and playful as long as she's winning, things turn fierce and feisty once her prowess is challenged. Deceptively strong for her size, Nixie will force you to submit to her head scissors, rear naked choke or squirm inducing arm bar."
Sounds like fun. A face sit would seem appropriate as well. Just saying.
Hungry? Perk up. You have a dinner invitation.
"The event will start at 1pm sharp and there will be around 7 female V female matches that will end around 4pm. We will have up to 6pm in the space for mini matches if the demand is there. Afterwards we will go out for dinner and drinks, so do join us."
The wrestlers will also be available for mini matches afterwards (£15 for 5 minutes and £25 for 10 minutes).
As producers, we know that is a bargain price.
The event will take place at the Ridley Road Social Club, First Floor, 89 Ridley Rd, London E8 2NH.
You can email Pippa to book your ticket: thelondonsubmissionroom@gmail.com
We're happy to say that fully competitive female wrestling matches and events are back.
In partnership with Female Competition International (FCI), Grappling Stars participated at their October 2, 2021 event at the majestic San Francisco Airport Hyatt. It was a superb female sports and entertainment package that included competitive female wrestling, a model shoot, Brazilian Dance, an Opera Singer, vibrant Competitive Cheer and concluded with mesmerizing Japanese dance.
Now, here we go again with more competitive female wrestling in historic England.
Events seem to bring out the best in everyone, so it promises to be a great time.
Pittsburg's beautiful Chloe, FCI October 2, 2021 Event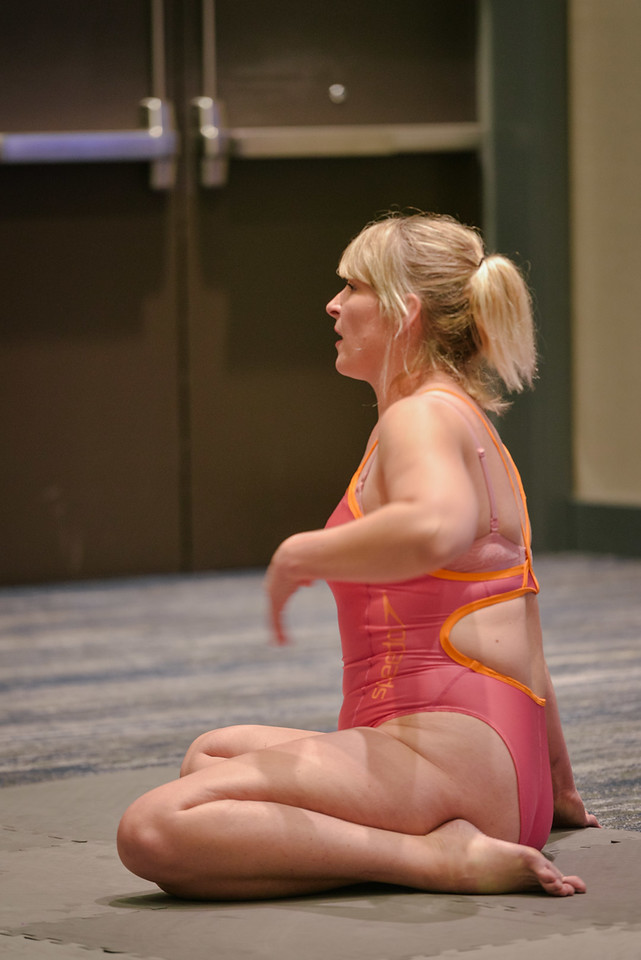 ~ ~ ~
OPENING PHOTO femcompetitor.com, grapplingstars.com fciwomenswrestling.com Editorial-Use-By-Iva-Foto-Shutterstock-photo-credit-.

https://www.fcielitecompetitor.com/
https://fciwomenswrestling.com/