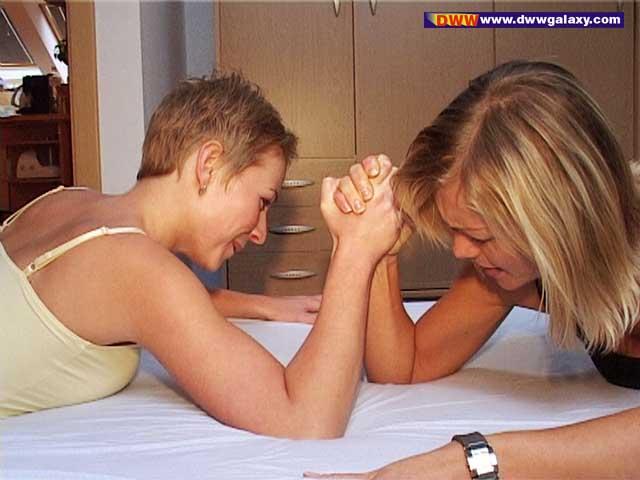 Transitioning into the stage of maturity in a woman's life can open the door to new experiences and challenges. The common pathways are often more travel opportunities, increased time for hobbies or going back to school among other interests.
When it came to the married Danube beauty Eva P, she was described as "mature" at the tender age of 27 so it's not surprising that she made a decision to become more physically active and make some extra money by trying wrestling.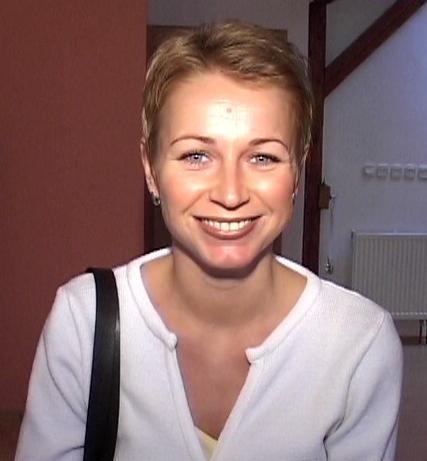 It's great that she did because she certainly created a lot of excitement.
Here are a few of her reviews.
"What does an open skylight have to do with two mature women having a lot of fun with their first experience of wrestling? You'll have to look at this video to find out! This is for the fans of natural but rather unskilled wrestling by determined, beautiful, feminine and exciting women.
Pettula and Eva are a delightful pair of friends. This was really the first time that either had wrestled, and both try very hard. It's a lengthy match, too."
Next our gorgeous twenty something faced long time Danube star Laila. "The first of two volumes of encounters between the new girls and experienced "veterans" – the alumni of the DWW "college" allows the newcomers to find out if they're good enough to teach the resident "queens" a lesson and the veterans to see if they should be nervous about their status.
So the new girls are very keen, and the experienced girls don't want to be seen to lose. In the first match there's more beauty on the mat than in any Miss World contest, except that this contest is a real fight.
Eva is taken aback by Laila's hard resistance and quickly realizes that here is an opponent who not only matches her in beauty but also fitness and strength, and is just that little bit younger!"
A beautiful woman of varied interests Eva loves eating noodles, sipping wine and no doubt had many opportunities to do that since she once worked as a waitress. Besides competitive wrestling, Eva also enjoys participating in all types of sports and aerobics which contributed to her gorgeous form.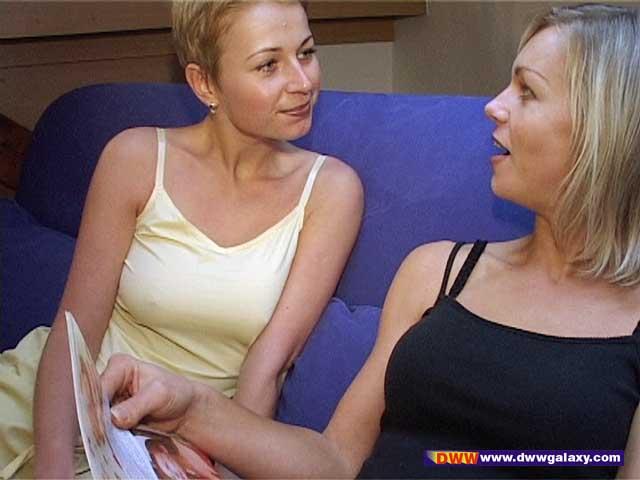 An intelligent young woman, Eva enjoyed watching movies with her favorite actor being Nicolas Cage. A very telling film that is her favorite is a Czech Republic gem titled Samotari.
A nice entertaining site movienightout.com shares a basic description with us. "A huge hit in the Czech Republic, Samotari is an ensemble piece reminiscent of Cameron Crowe's Singles, Jasmin Dizdar's Beautiful People, and Paul Thomas Anderson's Magnolia. In the Czech capital of Prague, a group of friends and lovers searches for the meaning of their existence. Robert (Miki Kren) is a hustler who works for a travel agency and spends his spare time hitting on bartender Vesna (Labina Mitevska of Before the Rain), a recent Macedonian immigrant who is trying to locate her father."
Samotari translates to Loners.
What do loners often have in common?
They tend to be lonely. Not all are.
Again, here is an expression at FCI Women's Wrestling that we often use and it seems time to use it again.
If we keep an open mind to the world of women's wrestling, not only does the experiences of our wrestlers take us around the globe but their stories initiate thought provoking discussions.
Our time period has often been described as the age of loneliness.
The respected information and news site the huffingtonpost.com supports this thought. "Our time has been called the "age of loneliness." It's estimated that one in five Americans suffers from persistent loneliness, and while we're more connected than ever before, social media may actually be exacerbating the problem.
A new wave of research is shedding light on some of the causes and consequences of chronic loneliness, a condition that significantly raises the risk of a number of physical and psychological health problems, including heart disease and depression."
Effectively psychologytoday.com introduces us to the subject matter. "What makes us happiest in life? Some people may point to fabulous fame and fortune. But hands down, surveys show that friends and family are the real prize. Even though our need to connect is innate, some of us always go home alone. You could have people around you throughout the day or even be in a lifelong marriage, and still experience a deep, pervasive loneliness. Unsurprisingly, isolation can have a serious detrimental effect on one's mental and physical health."
Loneliness is a complex and usually unpleasant emotional response to isolation or lack of companionship.
Research has shown that loneliness is widely prevalent throughout society among people in marriages, relationships, families, veterans and successful careers. It has been a long explored theme in the literature of human beings since classical antiquity. Loneliness has also been described as social pain — a psychological mechanism meant to alert an individual of isolation and motivate him or her to seek social connections.
People can experience loneliness for many reasons and many life events may cause it, like the lack of friendship relations during childhood and adolescence, or the physical absence of meaningful people around a person. At the same time, loneliness may be a symptom of another social or psychological problem, such as chronic depression.
Once again the Huffington Post provides with a nice summary. "In one of the studies the journal published, University of Chicago psychologist John Cacioppo and his colleagues hypothesized that the feeling of loneliness may have had adaptive value — both for humans and for other animals — because it prompted a realization that one has strayed from the social community. Like hunger and pain, loneliness may be part of a biological "warning system" to enhance our chances of survival and reproduction. The study suggests that loneliness provides a motivation to reconnect with others who may help to protect us from predators or provide other survival benefits."
The fact that Eva P. loved the film Samotari may speak to a person interested in analyzing the deeper aspects of life.
The expansive naming site www.sheknows.com informs that Eva's name in Russian and Swedish means life. They add the name Eva is a Latin baby name. In Latin the meaning of the name Eva is: Living one. The Latin form of the Hebrew Eve. Famous bearers: Evangeline, Adolf Hitler's Mistress Eva Braun. In the bible Eve was Adam's wife and the first woman.
The name Eva is a Hebrew baby name. In Hebrew the meaning of the name Eva is: Life. Living one. In the bible Eve was Adam's wife and the first woman.
They summarize the inner profile. "People with this name have a deep inner desire for a stable, loving family or community, and a need to work with others and to be appreciated.
People with this name tend to initiate events, to be leaders rather than followers, with powerful personalities. They tend to be focused on specific goals, experience a wealth of creative new ideas, and have the ability to implement these ideas with efficiency and determination. They tend to be courageous and sometimes aggressive. As unique, creative individuals, they tend to resent authority, and are sometimes stubborn, proud, and impatient."
Unique and creative. That seems to be Eva.
Her wrestling was enjoyable to watch, her energy contagious and her willingness to take risks, to be admired. It's people like Eva that make life far more interesting.
~ ~ ~
Sources: brainyquote.com, Wikipedia, fciwomenswrestling2.com, FCI Elite Competitor, photos thank you Wikimedia Commons.
https://www.psychologytoday.com/basics/loneliness
http://www.huffingtonpost.com/2015/03/21/science-loneliness_n_6864066.html
http://www.everydayhealth.com/news/loneliness-can-really-hurt-you/
http://www.sheknows.com/baby-names/name/eva