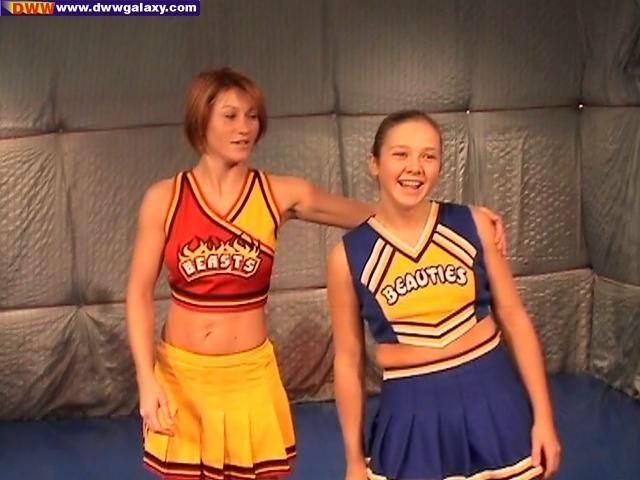 Edita was a tough female submission wrestler who could compete in all styles victoriously.
Blessed with a lithe slender frame, soft brown hair and a sweet, quiet feminine demeanor, one might never believe that over the years the Czech beauty Edita was one of DWW's top fighters of all time.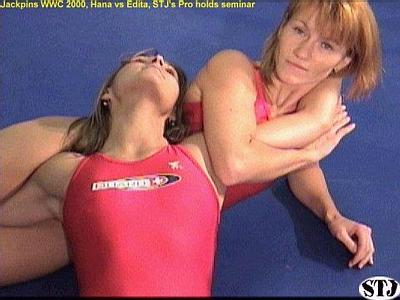 My first introduction to Edita was watching her take on a mature, shapely Sonia who had the appearance of a sweet motherly type, but as we know, sometimes a mother's love can be smothering and it seems like Edita found that out the hard way as she had no answers for Sonia's close caress that ended in one erotic submission after another. Edita seemed on the verge of tears.
She would survive that and go to battle the likes of Petra, Luzia, Hana, Kriszta, Eva, Viktoria, Jana and other DWW warriors inside the Danube village and take on the likes of super star Nadege from outside the group. Though in a losing cause, her match against Tatyana at the 2000 Women's Wrestling Convention in San Diego was a painful grind out affair that kept the audience glued to the ring.
A former freestyle wrestler, Edita possessed and mastered various styles of grappling used in matches that ranged from schoolgirl pins; straight wrestling, sumo wrestling and she even branched out into serious boxing matches as well.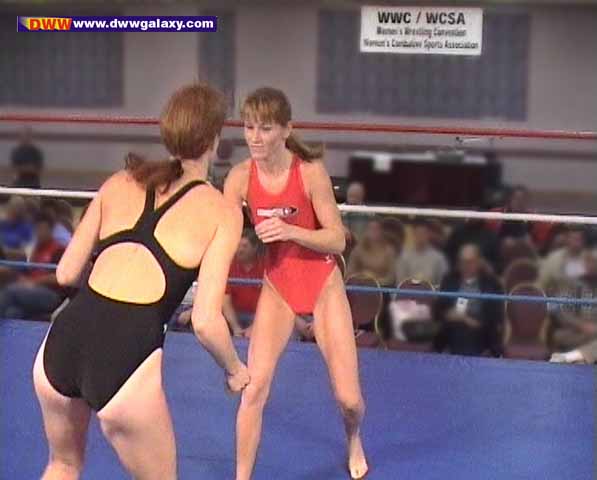 Edita loves variety in life. She especially has a love for seafood.
The DWW maidens plied their trade mainly in Vienna near the Danube so let's visit Vienna with a focus on the sea.
The respected information source Wikipedia lays the foundation stating, "Vienna is the capital and largest city of Austria, and one of the nine states of Austria. Vienna is Austria's primary city, with a population of about 1.757 million (2.4 million within the metropolitan area, more than 20% of Austria's population), and its cultural, economic, and political center. It is the 7th-largest city by population within city limits in the European Union. Until the beginning of the 20th century it was the largest German-speaking city in the world, and before the splitting of the Austro-Hungarian Empire in World War I the city had 2 million inhabitants.
Today it is the second only to Berlin in German speakers. Vienna is host to many major international organizations, including the United Nations and OPEC. The city lies in the east of Austria and is close to the borders of the Czech Republic, Slovakia, and Hungary. These regions work together in a European Centrope border region. Along with nearby Bratislava, Vienna forms a metropolitan region with 3 million inhabitants. In 2001, the city center was designated a UNESCO World Heritage Site.
Vienna is located in northeastern Austria, at the easternmost extension of the Alps in the Vienna Basin. The earliest settlement, at the location of today's inner city, was south of the meandering Danube while the city now spans both sides of the river.
Vienna lies within a transition of oceanic climate and humid continental climate, and features, according to the Köppen classification, a Cfb (oceanic) -climate. The city has warm summers with average high temperatures of 24 to 33 °C (75 to 91 °F), with maximum exceeding 38 °C (100 °F) and lows of around 15 °C (59 °F).
Winters are relatively dry and cold with average temperatures at about freezing point. Spring and autumn are mild. Precipitation is generally moderate throughout the year, averaging 620 mm (24.4 in) annually, with considerable local variations, the Vienna Woods region in the west being the wettest part (700 to 800 mm (28 to 31 in) annually) and the flat plains in the east being the driest part (500 to 550 mm (20 to 22 in) annually). Snow in the winter is not uncommon, but rare compared to Western and Southern regions in Austria."
Can a city located in a landlocked country like Austria have great seafood? In Vienna's case the answer is emphatically yes!
The exciting travel site mydestination.com explains, "As Austria is a landlocked country, you wouldn't expect the seafood to be as good as it is! Thankfully, it doesn't take too long to travel to Vienna, and if you know where to go to eat it, you can still enjoy it fresh.
Places like the Inner City and Naschmarkt are the best places to enjoy the freshest seafood in Vienna, mainly because these areas make it their business to have the best and freshest ingredients and products. We recommend going for seafood at one of these places before anywhere else."
If you can't be next to the sea, why don't you bring the sea home? Austria has done exactly that.
The adventure destination site wien.info highlights, "The House of the Sea displays tropical freshwater and saltwater fish, as well as fish from the Mediterranean and domestic waters, and sharks, all at a lofty height.
Austria's largest aquarium is located in the House of the Sea: A 300,000 liter tank holds black and white tip sharks, bamboo sharks, and Puppi, a sea turtle. Another highlight since September 2013 is the 150,000-liter tank for the hammerhead sharks on the tenth floor of the former anti-aircraft tower. And the café on the 11th floor, which also opened in September 2013, grants visitors a breathtaking view of Vienna.
In the House of the Tropics and the Croc-Park you can see free-flying birds and free-roaming apes, crocodiles, and other animals categorized by habitat. In the terrarium section live poisonous as well as giant snakes, lizards, leaf-cutter ants, and tarantulas. And the Adventure Aquarium "Brandungsriff" lets children experience the tropical fish right up close through the "diver's helmets" built into the floor of the aquarium. In an artificial stalactite cave grotto, you can observe over 100 animals and cave-dwellers which are active by night: poisonous giant millipedes, amplypigids and armored ground crickets, cave fish without eyes and scorpions that glow like ghosts under UV light."
No doubt if she desired to, Edita not only could dine on every sea food imaginable but relax and watch it up close as well.
As a competitor, Edita is one that you love to watch wrestle up close. Like a chameleon, she can change styles at a moment's notice, depending upon whether she has to raise her game to impose her will on a larger star like Petra or adapt her style to a newer ambitious youngster like Lenny who proved to be as tough as she is beautiful. Edita has the determination of a champion to execute all styles when needed.
Her DWW family said it best when they described this stellar all-time fan favorite as an "All Style Fighter."
~ ~ ~
The wrestling at the site DWWgalaxy.com may be described as erotic in nature. If you find that offensive, please do not visit the site.
Sources: brainyquote.com, Wikipedia, DWWgalaxy.com, mydestination.com, wien.info, fciwomenswrestling.com, Edita's photo's thank you DWW, other photos thank you Wikimedia Commons.