DWW Wrestling Classic, Sweet Simona Dominates Favorite Iva, Amnesia Needed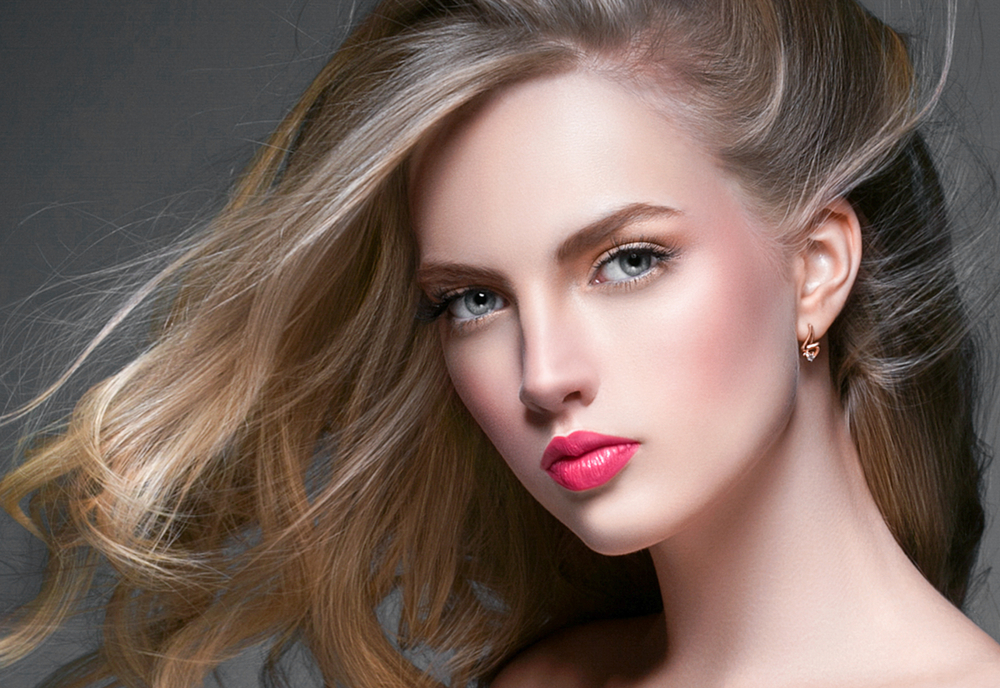 March 9, 2022
Good memories can fill our quiet thoughts with some of the best moments of our life.
Sometimes however a bad memory and amnesia are the best weapons to use when facing an opponent who has gained a reputation as a winner and a fighter.
Your reputation is not quite the same.
By virtue of her accomplishments at the 1999 DWW Convention in California when she battled the DWW super star Ingrid in a great fight, Iva was quickly gaining a reputation as a top emerging DWW fighter.
Simona had not. At least not yet.
Still, when Simona twice faced Iva, she needed to forget about Iva's accomplishments and focus on the present.
We've noted in our research on Simona that she has great difficulty with the broader shouldered girls who possess strong upper body strength.
This could work in her favor against the talented but slender Iva.
Fortunately we don't have to rely upon our memory when analyzing the battles between these two beauties because we would have picked Iva in a lopsided victory.
That would have been a mistake.
1999 is a long way away from 2003.
It's time for a reality check as Simona battles the DWW Convention star in a war between two short haired gorgeous girls.
SIMONA VS IVA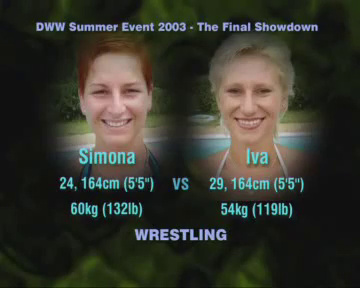 DWW Summer Event 2003 The Final Showdown Simona 24 vs Iva 29
Thankfully we actually have video footage of some past events and we don't have to rely upon our memories.
In our minds, given how Luzia and the top DWW fighters dominated the beautiful, shapely Simona with the short mane, we would have thought that Iva would completely dominate her, especially given Iva's performance at the women's wrestling conventions in the United States against the star DWW Fighter Ingrid.
When she wrestled Antonia, one DWW reviewer clearly agreed. He stated, "Iva was one of the best wrestlers during that time and it was quite interesting to watch them wrestling in this pins and submissions match from the "old time"."
The match between Iva and Simona would take place in the indoor room with the bamboo style walls. What is most striking is how the audience is laughing together and clearly having a good time before the match even begins. It reminds us of a quaint social. For those who were there, what memories.
The girl's tanned bodies look stunning in their bikinis. Iva wearing black and Simona in red.
As the match begins, Simona quickly has Iva down on the mats and is controlling the action while an exasperated Iva tugs at Simona's hair, which is not the greatest idea since Simona sports an incredibly short hair style and decides to make Iva pay for that and submits her at approximately the two minute mark with a brutal behind the back body scissors.
Iva appears stunned.
As the next round begins, Simona keeps Iva on the defensive and on her back.
For a moment Iva has an exceptional opportunity to apply a front body scissors but let's Simona escape. When Simona's turn comes to apply her frontal body scissors she makes the most of it, crunches Iva in brutal fashion who screams at the top of her voice for Simona to stop.
Will this turn into a runaway?
The third round starts with the beauties on their knees hand fighting. Perhaps this change in tactics might prove to be a better strategy for Iva.
Unfortunately it doesn't.
Simona is on top of Iva once more and applying the pressure.
Now she pulls on Iva's hair and at the nine minute mark comes in for the kill. Iva howls once again as she is submitted with a body scissors.
The final round becomes fairly predictable.
It's a good thing that the audience is having a great time bantering with one another. Simona once again controls the action and the tendency for more hair pulling grows since it seems to be so effective. She captures Iva from behind and fiercely pulls her hair and Iva quickly submits.
Simona flexes her muscles with pride as she subdues the slender blonde 4-0.
This is why you live life. This absolutely why you play the games.
It is full of surprises.
Simona is 24, Iva is 29, and once again the year is 2003
Simona will fight Iva again.
This match takes place in the famous outdoor tent
The two future DWW legends are introduced and as the fight starts, begin to circle one another.
There is a little bit of hand fighting and though Iva is the first to grab Simona around the neck, when they land it is Simona on top though caught in a neck hold.
We noted from time to time that Simona is shapely but not as strong up top as many of her DWW Fem Competitors.
In her situation with slender Iva, it appears this is one of the few times that she is stronger up top and begins to use this to her advantage.
The girls engage in a ground struggle and while Iva seemed to have the initial advantage, Simona's strength is winning out. In many private events, pin counts can go as high as 20 and more often to ten.
Here in a public event in the famous outdoor DWW tent, the pin count is five.
Simona firmly grasps Iva by the wrists and the slender blonde is counted out.
After four minutes, the first fall goes to Simona.
Once round two begins there is a similar outlay of hand fighting. Again Iva grasps Simona around the neck, the two fall to the blue mats and though in a neck hold, Simona is the one on top.
Her confidence growing, Simona quickly achieves the upper hand and from the side traps Iva in a body scissors. Iva wails "Oooooooh!" and withstands the first moments of excruciating pain but not the second wave and painfully taps out.
This is surprising.
After watching Iva's performance at the convention in the United States against the formidable Ingrid, we are a little taken back by how strongly Simona is dominating her again and we are only at the halfway point.
Strength and power allows you variety.
As the third round progresses, Simona is clearly the stronger of the two and changes her tactics and attempts a cross body pin. Iva valiantly slows her down then fights her off.
Now it is Iva's turn to be the aggressor and she clasps Simona behind the neck and tries for a floor to sitting body scissors on her opponent. Our shapely beauty is in trouble but is determined and stands to attempt to break the hold. This could be Iva's only chance to get back into this match so she tightens the leg scissors and holds on for dear life.
Simona falls to her side and submits.
It's now 2-1, Simona.
Could this match go the distance?
Simona is determined that is doesn't.
The fourth round evolves into a ground and primarily leg struggle. The skill levels of the girls are similar so ultimately it will be strength that will determine this outcome. Simona uses that strength to gain the advantage and now encases Iva in an upper body scissors. Iva can't take the pain and screams.
Then she taps out and lays helplessly on the mats for a minute.
Simona's arm is raised in victory with a glorious 3-1 finish.
Whatever Simona may have read or heard about Iva, she set it aside.
Yes, sometimes your best asset is amnesia.
~ ~ ~
OPENING PHOTO fciwomenswrestling.com femcompetititor.com grapplingstars.com Irina-Bg-Shutterstock-photo-credit-Editorial-use-

https://www.fcielitecompetitor.com/
https://fciwomenswrestling.com/