DWW Classics, Luzia vs Vera, Two Early Women's Wrestling Matches, Friendly Fire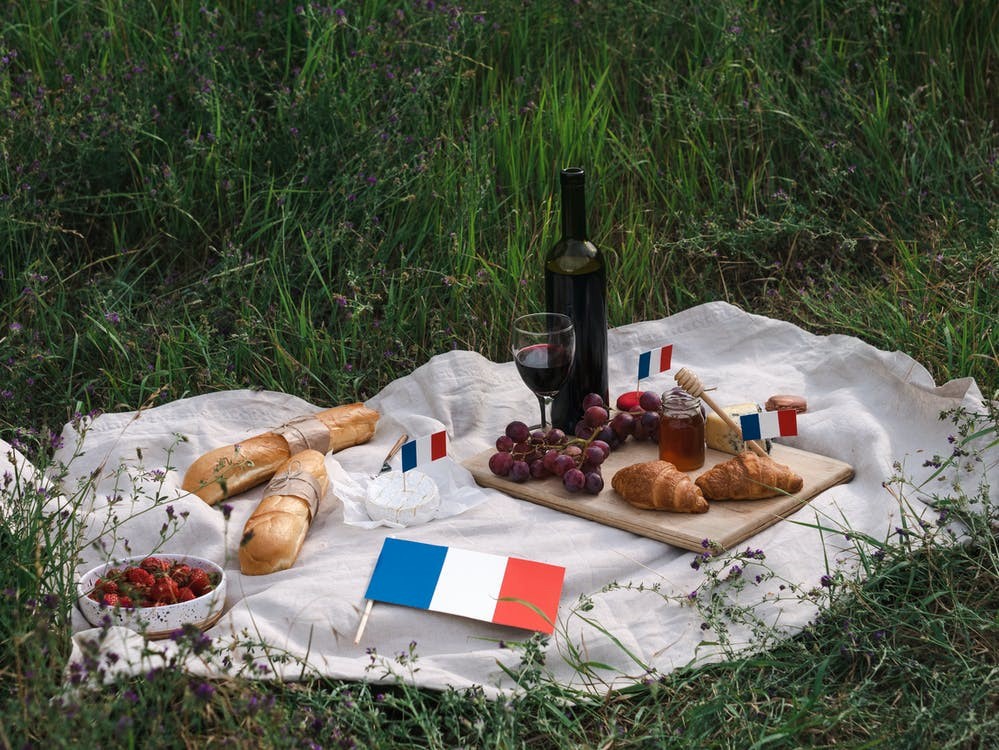 August 24, 2021,
Creating a wrestling resume to become a legend in your own right was Vera's DWW birthright.
Wrestling against a legend by DWW's anointing, as they did Luzia, can be a little intimidating.
We were avid snail mail purchasers of DWW back in the day and loved to read their views about their wrestlers.
Here are their loving words about Luzia before her retirement. "She had the skill, size and strength to win with the widest variety of holds, more than any other wrestler/cat fighter at DWW. She was an accomplished wrestler with the beauty and body to match. Not only was she a great wrestler but a great person as well – always the consummate sportswoman believing very strongly in fair play. Her wrestling record is unsurpassed."
Now that ladies and gentlemen is a description of a legend.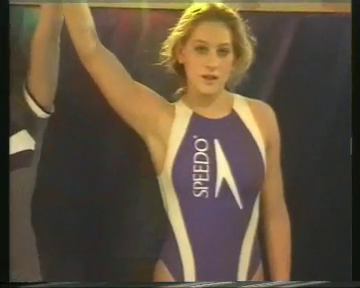 So, having said that, kudos should go to our dark raven haired beauty Vera for having the courage to compete against Luzia The Great more than once over the years. Her best bet was to get her hands on Luzia early in their career. Right?
Well, we just have to see as we revisit two of these DWW Princesses early matches.
INSIDE IN JEANS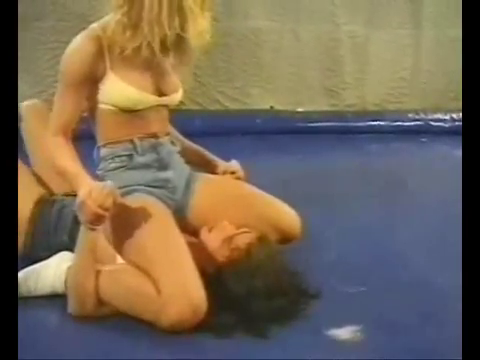 What could be better than two girl next door types wrestling in sports bras and blue jean cut offs?
Two Euro Princess girl next door types named Luzia and Vera.
This match took place very early in their careers and it would prove to be a grueling affair as it was a school girl pins only match added with the burden of an excruciating pin count to ten.
As usual, Jeff the ref did the officiating honors.
Vera gets off to a very good start by grasping Luzia around the head, securing the head lock and slamming her to the blue mats. The girls engaged in a battle of strength and Luzia does not stay down long as she begins to turn the tables and control the early part of the match. Our blonde beauty controls it from the top, even getting Vera up to a three count as she sat on her. To her credit, Vera is a fighter and escapes, only to have Luzia control her even when she is on the bottom.
The fighting was sporting but intense. Luzia remained in control through this period but Vera at one point did get the upper hand. Luzia was having none of it and forced the issue so hard that both girls tumbled off the mats.
Once back on the mats the girls fiercely wrapped, applied scissors and Luzia, as usual, had an excellent opportunity for a chin lock, then have the ability to finish the hold but this is about school girl pins so she is not going to be able to complete the submission that way but is being apparent that she appears to be the better conditioned athlete and is starting to wear Vera down.
Vera continues to have her moments but something else also becomes clear.
Vera has not developed the skills to close. Luzia has. Soon, therein, that would be the difference.
Luzia begins to gain control again and now is sitting on top of Vera in the ideal position for the school girl pin. Undaunted, Vera bucks her off but as we've all come to know, Luzia is very persistent and as soon as Vera kicks out, Luzia wisely keeps their two hands clasped together knowing that by using all of her body weight, it is just a matter of time before Vera succumbs to the pin count of ten and she finally does.
As round two starts, the two girls proceed with the usual head hunting prospecting for a head lock. This time however, Luzia is the clear aggressor and is constantly beating Vera to the punch. She encases the feminine athletic brunette from behind and could easily make her tap out with a body scissors but eventually has to maneuver for the school girl pin.
Luzia takes control of the match and once she has Vera down, she essentially keeps her there. If other holds were available, Luzia would probably begin to run away with this one. Vera has a spurt of opportunity and regains top control but it doesn't last long.
Once Luzia gets her down this time its lights out with a ten count school girl pin.
Now it is time for a break and we see some of the DWW stars resting in the background. It is a very family oriented united company feeling. Yes the women aggressively compete with one another but once the stop whistle blows things are pretty mellow. Luzia even shares some of her refreshment with Vera.
As the two youthful warriors engage again Vera still has a willful spirit but Luzia has the technique. She controls the action again and even flattens Vera down and lays on top of her.
Vera musters one last stand and is very valiant in her efforts but this Luzia's match to win 3-0. Jeff the ref even says so except he describes as 3 to nil.
It's time to raise the victor's hand up high.
INSIDE THE LIGHTED TILED STUDIO ROOM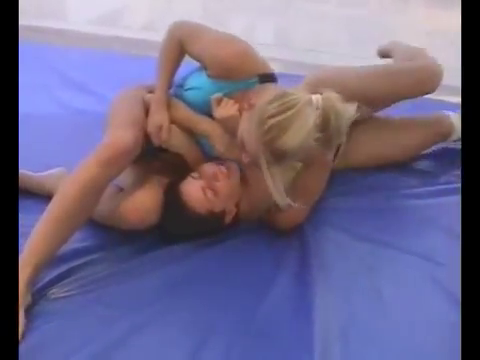 In a battle that would take place a little later in the two legendary girl's career, the two Czech warriors meet inside of the well-lit famous DWW room with the lighter blue mat and beige tile floor.
Bathing suits are the choice of attire as Luzia looks stunning in powder blue and Vera is smartly dressed in black and neon olive green.
Both girls are more mature at this stage and calmly exuding confidence.
There is no burden of having to limit their submission attempts to school girl pins only.
Whether on top with fierce headlocks or from the mat floor, with a body scissors, Luzia is still in control.
Her dominance is not permanent.
Vera is nursing a bum knee as she wears a support but she doesn't allow it to affect her play. She keeps fighting for a better position and soon gets it. She breaks out of Luzia's python like body scissors and now the pin count starts with her on top.
As we know, Luzia is just too strong and she uses her patented chin hold to gain control. Vera is not swayed and the two battle so hard that they spill out onto the tile.
The two girls get a little break, stand again, straighten up their sexy attire and are waiting for the word, "Go".
Luzia gains the edge with a headlock and within the rules, slams Vera to the mats and won't let go of that head lock.
As Luzia holds this brutal headlock for well over two minutes, you can't help but admire how beautiful, feminine and strong Vera's thighs are as she erotically struggles to break fee but can't. This continues for an even longer extended period of time. It reminds one of when an animal in the wild has its prey trapped by the upper torso and just won't let go. In the wild it is terrifying. In the nicely DWW tiled room it is wildly sexy.
Tired, Vera finally succumbs, taps out and sits up dazed.
What we loved about re-living these two matches that we originally enjoyed well over a decade ago is the sportsmanship of the two pros. They find the balance of being hard fought, aggressive and sexy without being testy (Karine of Germany are you listening? Just kidding).
Hey look, sometimes a little testiness is, well, intense and mesmerizing.
Here though, between these two DWW super stars, fierce friendly competition was always sufficient.
Friendly fire.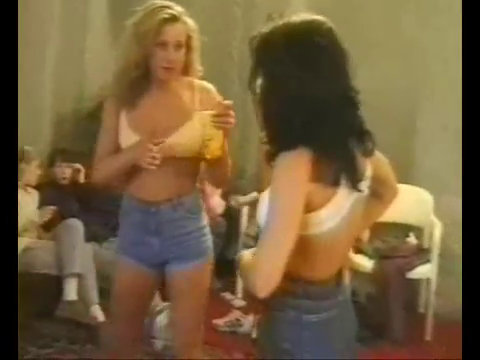 ~ ~ ~
OPENING PHOTO femcompetitor.com, grapplingstars.com fciwomenswrestling.com Polina-Kovaleva-pexels.com-photo-credit.
https://www.dww.at/catfights.asp
https://www.fcielitecompetitor.com/
https://fciwomenswrestling.com/