DWW Classic Rivalry, Luzia Vs Daniela, Two Battles, Early Twenties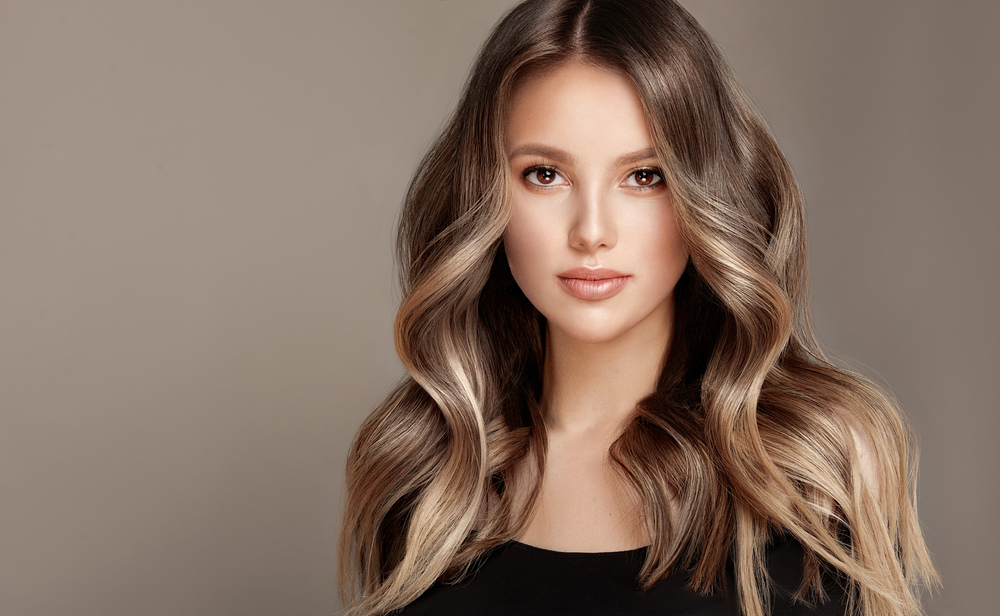 March 7, 2022,
When Super Heroines meet for battle, hesitation applies, especially when they are both fan favorites.
If there were ever two DWW Super Heroines who appeared to be Wonder Women it is Luzia and Daniela.
These two super stars did collide. Often.
This occurred in the fully competitive female submission wrestling industry when DWW Super Star Luzia at 23 met the larger gorgeous Daniela 24, with the strong thighs.
The year was 2004.
Going into the match, though smaller in frame, since Luzia had been competing with DWW since she was a teenager, with stellar results, you might view her as the favorite, but when Super Heroines meet, you never know.
These beautiful warriors met a number of times. The following are match reviews and analysis of two of their toughest battles.
LUZIA 23 VS DANIELA 24
Luzia looks refreshing and stunning in anything that she wears. Her slightly oversize red sweat shirt dwarfs her smaller frame in comparison to Daniela, adorned in a dark top, as she stretches on the other side of the famous upper DWW studio.
After extensive warmups that last over 3 minutes, Luzia is ready to battle her nemesis Daniela. As usual Daniela is nursing a sore knee with a white knee support.
The two warriors stand for engagement and Daniela takes Luzia to the mats with a headlock. Then she encloses her right arm around Luzia's neck and head while she has Luzia's right arm trapped behind her powerful thighs.
Daniela is in complete control of this early battle.
She soon turns the hold into a cross body pin. Luzia uses her beautiful athletic legs to try and kick out initially to no avail.
She finally does break the hold only to have the stronger Daniela lie on top of her, orchestrating a full nelson, pulls Luzia back and seizes the blonde star in a crunching body scissors.
Luzia screams in anguish and submits.
Once Luzia gets a chance a rest she tries to shake the pain out of her right arm.
Rest time is over and it's time to fight again.
In the standing position Daniela tries to trap Luzia again and attempts a tripping move. Luzia is ready for her this time and as the two fall to the mats, this time it is Luzia who lands on top but unfortunately cannot keep the hold.
Daniela gains control, almost full nelson fashion and pulls Luzia back towards her and with Luzia's primal screams heard across the sparsely populated room, Daniela squeezes her out in another brutal scissors.
At the 9 minute mark Luzia succumbs in pain.
The two beauties sit for a moment and engage in light banter before they stand. Once they do, it appears to be more of the same. Daniela quickly seizes Luzia in a headlock and after several attempts trips Luzia back down to the mats.
The moves look similar only they are happening at a faster pace.
She now encloses Luzia in another body scissors that looks like the brunt of those strong thick legs could cut Luzia in half. The blonde starlet's attempts to escape are becoming more feeble and her groans of pain becoming more audible.
At the 11:30 mark Luzia submits again.
Typically in DWW matches, they are three submission affairs, but unfortunately for Luzia this one is scheduled to continue, promising a very painful near future.
Luzia now lies motionless on the mats.
Please let her rest and recover.
The next round begins with Daniela seizing control and dragging Luzia around in the standing position but loses the hold and now Luzia is on top of her.
This is the classic situation where an opponent who has not had things go her way has to make the most of her opportunities because they may not often come.
Luzia lies on top of Daniela in the smothering position. She soon attempts a grapevine then maneuvers the larger girl around for a chin lock. Daniela is determined not to submit.
Can she flip Luzia over?
Yes.
Now she is back on top of Luzia.
It appears to be business as usual. First the full nelson, then pull Luzia back and step three apply the brutal scissors only this time Luzia surprisingly breaks the hold.
The blonde is now in a position of strength trapping Daniela in a tight headlock. Can she finish it? Daniela is beginning to fold.
She does it.
Luzia submits her with a fierce headlock and then bends over in pure exhaustion.
Her rest is short lived.
The two stand again and Daniela makes it clear there will be no comeback in this match.
She clasps Luzia by the neck and quickly takes her down. Luzia tries to struggle but it appears to be in vain. It's late in the match and her energy is waning. Daniela seems to be fresh as a daisy and energized like a badger.
This one is finally over as Luzia submits.
Mercifully.
As Luzia lays flat on the mats, Daniela, always with a keen sense of humor stands over Luzia and flexes.
To the winner goes the smiles.
It's Daniela 4-1.
LUZIA 24, VS DANIELA 25
Strong, Gorgeous Daniela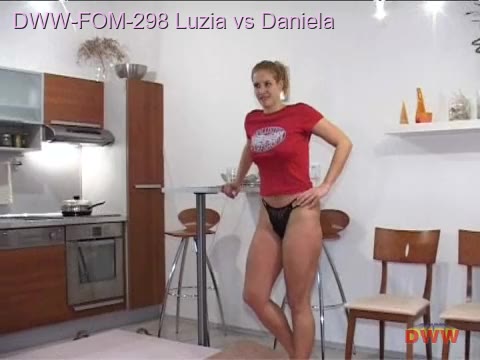 The gorgeous heroines meet inside of the famous DWW apartment with a nice white washed Scandinavian feel to it. As the chairs surround the walls, many DWW battles took place in that room. It starts as a friendly encounter as the girls have a nice chat as they warm up.
Here is the match description:
"In this sponsored pins only match from 2004 Luzia has got much more experience than Daniela, but Daniela has got more weight and strength. Can Luzia give her a good match?
Both young women start each fall with a bear hug and continue to wrestle on the mats of the apartment, trying to pin each other for a long pin count. If you like to watch two of the strongest and prettiest wrestlers in an exciting pins only match then don't miss this one."
The match indeed begins with a bear hug while the girls are on their knees and being the stronger and larger of the two, it was inevitable that Daniela would win that joust.
Now on her back, with Daniela on top of her Luzia, is resisting a grapevine and smother in what will be a long grueling match where Daniela is trying to pin and smother her out.
She endures and escapes several of Daniela's attempts and even surges to the top position again but that advantage is short lived.
Daniela is just too strong and begins to use her body and strength to press the issue again from the top while one pin count after another begins, some going as high as eight before Luzia breaks the hold. It is taking every ounce of strength that Luzia has to prevent herself from being counted out.
There is a glimmer of hope for the blonde angel as she traps Daniela in a head lock, but unfortunately for the DWW Star, she can't hold it.
Now it is Daniela's turn to press the strength lever again and after all of that strain against a formidable feminine muscle force, Luzia's castle wall is starting to show signs of strain. This time after several pin counts, Daniela makes good on it and Luzia is pinned to the count of ten at about the 9 minute mark.
The next round starts with the bear hug again but we sense we know how that is going to go and, well, so it goes.
Daniela begins to press the advantage again and the only slim glimmer of hope that Luzia generates is when she goes for the head lock. The problem is that she just can't sustain it.
Advantage back to Daniela who keeps the slender Czech maiden trapped and struggling underneath.
This goes on for a few minutes and you can understand why Luzia might be buckling under the strain. After several smother and grapevine attempts throughout audible groans, at about the 16 minute mark, Luzia is pinned counted out again.
She needs a break to rest up for the third fall and we hope for the best. We always believe in Luzia.
The question becomes, does the then 24 year old version of Luzia believe that she can come back against the 25 year old model of Daniela?
The third round begins with another bear hug and Daniela wins again. Of course.
If the first submissions took about 8 minutes each to achieve, this last one will come sail in much quicker. Luzia is clearly tiring (who wouldn't?) and Daniela seems fresh as a daisy.
The stronger Euro princess now has Luzia withering and comes in for the kill at about four minutes into it. Luzia has trouble resisting and is counted out.
The two beauties rest on the padded mats after the battle. In 2005, this is just another gorgeous day at the DWW office.
"It's so reassuring to have a woman heroine who triumphs with more than just what she has on the outside… who has more to offer the world than just a pretty picture."… America Ferrera
We love our Super Heroines, and in the case here, when they meet in battle on the grappling mats, complete with a standing ovation for their movie performance.
The fact that Luzia and Daniela as Super Heroines remained friends make their engagements even more satisfying.
And historic.
Lovely Luzia – Timeless Beauty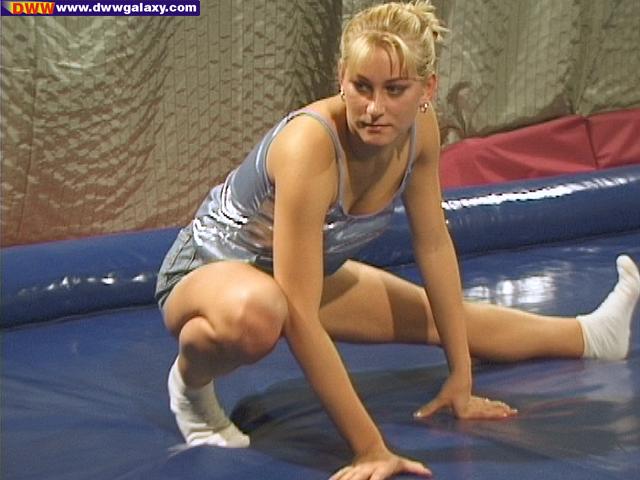 ~ ~ ~
OPENING PHOTO fciwomenswrestling.com femcompetititor.com grapplingstars.com, Sofia-Zhuravetc-Shutterstock-photo-credit-Editorial-use

https://www.brainyquote.com/topics/heroine 
https://www.fcielitecompetitor.com/
https://fciwomenswrestling.com/