DWW Classic, Renata B. 29 Vs Cathy 26, Blonde Apartment Wrestling Clash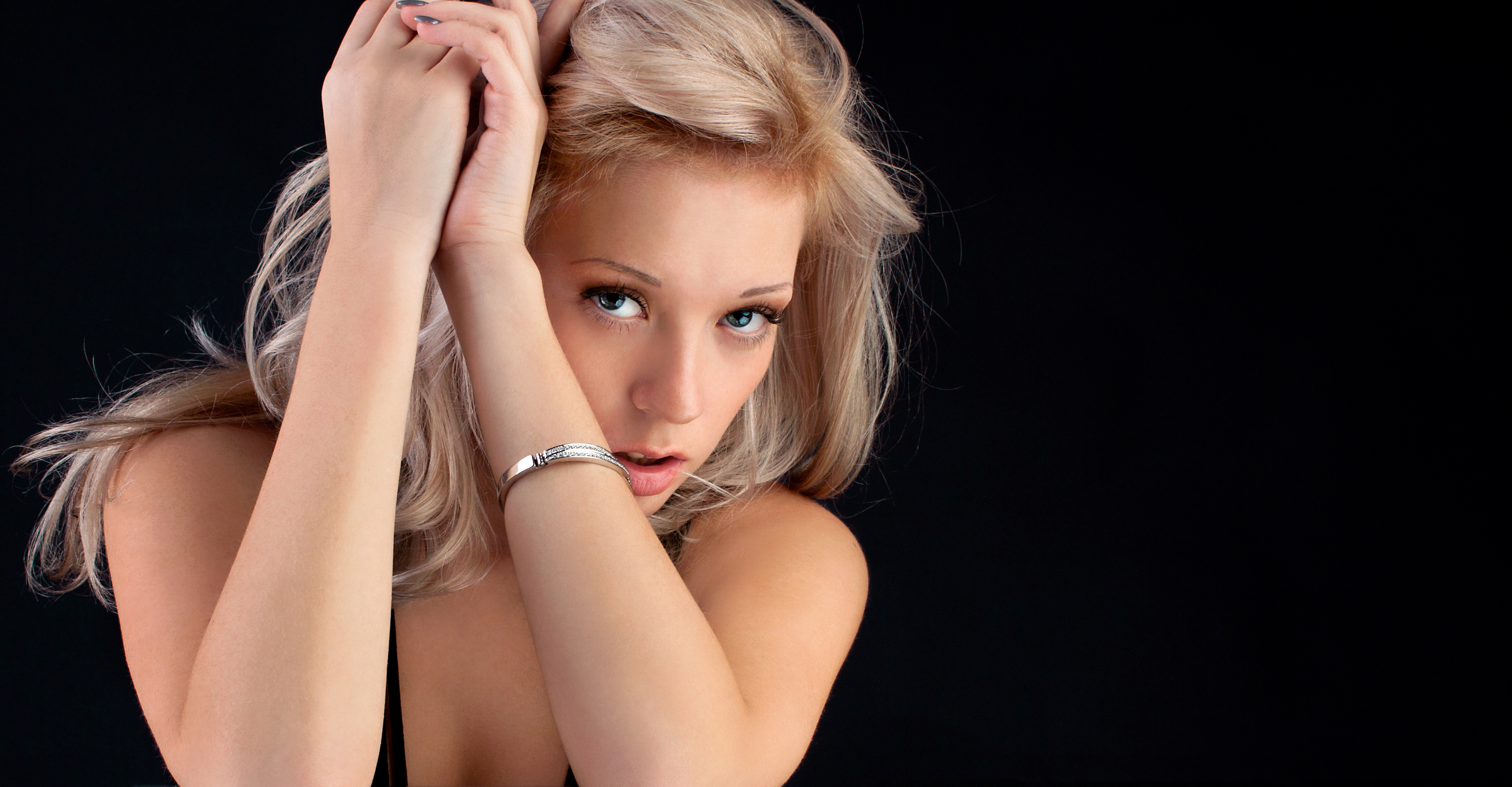 February 9, 2022,
Art can be very subjective. Especially since so many pieces can be found at garage sales.
One man's left overs and hand me downs can fit perfectly into another man's new living room piece acquisition status.
Subjective topics are often hard to agree upon and yet when it comes to beauty, some women are so beautiful, virtually everyone agrees she is so.
In the historical and legendary DWW Warrior Compound, one of the most beautiful girls they had compete came from the Czech Republic.
A beautiful blonde named Renata B.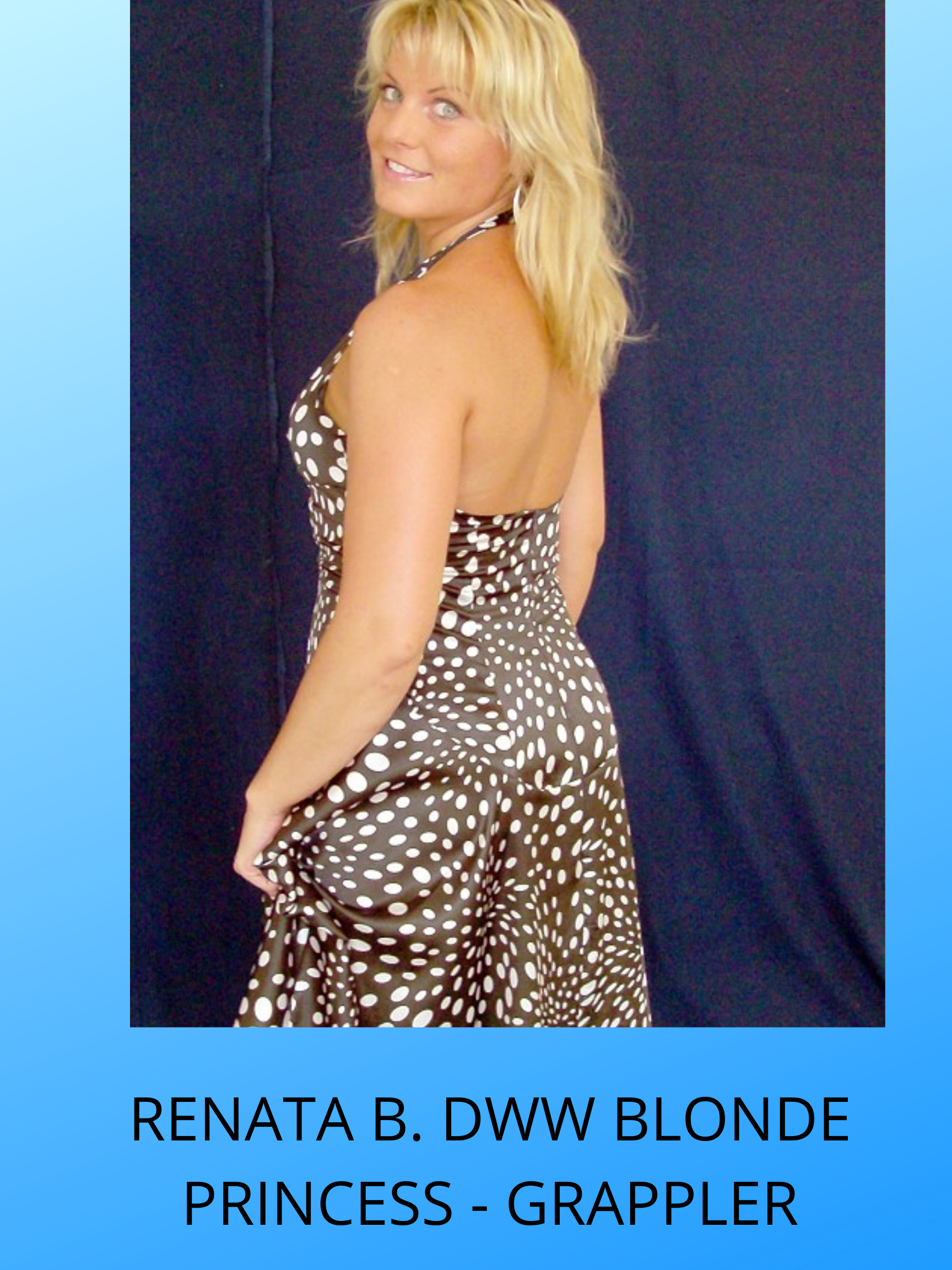 Was she one of your favorites? She certainly was ours.
Our associates at Femcompetitor Magazine have written about her before with a general profile.
The writer admired, "When you're up to your neck in alligators and tough DWW wrestlers, you'd better possess equal amounts of skill, determination and self-confidence.
Watching Renata B. compete, she seems to be the poster child for high self-esteem and feminine confidence. It's one of the traits that she admires in other women and no doubt wrestled against many Danube warriors who brimmed with both.
My personal head scratcher occurred more than once. It's hard to do well against the DWW upper echelon which I felt included Antonia, so I was extremely surprised at how well Renata at times dominated her."
Femcompetitor briefly reviewed her matches against Kimbra, Luna, Luzia and the sensuous Simona.
The DWW fans loved to get involved and here is what one reviewer stated about her match against Anita P.
"There's lots of rivalry at stake. Renata is a very experienced woman. However, Anita is a mature woman, too, and she's tall and big and strong, too. Anita really doesn't like losing in this match. During the first few minutes there is strong and tough and real woman wrestling.
However, after a few minutes this match begins to become personal. There's needle in this match and although this was no catfight, it is a real fight! There's no love lost between them and sometimes they're acting somehow outside of our rules and outside of fairness. They're also insulting each other from time to time.
That was a real female fight and if they would have been in the streets, there would have been one of them left in a sorry state. If you love needle and true female rivalry plus emotions and hard feelings, then this match will be the right one for you."
All of Renata's matches were for us. She never left anything on the mats except her best efforts.
The next match review, now by us at FCI Women's Wrestling speaks to that.
Another match that stood out to us was her indoor battle with girl next door Cathy.
Remember Cathy?
Here is what Femcompetitor Magazine had to say about her, "Cathy is a beautiful mother and team player. It seems like she was on the DWW on call list. Once when Gloria became ill, she was willing to fill in and wrestle for her.
Her resume includes competing against Monika N, Marcela, Dani, Jana, Tiffany, Lucy H, Renata B, Antonia, Viviene and Jitka. One of her memorable intense battles was against Monika N. complete with blaring music in the background and her signature win was over DWW super star Antonia. She was courageous enough to meet the Danube Warrior Tiffany twice.
That's notable because Tiffany is her sister. One reviewer speaks to that.
A reflection on the record of DWW Cathy seems to reflect a Casual Competitor. She was a beautiful girl that primarily wrestled from 2001-2011, often taking long breaks in between. While most wrestlers competed intensely for a designated period of time, Cathy seemed to be comfortable with taking breaks."
She wasn't casual when it came to fighting it out with Renata B. in the now famous DWW apartment with the nice stained wood furnishings.
RENATA 29 V CATHY 26
The pre-match interview starts with Renata B. seated. She is absolutely stunning. When asked if she was going to defeat Cathy, without hesitation Renata said yes and added that she is stronger. She then made a mild excuse about her health, that recently she was ill and had lost a little weight.
Cathy takes note of that and calls Renata arrogant.
Just like art, one man's arrogance is another man's confidence.
The two beauties are fully clothed and begin to catfight in blue jeans.
To our surprise, casual Cathy is getting the best of Renata.
Our Czech maiden is on top but Cathy won't let go of her hair. We are up to the 4 minute mark and Cathy still is tightly grasping her hair.
A relentless ground struggle ensues and while Renata is still on top, Cathy just won't let go.
Renata's strength has been clasping Cathy in body scissors yet not being able to squeeze hard enough and close her out.
At the 9 minute mark, she finally does. Cathy submits.
Renata chides, "So what's up now? I told you that you will not survive for long. I'll finish you."
Tough words. Let's see if she can back it up.
Cathy's hair is all over the place and she needs quite a bit of time to gather herself.
As they stand to engage again, Cathy's stance reminds us of the way Tiffany stands before she engages. Tall and slender, they actually are sisters.
Round two begins with Renata gaining a strong advantage as she combines a one, two, punch of fiercely pulling Cathy's hair and trapping her in a body scissors. Lots of groaning occurs but Renata can't put her away.
Eventually Cathy turns the tables on her and has her in a body scissors. She removes Renata's hand from her hair. This goes on for quite some time. Cathy is now fully in control and it appears she is about to submit Renata, but waits too long and can't.
Renata slowly gains control and this time with a forceful body scissors and hair pull, she puts Cathy away.
2-0 for Renata.
It doesn't look good for Cathy. Renata, in all fairness, is pushed to the limit but she is still winning with might.
The two stand again. Cathy is determined.
Her determination pays off. This time it doesn't take long for Cathy to slice Renata in half with a crunching body scissors.
We now have a match once again.
Or do we?
Renata quickly asserts herself and has Cathy pressed up against the sofa in a mean body scissor that gets meaner. The girls are tiring at this point because the submissions are coming faster.
This one does too. Cathy submits.
The two stand again and Renata challenges, "Tell me I'm better."
Cathy obliges, "You are."
Renata smiles, "We both need a hairdresser now."
~ ~ ~
OPENING PHOTO fciwomenswrestling.com femcompetititor.com grapplingstars.com, By-DenPhotos-Shutterstock-photo-credit-Editorial-use-

https://www.fcielitecompetitor.com/
https://fciwomenswrestling.com/
https://www.dww.at/catfight/ – Caution, mature audience site.