DWW Classic, Hungary's Edina, Titanic Struggles Vs Tanja, Clara, (2,400 Words)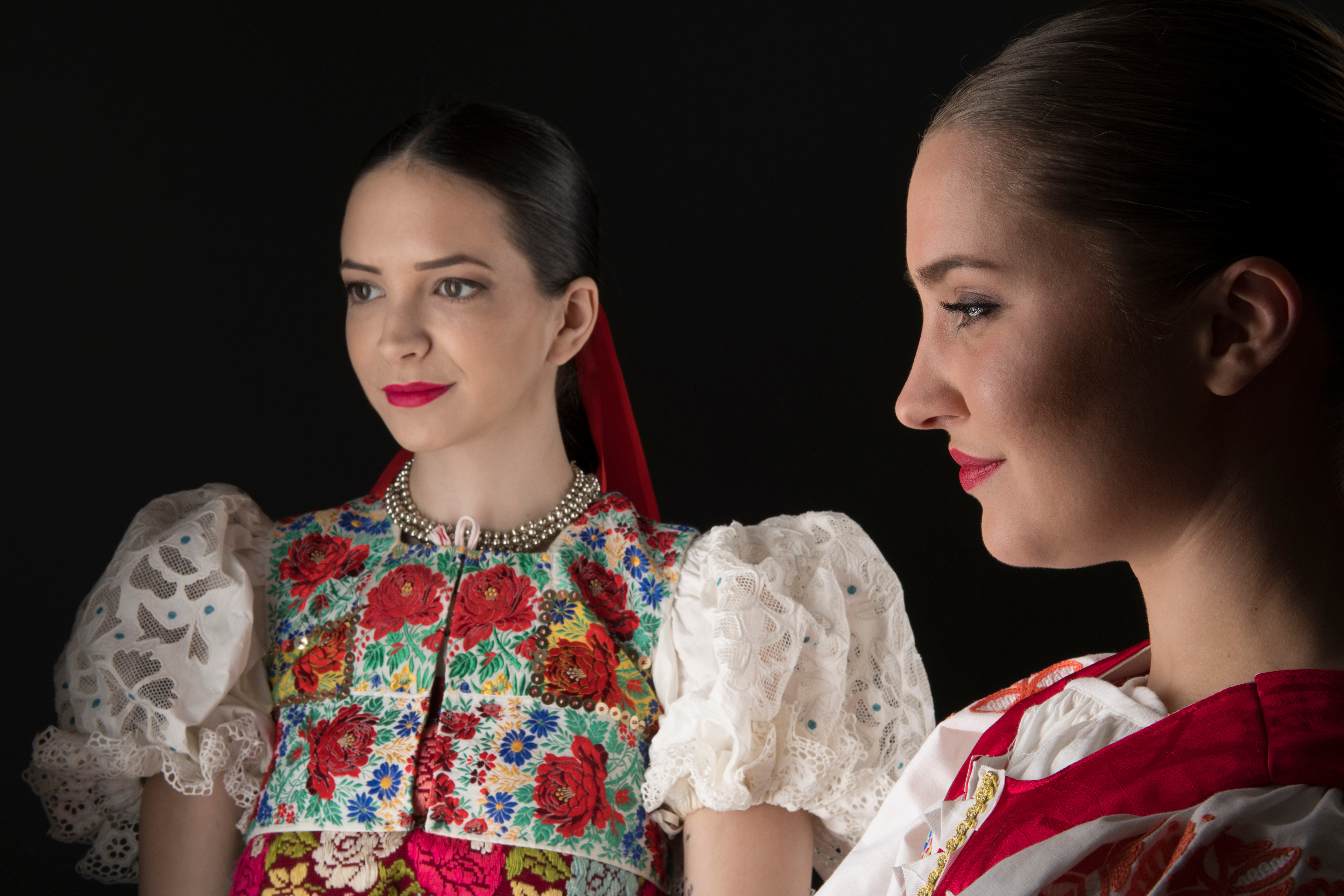 January 10, 2022,
Songs of the heart so often speak powerful life truths.
The legendary singer Dusty Springfield should know since she so beautifully touched our hearts with a resume full of those hits.
Wishin' and hopin' and thinkin' and prayin'
Plannin' and dreamin' each night of his charms
That won't get you into his arms
How true that can be when it comes to matters of love and the heart.
After watching the 1980's cult classic Flashdance, we wished and hoped that we could see more of the beautiful fresh faced blonde Sunny Johnson who in the film was Jennifer Beal's best gal pal.
She had many memorable moments in that emotional tale, like sipping beer from a customer's glass before she served it while her boyfriend was on stage telling lousy jokes. Then after losing her way, Jennifer had to rescue her from a strip club where she worked for a pimp as her life was spiraling downward.
The scene that stood out the most was when, as a developing ice skater, she had the audition of her life, skating to Laura Branigan's vibrant hit Gloria and when her big moment came in front of a large audience, including family and friends, it raised a huge question.
Could she climb through her closing window on a big stage?
Before it's too late.
After a great start she slipped and fell, didn't get back and then in spirit, died right there on the ice.
Flashdance hit the theaters in 1983.
Unfortunately in real life Ms. Johnson passed away June 19, 1984 due to a blood vessel bursting in her brain.
She was only 30 years old.
Life can be so unfair.
She also performed in The Night the Lights Went Out in Georgia (1981) and Charlie's Angels (1976).
We wished so badly that she had made more films and we could age gracefully with her.
Our sentiments are similar when we think of another gorgeous blonde in our female submission wrestling industry who is alive and well, but her brilliant grappling was far too brief.
DWW's Edina should have wrestled much longer.
When she did wrestle, boy did she, and girl could she.
She did a lot of girls. In. She did them in.
You knew what we meant.
But her career was way too short. Femcompetitor Magazine loved her immensely and wrote about her in focusing on her profile.
DWW's Edina, A Career Like A Cherished Home Movie
She fit in line perfectly with the DWW Mission.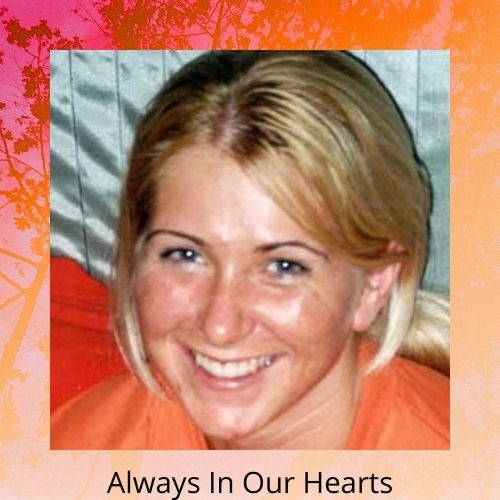 They proudly shared, "We are a group of people drawn from a wide range of countries with this in common: that we approve of women's participation in combat sports. And more than that. We believe the drive and commitment – or perhaps the sheer love of adventure – that distinguishes the women who fight on our tapes, marks them out for recognition, for respect, even admiration. It is only in this light that DWW is to be understood."
Exceptional. The above is one of the many reasons why we fell in love with DWW now well over 20 years ago.
Here, at FCI Women's Wrestling, we are going to now review two of her matches.
First a few tasty morsels.
According to Edina's DWW profile she loves pancakes. What a sweet girl. She also loves weight lifting and it shows. Here favorite actor is tough guy Steven Seagal. That shows too.
Edina is very feminine but proved to be a tough girl.
Here, her war stories include facing Kriszta, Christie, Timea C, Melanie, Antonia, Linda, Lenka, Kati, Antonia, Tanja and Clara,
We love to re-live great memories. Who doesn't?
When Edina was 24, she faced DWW regular Christie.
Here is the DWW match description. "This was one of Edina's first wrestling matches and Edina fans shouldn't miss it out. This match is short but Edina already did prove us back in 1999 in one of her first matches that she's got great potential. Edina is a muscular blonde who still lacks wrestling experience in this pins and submissions match but strong Christie didn't have an easy time with her at all.
This wrestling match was filmed at a private event and the rules were pins only to a count of 15. Edina was pretty new at this time but she already showed us her talent and her strength against more skilled Timea C. – This match is for fans of long pins and real female power struggle on the mat."
Now for a blow by blow account of the main events.
VS TANJA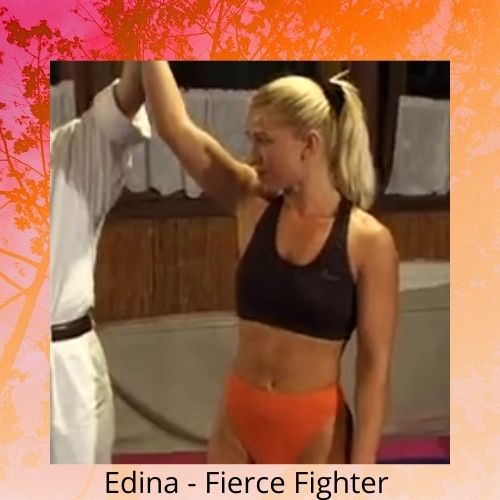 Deliriously filled with sweet joy, we float back in time. To 1999 to be exact. Edina is 25 and her opponent Tanja is 22, a girl next door newbie.
The two Euro Maidens are ready to compete in front of a live audience.
As Jeff the Ref stands between the two princesses, hands clasping both of theirs, he informs the audience that Tanja (he pronounces Tanya) is a complete novice and hails from the Ukraine.
Edina of Hungary on the other hand is one to be welcomed back.
Welcome Edina.
"Fight!" Jeff signals.
As the two beauties engage, Tanja is strikingly taller than Edina and to put it mildly, simply striking.
Edina is confident and as the aggressor tries to grasp Tanja by the wrist to control her.
To her credit and our estimation, even though Tanja is new to DWW, by the way she encircles Edina and avoids her capture, Tanja clearly has some fighting experience. She reminds us of one the famed Black Sea Amazons.
Still, having said all of that, Edina is far more experienced, clasps the taller Ukrainian beauty behind the neck, secures a head lock and erotically takes the feminine European girl down to the mats.
Now for Tanja, the real struggle begins as Edina maneuvers her and along with the head lock traps the statuesque girl in a body scissors while Tanja grimaces with pain.
Edina then tries to turn it into a grapevine but apparently Tanja is not one to easily submit. She fights and fights and though still in Edina's grasp, at least breaks that hold.
The audiences is passionate and boisterous. One gentleman in soft tones admonishes Tanja to try and stand to break Edina's scissors.
She is not able to stand but at least gets to her knees.
Edina is persistent.
She can smell the desperation in Tanja, keeps her arms tightening the grip on Tanja's neck while she has her in a sitting body scissors which evolves into a side body scissors and the Ukrainian warrior submits.
ROUND TWO
After Jeff raises Edina's arms, to our surprise, without a break, the girls go at it again.
Edina will try the same tactics and why not? It worked before and to Tanja's dismay, it begins to work again only she breaks the trance and actually traps Edina in a head lock, takes the Hungarian blonde down to the mats and is positioned on top of her.
Edina uses her powerful muscles to withstand the charge and slowly gains control again with a cross body pin.
Jeff begins to count.
Tanja erotically kicks her long beautiful legs in the air to try and break the hold. No go. The two girls are almost off the mats. That would be Tanja's only hope. Possibly knowing that, Edina rolls her towards the center of the squared mat circle, swiftly positions Tanja into a fierce head scissors, squeezes and Tanja submits.
All smiles, throughout the match Edina is actually conversing with the audience.
Now that's confidence.
ROUND THREE
This time the girls accept a little pause. Well earned. After the brief break, Edina uses the same tactics to engage Tanja trying to grasp her wrist.
Both girls are temporarily successful in staving off the other.
They simultaneously hit the mats. Tanja has the body scissors and Edina encases Tanja's head. Now it becomes a test of wills. In theory Tanja possesses the better hold but not the better technique or experience. One fan in particular is screaming to Tanja to squeeze.
Edina eventually escapes the scissors but Tanja is determined and actually begins to control the action, now on top of Edina and attempting to apply the scissors again.
Unfortunately she loses the hold and Edina seizes the moment and begins to lie on top of her.
Edina tries to submit Tanja with a pin count but Tanja keeps struggling out.
This time Edina captures her from behind and applies a full nelson and scissors. The pain is excruciating and someone prematurely believes that Tanja has tapped out.
She hasn't.
Edina refuses to let go, applies more pressure and this time Tanja actually does tap out.
As the match ends, the audiences claps very appreciatively. Though Edina wins 3-0, it was hard fought.
Jeff praises Tanja for being a fast learner.
We agree.
A statuesque gorgeous one too.
EDINA P. VS CLARA
In her next battle, Edina is facing up to a tough DWW Warrior. No novice here in Clara.
Her opponent is probably more widely known in DWW Nation especially since she has taken on Luzia the Great more than once. Too, her decimation of Germany's Susanne is legend. Her battle with Xana, the Russian star from Belgium is legend too.
Having said that, it's hard to tell who will win here because at times Clara is very impressive and other times extremely puzzling. If rankings mean anything than the Czech Republic's Clara is ranked DWW Team One and Edina is DWW Team two.
Filmed in 2000, now, almost a year later after her domination of the Ukrainian girl next door Tanja, Edina is a clearly improved beautiful blonde Hungarian Warrior.
Edina is 26 and Clara is 21. The referee is Jeff. Of course.
As the two girls are about to engage, once again Edina faces a taller opponent.
Edina clasps behind the neck and Clara forces the issue by taking Edina down to the mats. Clara secures the position on top and tries to submit Edina with a body scissors that she keeps escaping.
This happens for some time and at the four minute mark in the match, Edina's aggressive escape tactics pay off as she erects to her knees and now is about to take control of Clara. Edina changes the course of the match by trying to submit Clara with a cross body pin.
Lying underneath, Clara tries to escape by continually kicking her beautiful strong feminine legs but Edina lays on top of the Czech Princess with a vice like grip and potential smother. The match picture appears like a giant python who has partially swallowed a feminine animal where you can no longer see the head.
This erotic struggle goes on for minutes as Clara continues to twist her lovely body and Edina continues to adapt as though synchronized to the Czech girl's movements. The audience continues to scream for Clara to break the hold.
Finally at approximately the eight minute mark, slightly exhausted, Clara concedes and taps out.
Here they absolutely need a pause after that titanic struggle.
Edina rubs Clara's hair, checks to see if she is okay and consoles her.
Very sweet. Only at DWW.
They rest for some time.
ROUND TWO
As the two stand to fight again, Edina tries to clasp Clara's head but it Clara who seizes the advantage and takes the Hungarian blonde down to the mats as she attempts a fierce body scissors.
Time and time again we see Edina withstand a troublesome body scissors that would make most girls submit. Edina will not. Then something else predictable happens. She emerges to her knees and begins to change the tone of the engagement.
She begins to control Clara and surges towards the cross body pin. Edina achieves her goal and is now lying flat on top of Clara.
Clara struggles mightily and begins to erotically try and kick out again but to no avail.
Eventually Edina elongates the position into a smother and then rolls behind Clara and traps her slender body into a scissor hold, squeezes mightily and the Czech Princess at approximately the thirteen minute mark submits once again.
The audience, consisting primarily of DWW female combatants apparently waiting their turn to wrestle, wildly applaud.
Clara rests for a moment looking worse for the wear. Edina looks fresh as a daisy.
ROUND THREE
Their stamina seems very apparent as they engage again. Clara temporarily is on top but you immediately sense that it is short lived.
It is.
Edina once again traps her in a body scissors and though Clara doesn't immediately fold, it is just a matter of time before she does, right before the sixteen minute mark.
It's done. Edina is the winner 3-0 and given their rankings we must admit we were surprised at how thorough Edina's domination was.
Clara sits for a moment and in a show of good sportsmanship helps Edina to her feet and then the two girls hug.
Stupendous.
Every time that we see or think of Edina, it saddens us that as an effective, formidable and beautiful wrestler, she's gone off the mats.
Apparently for good and unfortunately she wasn't there for long. Not nearly long enough in our minds.
"Every human walks around with a certain kind of sadness. They may not wear it on their sleeves, but it's there if you look deep."… Taraji P. Henson
As we expressed in the beginning of this story, sometimes you need a special song to get you through the pain and sadness.
For Edina, this seems to apply. Please enjoy this emotional masterpiece in the dark with the lights out. While it lasts.
https://www.youtube.com/watch?v=c3mvJE-SUnc
Hey, Girl! I want you to know,
I'm gonna miss you so much if you go.
And, Hey, Girl! I tell you no lie,
Something deep inside of me's going to die,
if you say so long, if this is goodbye. Oh!
Hey, Girl! This can't be true,
How am I supposed to exist without you?
And, Hey, Girl! Now don't put me on,
What's gonna happen to me when you're gone.
How will I live. How can I go on.
How can I go on? Hey, Girl!
Hey, Girl! Now sit yourself down,
I'm not ashamed to get down on the ground,
Don't go away. Hey, Girl!
Don't go away. Hey, Girl!
Thank you so much Mr. Freddie Scott for a song from the heart.
And sensuous Edina?
Hey girl, thanks for the memories as well.
~ ~ ~
OPENING PHOTO fciwomenswrestling.com femcompetititor.com grapplingstars.com By-muroPhotographer-Shutterstock-photo-credit-Editorial-use-

DWW Galaxy
https://www.imdb.com/name/nm1230879/bio
https://www.brainyquote.com/topics/sadness
https://www.fcielitecompetitor.com/
https://fciwomenswrestling.com/