One of the most enjoyable memories in life is sitting down at a great restaurant with a loved one or family and friends.
The occasion is even better if the food is not only good for you but good to you.
As Fciwomenswrestling focuses more on the wrestling girls of the Czech like Diana here, we would also like to introduce you to some nice restaurants around Prague in case that you decide to have a session with a beautiful girl from the Czech Republic.
Here is an article about Diana at Femcompetitor Magazine:
Now let's eat.
One of the trillion of great restaurants in Prague is Etnosvet.
Here is what they have to say.
Etnosv?t
A multicultural space with a vegetarian restaurant
Discover new flavors and make new experiences!
"What can you look forward to? We have prepared a unique project in an extraordinary three-story space where guests can enjoy international vegetarian gastronomy and at the same time discover various cultures from all over the world. Every day our international team cooks up amazing vegetarian specialties and draws up an inspirational program – to ensure Etnosv?t's atmosphere not only fully satisfies you, but completely engulfs you."
Sounds like fun.
Now for a look at one of Diana's wrestling videos from the very nice people at Fight Pulse.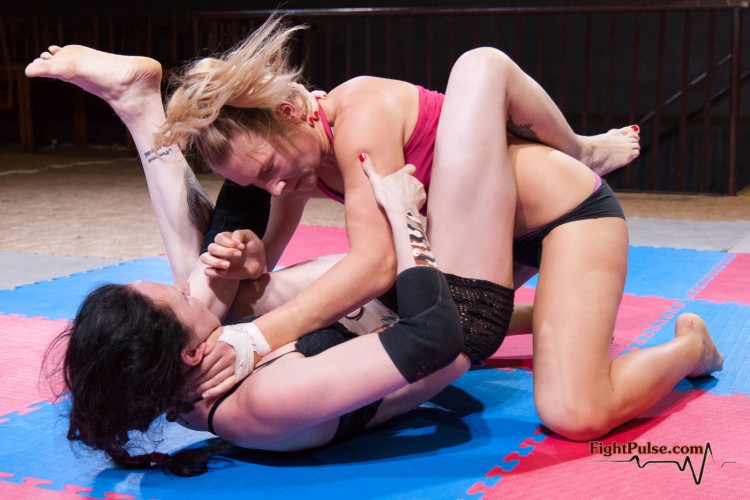 By Zweig on Dec 05, 2015 08:56 pm
FW-22 is the much-anticipated match between Fight Pulse top wrestler, Diana (5? 9?, 154 lb; 175 cm, 70 kg, 23 y.o), and our guest wrestler, the unstoppable Russian force, Karina Gotika (5? 9?, 143 lb; 175 cm, 65 kg, 27 y.o)!
This is our third release with Karina Gotika, filmed during her visit to Fight Pulse in October, which was covered in this blog post.
We will leave out the description of the fight for now and let the preview clip and photos speak for themselves. We will just say that it is a beautiful, yet very intense encounter, between two skilled opponents, and Karina's hardest match during her visit to Prague.
NOTE: This release signifies the launch of our Video Description Contest. We have not announced it separately yet, as we are planing to do, but the concept is simple. We invite our customers that have purchased this video to write an accurate and compelling description of this match without spoiling the result, in the same vain as our usual release descriptions, and send it to us via the contact form. The description has to be at least 300 words AND 1500 characters long. The winner of the contest, – one person, – will receive a 20% discount for a month for unlimited amount of video / photoset / DVD purchases at Fight Pulse. If this idea works, we are planning to do it for each release.
Match outline: introductory interviews, stare down, the match itself (19 minutes), final interviews.
Sounds like fun. Please order the video and enjoy "The Diana Experience."
~ ~ ~
Sources: brainyquote.com, Wikipedia, fciwomenswrestling2.com, FCI Elite Competitor, photos thank you Wikimedia Commons.