Czech Republic's Roxy, Great Wrestler, Session Girl, Stealth Acroyoga Star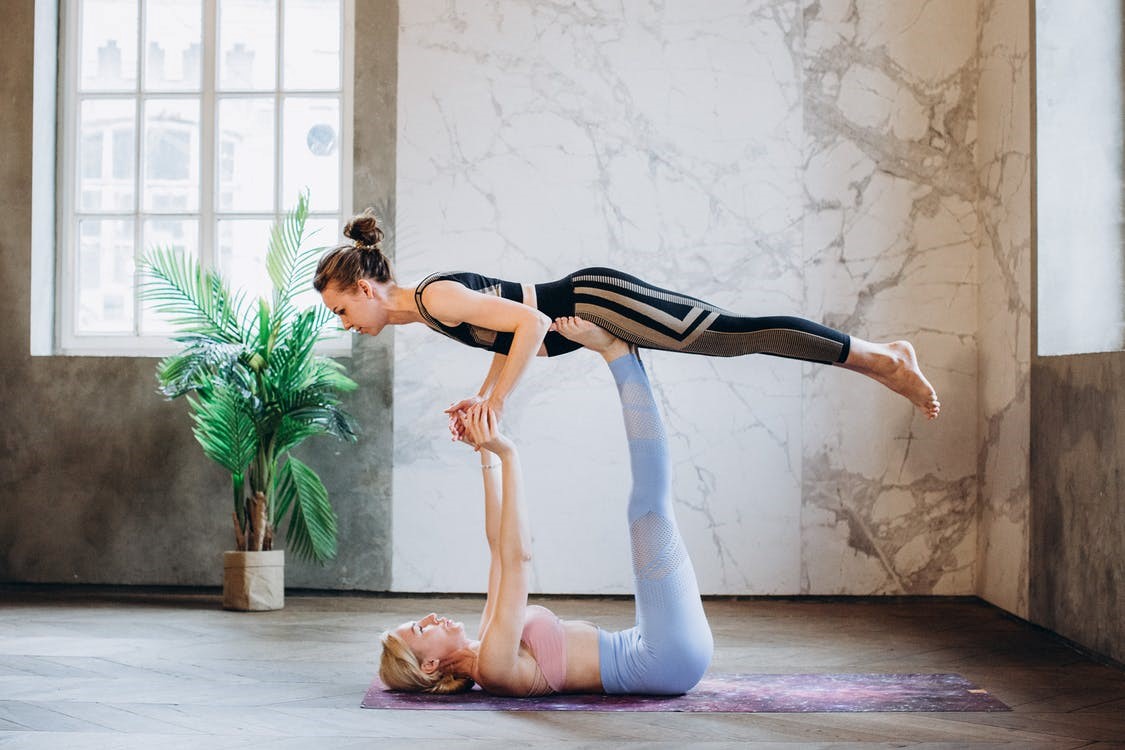 January 24, 2022,
When a competitive female submission wrestler far exceeds your expectations, what were your previous expectations based upon?
In the case of the sensational Czech Republic wrestler Roxy, that is a good question.
Our previous expectations were based upon a small amount of research and we will take responsibility that we graded her low because, as far as we knew, most of her matches were company fights where she competes in familiar surroundings.
As we've stated in so many of our previous articles, company fighters get lower ratings because you never really know who they are until they fight strange warriors outside of the safety of their company pond.
Roxy left the pond and traveled to Antscha's Elite Events in Hungary.
Now we have something to work with.
The first match we reviewed was her joust against Amanda.
Roxy – left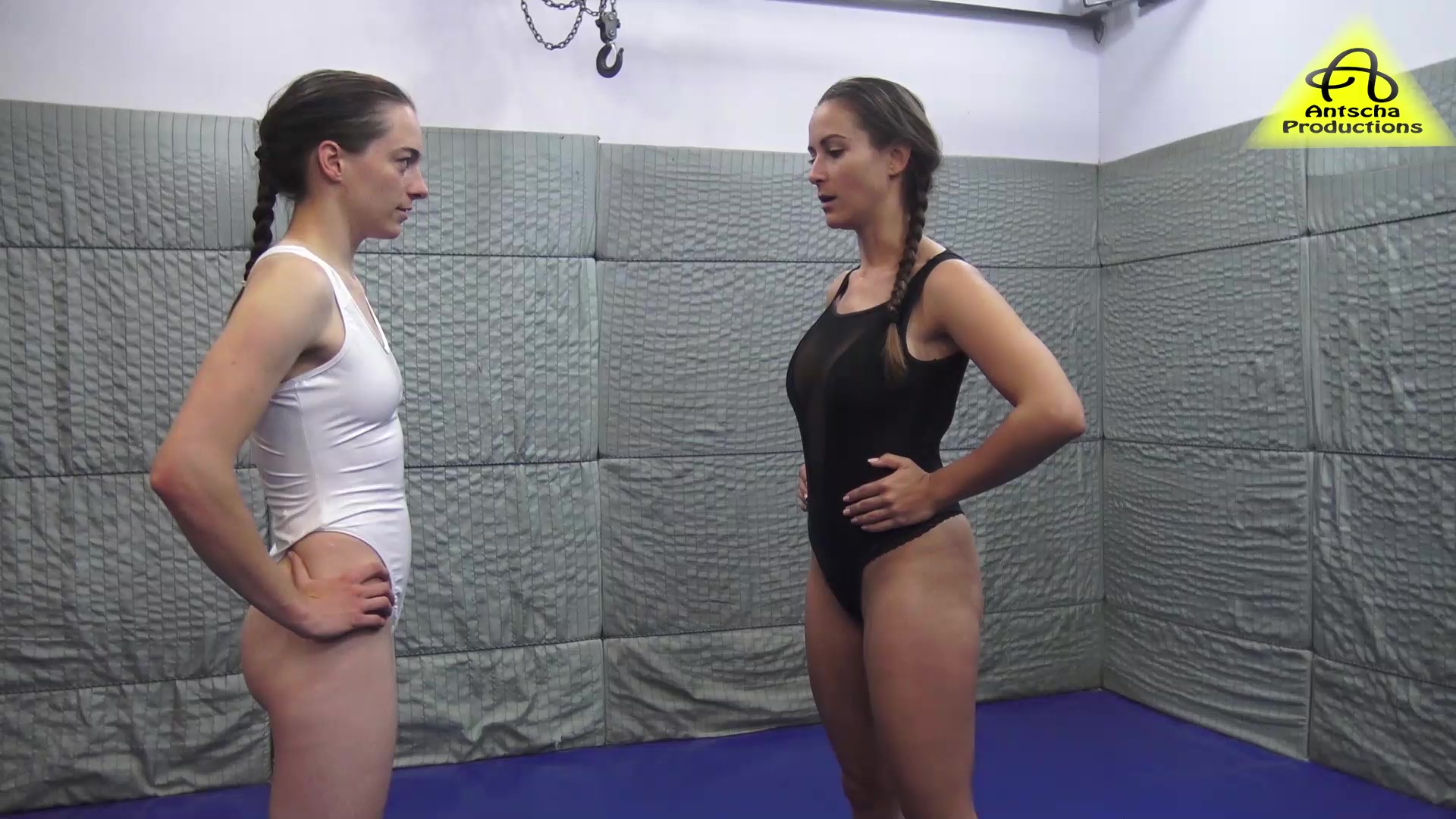 We had seen Amanda defeat a newer girl at Antscha's events and we figured she would do the same against Roxy.
We have often subscribed to Female Wrestling Zone and saw her wrestle in an erotic semi-competitive match, so Roxy scored no competitive points with us there.
Here at Antscha's event, her true skills were on display as, to our surprise, she completely and thoroughly dominated Amanda.
Even though the match started out very competitively, and it took Roxy a little over 2 minutes before she scored the first submission, though Amanda fought with energy, Roxy completely ran away with the match.
The next warrior up is Aisa.
Aisa is a long time pro who has wrestled with the likes of Viktoria, Kimbra and Antscha so she has competed at the top of the female submission wrestling food chain.
We expected her to soundly defeat Roxy.
That didn't happen.
It was a fierce ground war but Roxy is far more determined than we previously thought and though it was close in score, it really wasn't close.
Roxy defeated Aisa. By our count, 3-1. That was a shocker.
Well done Roxy.
She is not unbeatable though.
We viewed her match against the Czech beauty Milana, and Roxy found herself up against it.
The two well-muscled feminine girls grappled competitively in the early part of the first round but soon Milana seized control and submitted Roxy with a very hard and tight headlock.
Then came a face sit submission and then a rear naked choke. The smother was effective as well.
This Milana girl is gorgeous and tough. Painted with tattoos and determination.
Roxy surprised us again.  This time from the defeated end. Still, she fought well.
So who is this stealth Czech warrior behind the armor?
She is a sexy Session Girl and she is very brief and to the point at her profile, complete with some intriguing nuggets.
She has a background in Judo, Acroyoga and Mountaineering.
Okay, we give up. What is Acroyoga?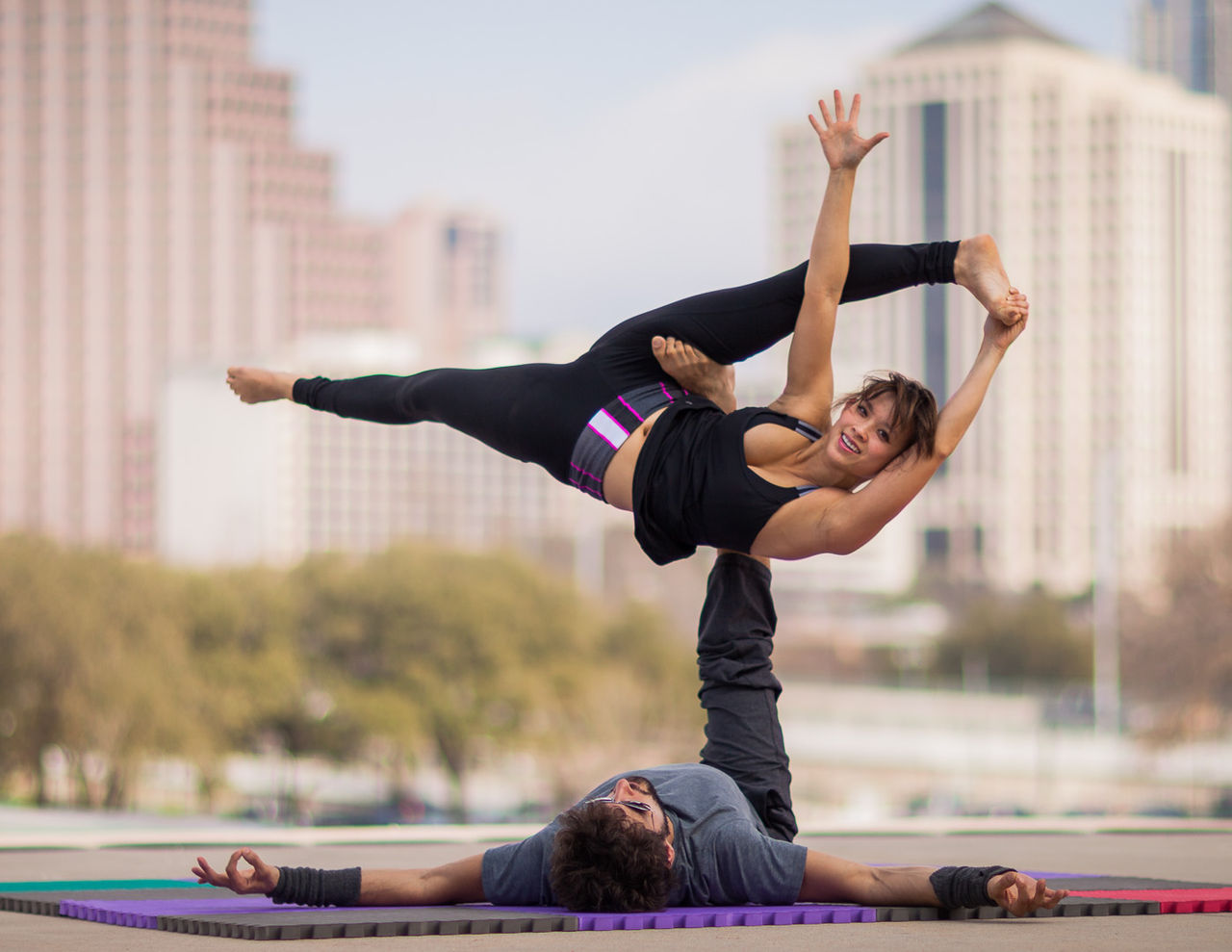 Acroyoga is a physical practice that combines yoga and acrobatics.
Now we understand the name.
Acroyoga includes many types of (mostly recreational) partner and group acrobatics in which at least someone is lifted. As such, it also draws on traditions of circus arts, cheerleading, and dance acro.
Very interesting.
Acroyoga is more vigorous than many traditional forms of yoga as exercise and may lead to more injuries.
Roxy is in exceptional shape and based upon the videos we have viewed, loves to dominate her opponents.
Learning Acroyoga requires strength training, flexibility training and technique training.
Strength training is accomplished through repetition of exercises like push-ups, hand walking and handstands.
Flexibility training is best done at the end of a session with a partner. Learning good Acroyoga technique takes time and effort and is best learned with an expert teacher.
One important Acroyoga technique is called bone stacking. This involves the base partner keeping arms and legs straight to maximize the weight load on bones rather than muscles to support the fly.
There are now many schools of AcroYoga.
The original two schools were AcroYoga Montreal and AcroYoga Inc.
Very good. We understand Acroyoga now. Roxy certainly has the stealth body to perform it.
Which now takes to mountaineering in the Czech Republic.
What is Mountaineering?
We sense we know what some of you might be thinking since we thought it ourselves.
It's not hiking.
What's the difference?
The experts at realbuzz.com educate, "As a general rule, hiking is a pursuit that can be followed without the need for any specialist or technical equipment, whilst mountaineering will require the use of technical equipment such as rope, a harness, crampons and ice axes.
Generally, hiking is a pursuit open to almost anyone, of any age or fitness level, and requires little in the way of specialist knowledge and training to get started. Mountaineering however, will usually be more physically challenging and a degree of knowledge and training must be attained before attempting any mountaineering routes."
Understood.
According to the leaders at wiredforadventure.com, one of the best places to go hiking or mountaineering in the Czech Republic is Bohemian Paradise.
They share, "Situated just over 50 miles from the capital city of Prague, Bohemian Paradise is well, exactly what its name suggests – a paradise! Just walking through its narrow rock corridors, formed by great natural sandstone phenomena, feels like you're wandering through the lands of a distant world. Not only this, but the national park is just brimming with other stunning sights such as castles, ancient ruins and waterfalls.
The park has many hidden caves waiting to be discovered at ground level, but when you climb above the tree-tops to one of the park's spectacular view points, via one of the many carved staircases, is where this park really comes alive. The view is even better if you catch it at sunrise or sunset."
Sounds wonderful.
One of the most recognizable elements of Bohemian Paradise is the sandstone rock which, word has it, many of the surrounding towns are constructed of.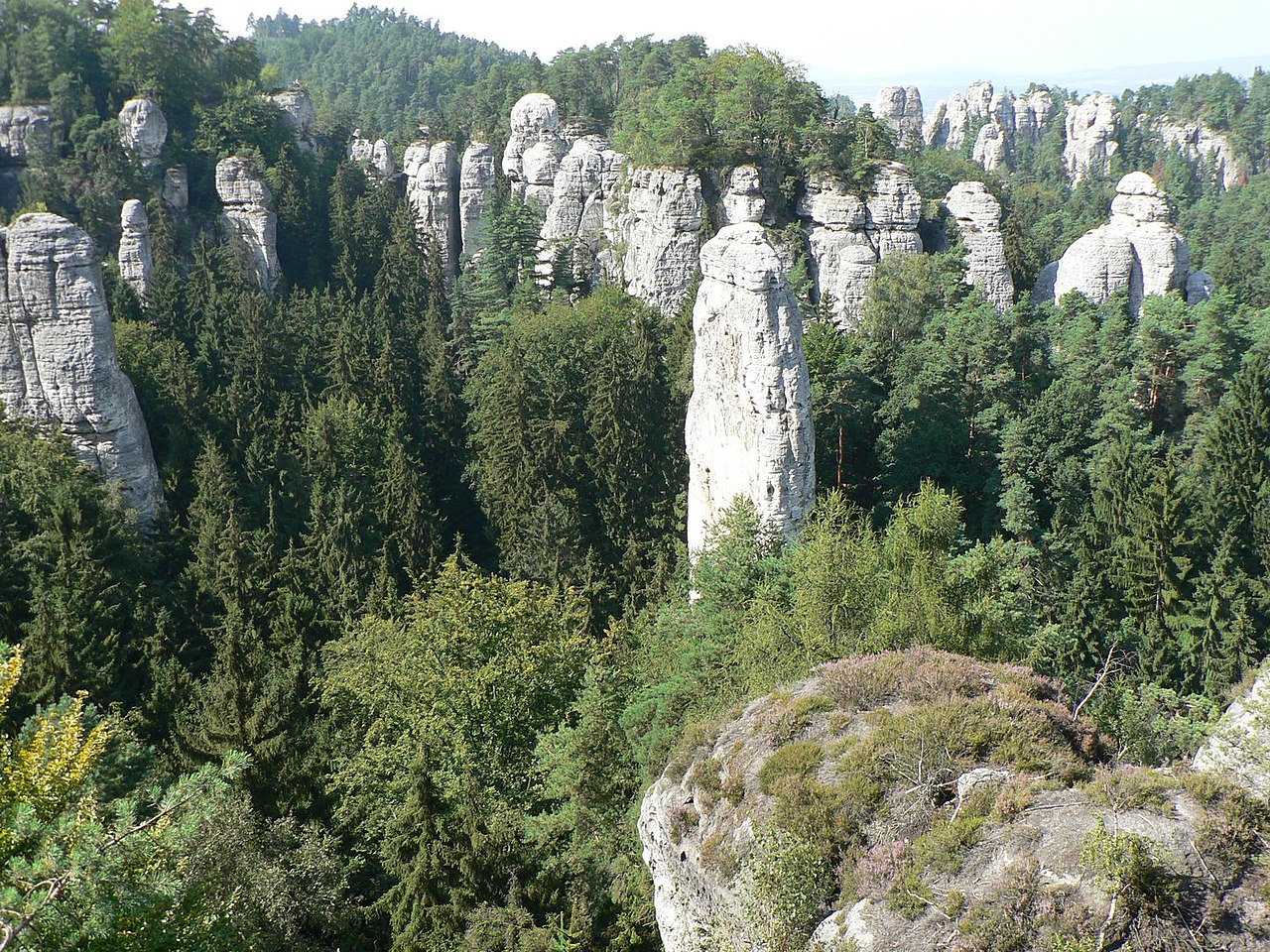 There are many rocks which have been shaped by wind, water, frost, erosion, and humans into unique shapes.
It would not surprise us if Roxy has traversed there.
Not to get too deep here but it does intrigue us that Roxy is a personality profile that chooses three activities; fully competitive female submission wrestling, Acroyoga and Mountaineering where you could get seriously injured.
A coincidence? Most likely a personality trait.
A risk taker.
If you would like to have a session with Roxy, her email is roxy.fighter6@gmail.com
Roxy is a jewel.
The great news is that in terms of fully competitive submission wrestling, Europe is the place to be. We are happy that serious Fem Competitors like Roxy have choices and options in terms of where they can compete.
Roxy is making her mark. She's very determined and fearless.
Even when she meets established and experienced strangers at live events.
Now? Regarding Roxy?
We have greatly raised our expectations.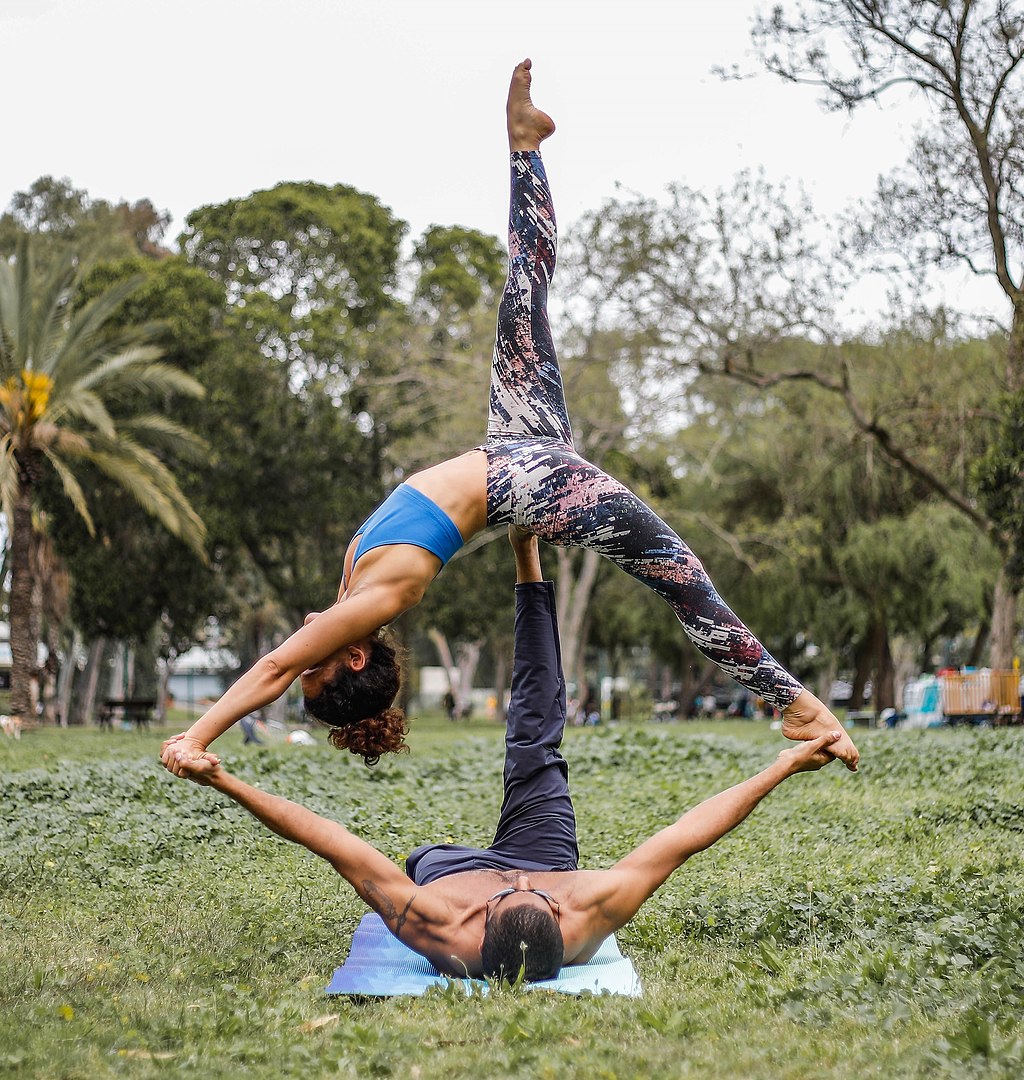 ~ ~ ~
OPENING PHOTO fciwomenswrestling.com femcompetititor.com grapplingstars.com Femcompetitor.com Elina-Fairytale-pexels.com-photo-credit

https://en.wikipedia.org/wiki/Acroyoga
https://www.realbuzz.com/articles-interests/walking/article/hiking-vs-mountaineering/
https://www.wiredforadventure.com/stunning-hiking-destinations-in-the-czech-republic/
https://en.wikipedia.org/wiki/Bohemian_Paradise
https://www.fcielitecompetitor.com/
https://fciwomenswrestling.com/