Powerfully compact, ring savvy, feminine and beautifully shaped, Sandy Partlow helped shape the lady pro wrestling game primarily during the 1970s and 80s.
If you were a fan during the time, so many of her matches are memorable.
We'll start with one where we expected her to lose against a talented, 165 lb. Wendy Richter who pranced in her cowgirl boots and hats confident of victory. Wendy started pounding Sandy even before the opening bell would stop ringing and for several minutes she brutalized Sandy with back breakers, body slams and one attempted pin after another.
Like she so often did in other matches, Sandy would somehow manage to escape.
Sandy was the epitome of being tenacious.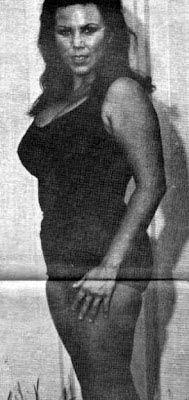 She finally waited for an opening after Wendy threw her rubber band style into the ropes expecting Sandy to bounce off but instead Sandy held on the ropes, Wendy's drop kick missed and Sandy seized the opportunity to roll Wendy up in a final pin.
When she faced the gorgeous tall blonde Kandi Malloy beautifully decked out in a white bathing suit, you knew immediately this was Sandy's to win.
Beautiful Kandi Malloy – ( Pinterest.com photo )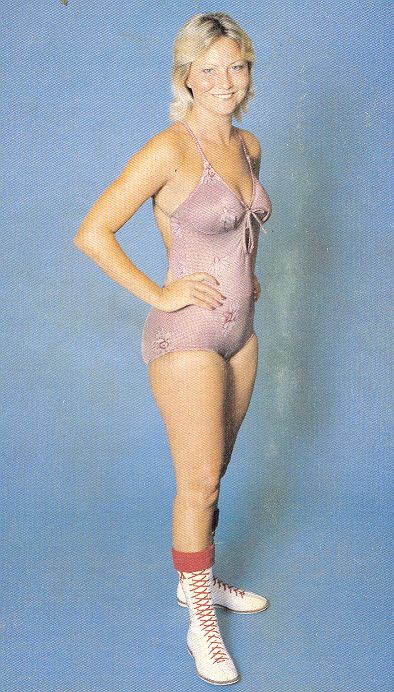 Though Kandi had her moments, through dirty tactics Sandy dominated her earl, middle and late. It wasn't long before she rolled Kandi up in a pin.
"When it comes to the application to life of existing laws and morals, woman, because of her willing receptiveness, her elasticity and adaptability combined with her power of tenacious retention, has exerted an influence, the value of which is too vast to be measured."…… Ellen Key



Sandy first trained in 1969 at the Kansas City Athletic Club with promoter Bob Geigel & Betty Nicoli.
In terms of world events, 1969 was a special year.
Woodstock attracts more than 350,000 rock-n-roll fans, 250,000 march on Washington in protest at the Vietnam War, the very first U.S. troop withdrawals are made from Vietnam, Public Broadcasting Service (PBS) is established, the Chappaquiddick affair involving Senator Edward Kennedy driving a car plunges into a pond on July 25th and a body of a woman passenger is later found in the car.
Woodstock (Wikimedia photo)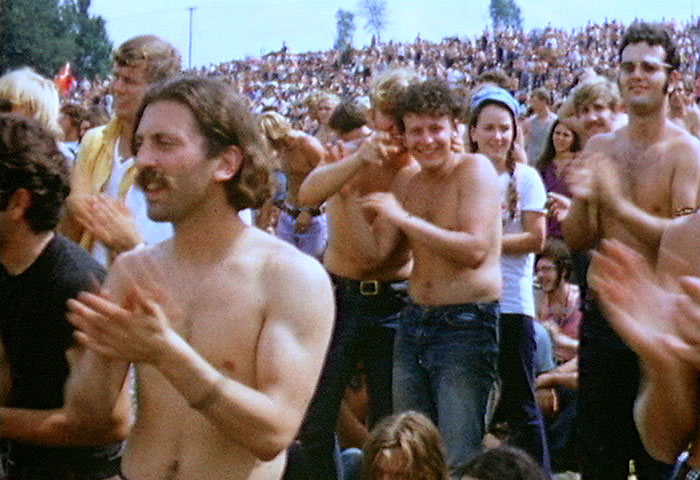 Members of a cult led by Charles Manson murder five people, Wal-Mart incorporates as Wal-Mart Stores, Inc, Bell Bottom Jeans and tie-dye shirts become part of the teenage fashion scene, Sesame Street debuts on Public Television, " In The Year 2525 " by Zager and Evans is a huge hit, the Beatles' last public performance, on the roof of Apple Records and the Beatles release their album Abbey Road. The Pontiac Firebird Trans Am the epitome of the American muscle car is introduced.
What a year.
Brandi Wine, Jean Antone, Betty Nicoli, Princess Jasmine, Betty Torres, Karen Harrington and Joyce Grable were some of the stars that she engaged during her ring tenure.
"The tenacious character I've possessed since I was a small child propelled me to successfully meet this challenge, and I was able to safely gain acceptance to the university of my choice."… Koichi Tanaka



Our classic star traveled all over the United States and virtually all of Canada having Jean Antone for a mentor who taught her how to apply the dirty tactics and she worked with the legendary Cora Combs as well.
She wrestled for many companies early and late in her career even doing a special video against the next generation of female wrestlers. In the 1970's she also competed in the famous Mildred Burke's gym.
Let's briefly travel to Sandy's birthplace of Kansas City Missouri.
Kansas City Downtown – Wikimedia Photo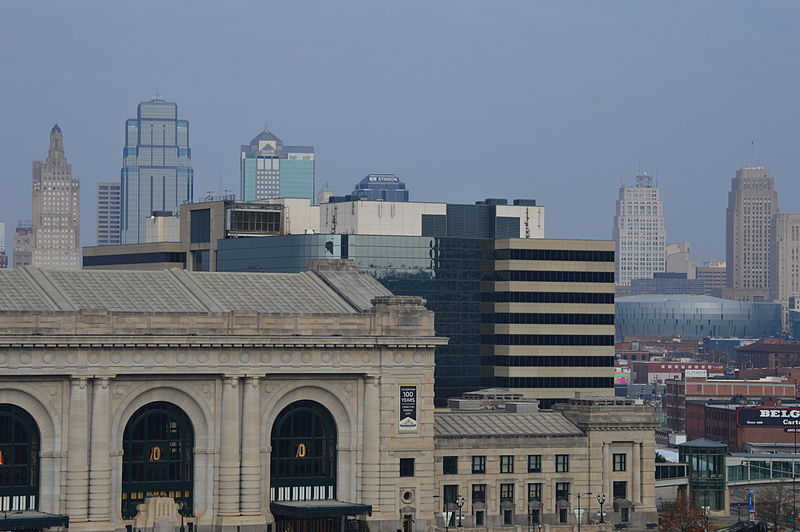 Kansas City is the largest city, and second largest metropolitan area, in the state of Missouri. It is the 37th–largest city by population in the United States and the 23rd–largest by area.
Sitting on Missouri's western border, with downtown near the confluence of the Kansas and Missouri Rivers, the modern city encompasses 316 square miles.
Since its inception in 1857, City Market has been one of the largest and most enduring public farmers' markets in the American Midwest, linking growers and small businesses to the community. More than 30 full-time merchants operate year-round and offer specialty foods, fresh meats and seafood, restaurants and cafes, floral, home accessories and more.
The respected travel site lonelyplanet.com expressed, "Famed for its barbecues (100-plus joints smoke it up), fountains (more than 200; on par with Rome) and jazz, Kansas City is a don't-miss Great Plains highlight. Attractive neighborhoods jostle for your attention, and you can easily run aground for several days as you enjoy the local vibe."
Do you remember what was happening in the Kansas City sports world back in 1969 when Sandy first began to wrestle?
The 1969 Kansas City Chiefs season resulted in an 11–3 record and a 23–7 victory in Super Bowl IV over the NFL's heavily favored Minnesota Vikings.
theodysseyonline.com photo
The team beat their rivals, the Oakland Raiders in the final AFL Championship Game, claiming their third AFL Championship in franchise history. The Chiefs were coached by Hank Stram, led by quarterback Len Dawson and a powerful defense led by Bobby Bell, Willie "Contact" Lanier, Buck Buchanan and Curley Culp.
The Chiefs' defense became the fourth defense in the history of pro football to lead its league in fewest rushing yards, fewest passing yards and fewest total yards. The Chiefs were the second AFL team to win the Super Bowl and last AFL team to do so before the AFL-NFL Merger in the following season.
Sandy emerged during an important time in American history.
"You need to believe in yourself and what you do. Be tenacious and genuine."… Christian Louboutin
In terms of her future, Sandy loves spending time with her daughter and is an avid lover of horses. In her interview online with Mr. Greg Oliver at Slam Canoe wrestling, she relates that she has no real regrets and really loved her wrestling career.
We loved her career as well.
Determined, entertaining and tenacious, Sandy Partlow is one of the many reasons why we will always cherish the old school, full bathing suit, glory days of lady pro women's wrestling.
prowrestlingwikia photo
~ ~ ~
Sources: brainyquote.com, Wikipedia, fciwomenswrestling2.com, FCI Elite Competitor, photos thank you Wikimedia Commons.
http://slam.canoe.com/Slam/Wrestling/2010/11/05/15987906.html
http://www.onlineworldofwrestling.com/bios/s/sandy-partlow/
http://www.cagematch.net/?id=2&nr=15142&page=4
http://prowrestling.wikia.com/wiki/Sandy_Partlow/Image_gallery
http://womensprowrestling.blogspot.com/2008/02/female-wrestling-sandy-partlow.html
http://www.onlineworldofwrestling.com/bios/s/sandy-partlow/
https://www.lonelyplanet.com/usa/great-plains/kansas-city