Beautiful Lady Pros Who Tried Competitive Wrestling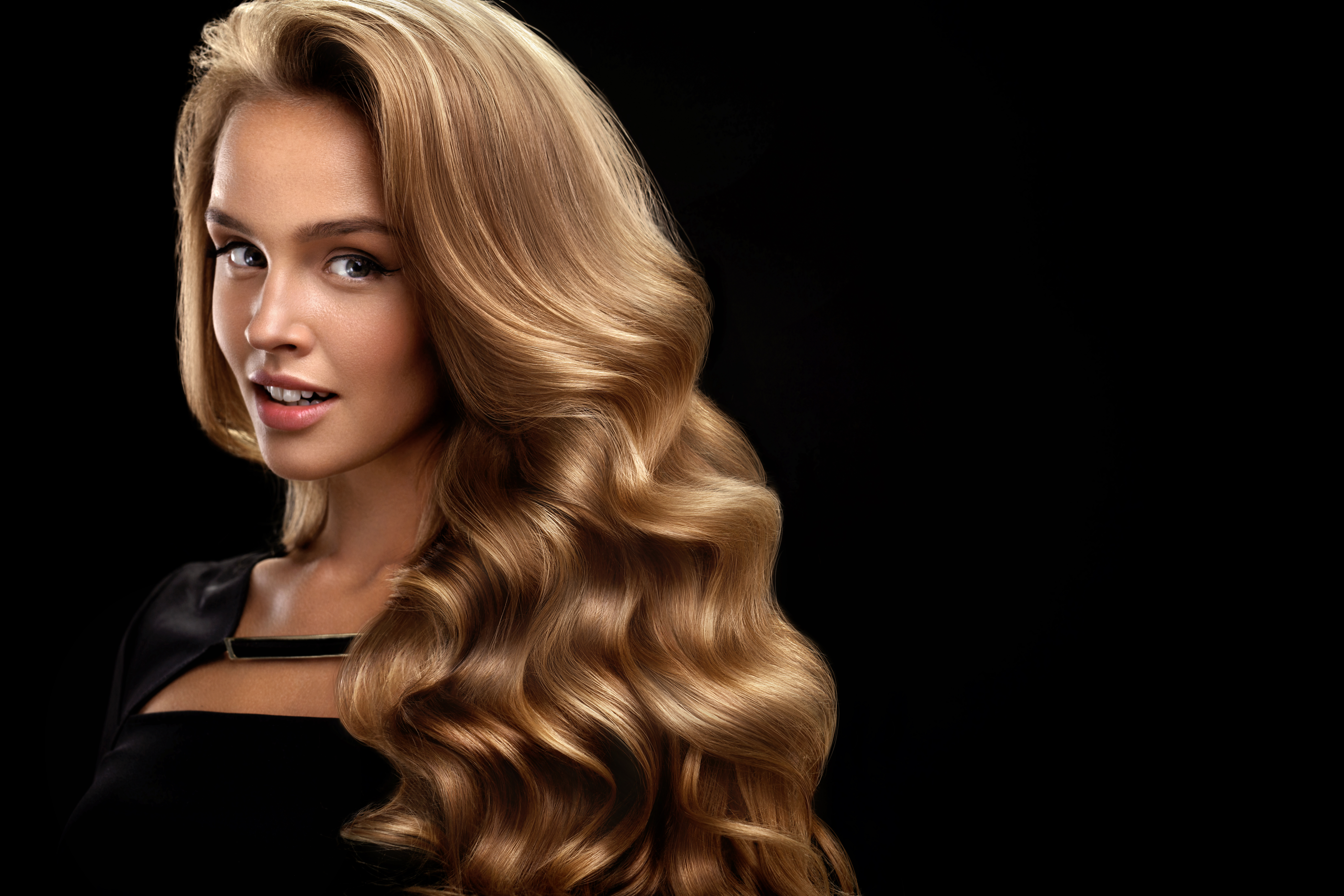 November 7, 2021,
Attempting to try something that you have never done before takes preparation and courage if you hope to have success at it. Especially if you've been trained in another discipline.
And more so, if you are going to make this new attempt in front of an audience.
Though some may approach it with trepidation, it is a good habit to get into for one major reason.
Life is one big transition.
At some point, no matter your occupation or profession, you will need to make a transition into another lifestyle. If you don't, you will be forced to. Sometimes emotionally kicking and screaming.
One of the qualities that is admirable in a public personality is when they are willing to try something, publicly, that is not an activity in which they make a living.
Dancing with the Stars is an American dance competition television series that premiered on June 1, 2005, on ABC.
It is the US version of the UK series Strictly Come Dancing, and one of several iterations of the Dancing with the Stars franchise.
The format of the show consists of a celebrity paired with a professional dancer. Each couple performs predetermined dances and competes against the others for judges' points and audience votes. The couple receiving the lowest combined total of judges' points and audience votes is eliminated each week until only the champion dance pair remains.
How popular is it?
The show was renewed for its twenty-ninth season which premiered on September 14, 2020 with the addition of new host Tyra Banks, replacing Bergeron.
Can you imagine a traditional television series lasting 29 seasons? One might conclude that the public loves the concept of seeing a public figure take a risk and try something they typically are not paid to do.
In our fully competitive female submission wrestling industry, we love to watch a well-established Lady Pro Wrestler take a risk and give competitive wrestling a try. They certainly will be out of their comfort zone going from scripted matches to full on competition.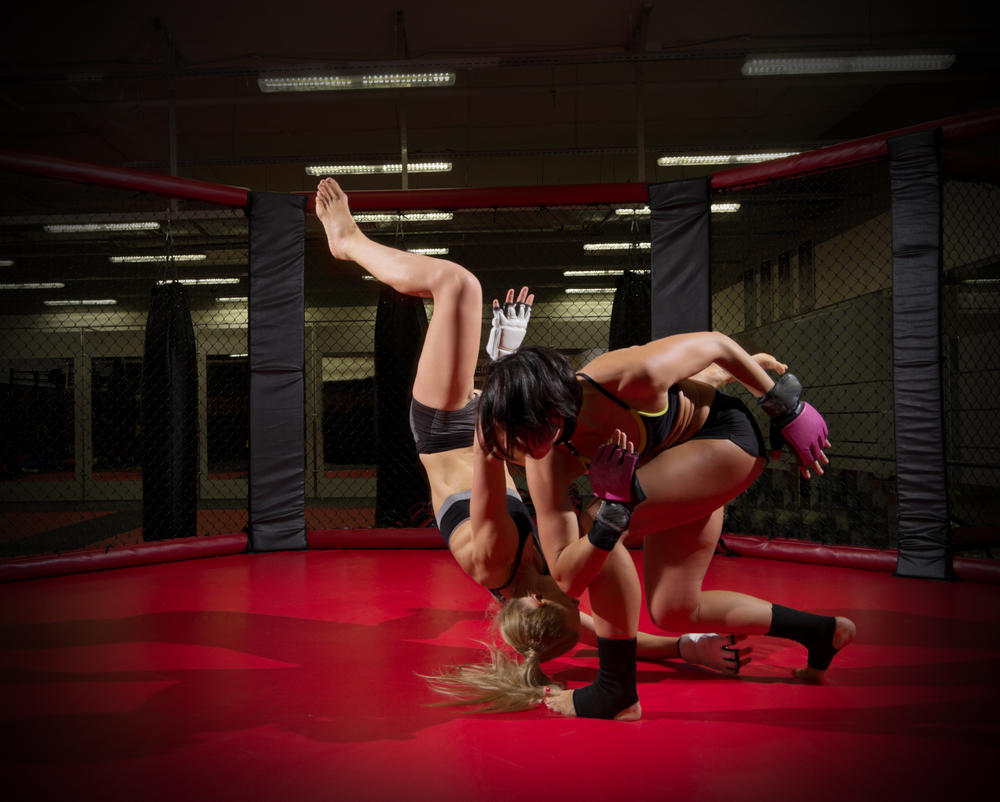 Here are a few exciting examples where that has occurred over the years.
Candace Maria Rummel is an American professional wrestler better known by her ring name Candi Devine.
Candy is best known for her time spent in the American Wrestling Association feuding with Sherri Martel. She held the AWA Women's Championship on four separate occasions.
In 1985 Candy was badly injured in Memphis when she and Amy Monroe collided head to head in a monkey-flip, fracturing her jaw and cheek. A lengthy recovery time and plastic surgery became needed to repair the damage and briefly she considered quitting wrestling.
So when she visited the legendary Women Warriors group to wrestle Golden Kat in a Pro Style but competitive match she found it to be very rough going and even quit in protest at the end of the match because she felt that the Golden Kat was punishing her face and jaw even though they agreed ahead of time that her face was off limits.
In watching the video Candy tried to use some of her traditional scripted moves which had little effect here. Still, one thing that became very clear, no matter the venue, Candy was an intense competitor.
Her contemporary Sherri Martel courageously traveled to Florida to wrestle with another legendary submission wrestling group in our industry named Flamingo. She battled a gorgeous shapely and strong fitness model from the mid-west who fiercely fought Sherri in a ground war. It was an incredibly sexy match where gorgeous Sherri found herself in a very tough battle outside of her scripted comfort zone.
Another Lady Pro who crossed over with phenomenal success was when Christie Ricci stepped into the ring at Jackpin's legendary 2008 Women's Wrestling Convention in San Diego when she battled two Canadian female warriors in Frankie and Neko.
She had a tough battle with both girls where her match against Frankie was rough and tumble in which Frankie had many opportunities to win the match but Christie refused to submit.
We we're ringside so we would know.
Christie had an extremely tough ground war with Neko where the raven haired Canadian spent ninety percent of the match on her back defending herself from Christie until she submitted to Christie's persistence to obtain an arm lock at the end of the match.
Christie would later invite her Lady Pro friend Amber O'Neal to wrestle with a private company and Amber performed very well.
As we move up the timeline another great lady pro who crossed over into the submission wrestling world is greatly respected in her squared circle professional industry.
Anna Jenny Sjödin is a Swedish professional wrestler and submission grappler better known as Jenny Sjödin.
She was trained in professional wrestling in several schools across Great Britain and Ireland and has spent most of her career working there for promotions such as Fightstar Sports Entertainment (FSE), Futureshock Wrestling (FSW) and Pro-Wrestling: EVE, where she is a former one-time Pro-Wrestling: EVE Champion.
Jenny crossed over and is also an accomplished submission grappler, having won a gold medal in Ground Control's 2010 no-gi tournament and silver medals in Grapplers Quest's advanced division and North American Grappling Association's (NAGA) European Championships that same year.
Very impressive.
In our competitive female submission wrestling world she has taken on Hungarian star Anita, Doommaiden's VeVe Lane, Hungarian super star Viktoria and the formidable Tyger as well.
As you can see, the Lady Pros who make the submission transition emanate from countries around the world.
Speaking of Doommaidens, Bella Rush, a Canadian Lady Pro wrestler wrestled submission style at VeVe's company and took on two shapely girls in Ursa and Sweetie with very impressive results.
We encourage you to get into the car with us and take a ride into the heart of the United States. Ohio to be exact.
We love the Lady Pro Santana Garrett.
Santana Garrett is an American professional wrestler, valet and model.
During her career, our gorgeous girl has wrestled in many independent promotions. She also performed in Impact Wrestling under the Ring name Brittany she has won many titles, national and international, such as the Shine Championship, the Shine Tag Team Championship or the Wonder of Stardom Championship.
She is vibrant and super sexy in the ring, so we were really happy to see her cross over and compete in real female submission wrestling with a group in Ohio.
We were curious how she would do.
Santana was actually very good at submission wrestling and courageously fought her trained submission wrestler in a ground war. It was thrilling to watch.
The incredibly gorgeous blonde lady pro Lisa King has wrestled competitively at the USA Southern Belles company and over in England with the well-known TC-Wrestling group.
Here is her match description at TC-Wrestling:
"Lisa King is, of course, a well-known pro wrestling star. But she is also a more than capable wrestler outside of the pro ring. Eva too has pro wrestling experience and expressed an interest in TC filming a match between them. So we asked them to take each other on our mats in a semi-competitive match. And it's a match that features the sorts of moves, holds and attitudes you would expect to see from two such wrestlers. One of whom has to spend much of the time playing catch-up in the scoring after a better start by her opponent."
Great job Lisa.
We absolutely love it when a Lady Pro has the courage to cross over into the very competitive female submission wrestling world.
It is quite a transition. A submission transition.
Her pride and reputation are on the line and there are no guarantees of victory. That's what makes it so special. We find out when she leaves the scripted world what she is really made of.
And most of the time?
She is far better than advertised.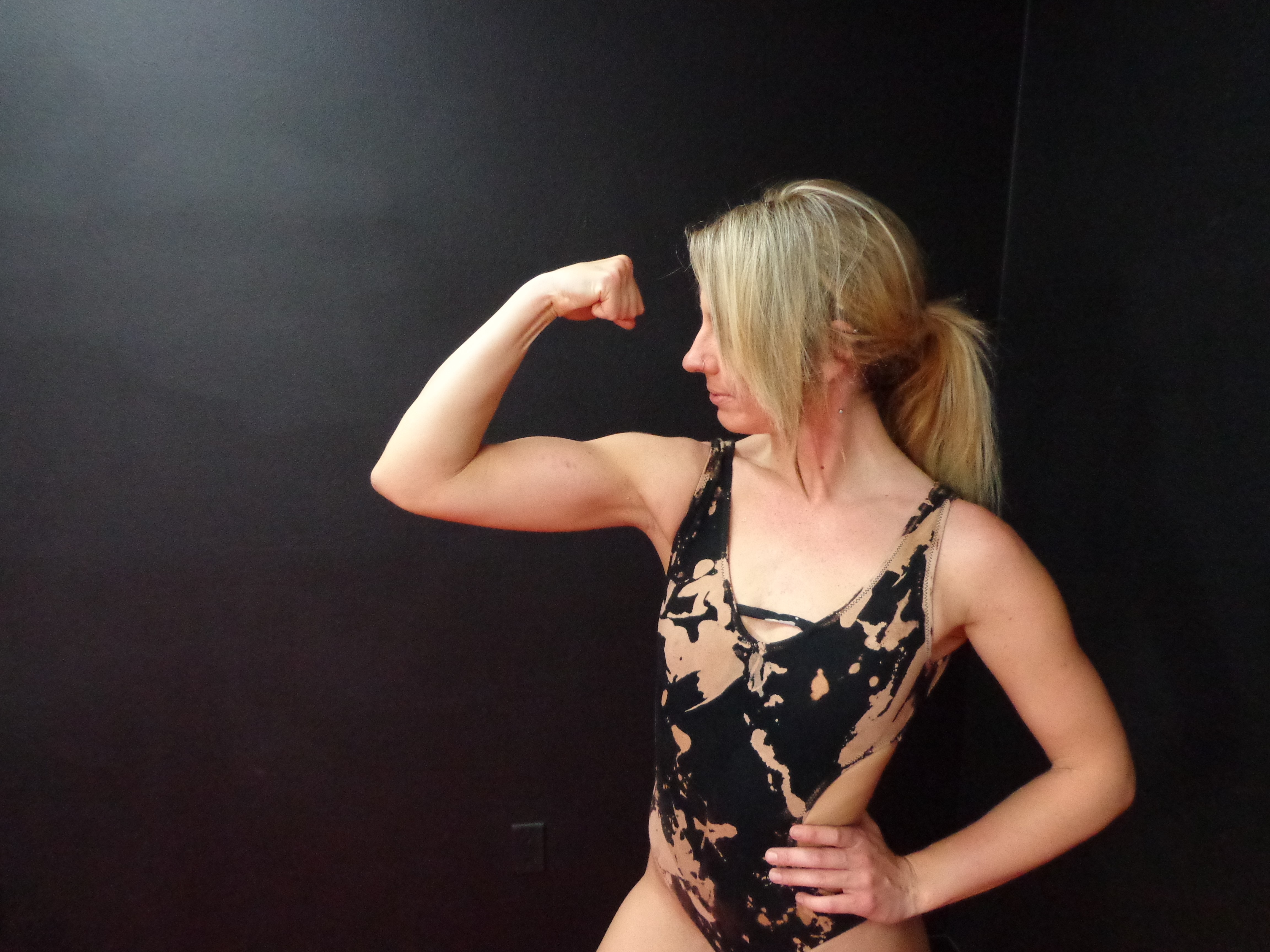 ~ ~ ~
OPENING PHOTO femcompetitor.com, grapplingstars.com fciwomenswrestling.com By-puhhha-Shutterstock-photo-credit-Editorial-use-
https://en.wikipedia.org/wiki/Dancing_with_the_Stars_(American_TV_series)
https://www.facebook.com/cali.wylde
https://en.wikipedia.org/wiki/Wonder_Woman_(2017_film) 
https://en.wikipedia.org/wiki/Candi_Devine
https://www.facebook.com/FemaleFightMachine/
http://www.doommaidens.com/store/ursabella/
https://en.wikipedia.org/wiki/Santana_Garrett
http://tc-wrestling.com/publicpages/tcw0363-lisa-king-vs-eva/
https://www.fcielitecompetitor.com/
https://fciwomenswrestling.com/