Henri Frédéric Amiel was a Swiss philosopher, poet and critic who was born in Geneva in 1821. Known for his Journal intime, a masterpiece of self-analysis, Mr. Amiel was acclaimed as a writer with a brilliant mind and a tormented soul.
He was often quoted and one of his many quotes that speaks to the career of DWW beauty Anette was, "Learn to… be what you are, and learn to resign with a good grace all that you are not."

Anette was not one of the greatest wrestlers in DWW history but the role that she resigned herself too was entertaining, mesmerizing and memorable.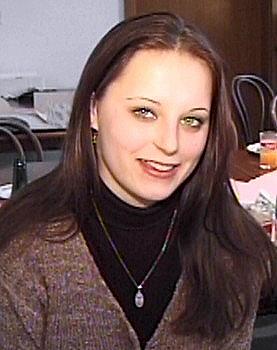 According to the educational naming site sheknows.com, Anette's name conveys Grace. That's very appropriate for a then young fresh faced girl who wrestled with class and dignity. The naming site delves even further by stating, "People with this name have a deep inner desire to inspire others in a higher cause, and to share their own strongly held views on spiritual matters.
They are excellent at analyzing, understanding, and learning. They tend to be mystics, philosophers, scholars, and teachers. Because they live so much in the mind, they tend to be quiet and introspective, and are usually introverts. When presented with issues, they will see the larger picture. Their solitary thoughtfulness and analysis of people and world events may make them seem aloof, and sometimes even melancholy."
When you watch some of Anette's matches, in between takes she did have a quiet spirit which was in contrast to her intensity in battle.
Her resume includes matches against girls close to her level in Radka, Petra S and Nikita among others.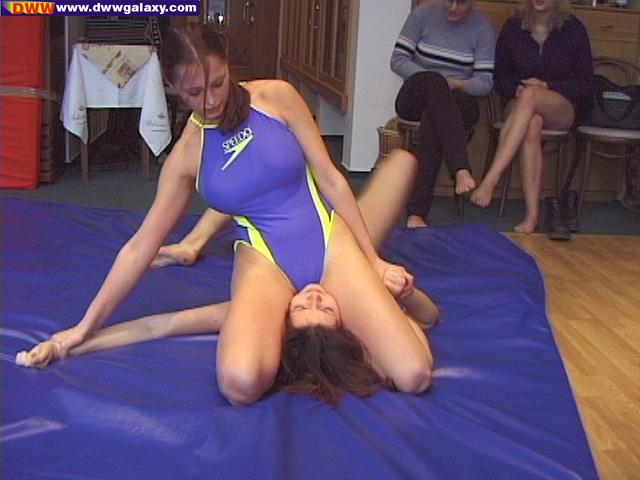 One of the exciting aspects of watching newer girls wrestle as opposed to long established stars is that you truly do not know who is going to win based upon skill so the next best betting tool is to base it upon size, right?
Wrong.
Against Petra, Anette a slender tall gorgeous brunette was taller so I was confident that she would win against the smaller blonde. They did indeed trade submissions, battled intensely often finding themselves continuing the contest off the mats but over time it became clear that Petra would be more opportunistic.
Then Anette faced the stunning Nikita who reminds me a little of Victoria only taller. She seemed much taller than Anette and once their engagement started I suspected that Nikita had the advantage but it became clear early on that the statuesque beauty just did not have Anette's strength and Anette began to dominate her with one prolonged school girl pin after another. Given the lopsided final score, I would count it as a signature win for Anette.
She went on to surpass that by completely dominating Radka 9-0.
Let's entertain the analysis of a couple of fans and reviewers.
"I am a fan of beautiful girls wrestling for real and I can tell that this match is a lost jewel for every fan like me. These are certainly the most beautiful girls I have seen on the wrestling mats. Anette is the most aggressive girl. You can see that she gives everything to win. Nikita is also very determined. They could be perfect DWW girls."
Another reviewer expressed this view. "This is an interesting wrestling match between two novices from the early 2000sands. Those two were from a group of young women coming to us as partial workers from an American fast food chain who had their restaurant in the local town. Two of those young novice wrestlers were Anette and Radka.
Radka was the older of the two. She wasn't the owner of that fast-food chain restaurant but she was young Anetta's supervisor. Obviously Anette was keen for teaching her "boss" a lesson on the mat. You can easily see the "gleam" in Anetta's eyes when she was sitting on her boss and particularly when her boss was submitting to her.
This match between two novices clearly showed who the better woman was and it's not only exciting to watch but thrilling and psychologically special. Just watch the faces of these two women as their match is going on and you'll know what they're thinking about the match and about each other. Probably the next working day wasn't the best one in Anetta's life. This isn't a match for fans who love the techniques and the skills. It's for fans who love the fight, the emotions, the psychology and the fun of female wrestling."
That must have been quite a match, fighting it out and getting revenge on your boss.
Which brings up the subject of Fast Food being served in Vienna.
At fciwomenswrestling.com we love to travel with you through an educational eye and thus far I don't think we've talked about something that we know is not great for our body but is delightful to our taste buds and soul.
I love Fast Food!
So, what is Fast Food like on the Danube jewel of Vienna?
Wiping the crumbs and grease away the cool and informative site traveldudes.org expresses, "The traditional Viennese fast food is sausage in all shapes and sizes. You can buy hot sausages and hot dogs at snack bars called "Würstlstand" all over the town.
The famous Wiener Würstel is known as "Frankfurter" in Vienna, but many inhabitants prefer Bosna (with onions and curry), Burenwurst, and Käsekrainer or "Eitrige" (with melted cheese inside). Sounds great, right? In addition to this, the local snack culture also includes more Yugoslavian and Turkish varieties of fast food, such as the Döner Kebap, sandwiches of Greek and Turkish origin with roasted meat, lettuce, tomatoes, onions, and yogurt and/or hot sauce."
Great. Yummy. Let me pull out my debit or credit card. I want more.
The local site tourmycountry.com shares, "Lunch is traditionally the main meal of the day and most people have only smaller meals for dinner (light meals, sandwiches, essentially things you would have for lunch in the Anglo-American sphere). Snacks and fast food are common (like in all countries) and often regionally distinct.
Breads and rolls come in large varieties in Austria and serve as a basis for many snacks. The classic bread roll is the "Semmel", ideally handmade (you can tell from the imperfections in the geometry – this is serious business).
Other bread rolls come in various shapes, with different grains and spices and demonstrate why a baker is a highly respected person in every Austrian village. Ask for Salzstangerl, Fintschgerl, Kürbiskernweckerl, Kipferl, Mohnflesserl, Laugenstangerl and Kornspitz. Bread rolls and Semmeln are always sold on the day – I remember arriving in England and realizing that this is not granted in every country."
I knew there was great fast food in Austria. The statistics seem to bear that out.
The respected information source euromonitor.com informs, "Fast food was the fastest growing category in consumer food service over the review period as lifestyles became increasingly hectic and many consumers sought convenient and time-saving foodservice options."
Working at an American Fast Food restaurant was once Anette's occupation but like most young beautiful European girls, she had other interests as well. A typical student she loves fried potatoes (okay we say French Fries here), tonic, reading books, playing sports like volleyball and wrestling along with participating in aerobics and riding her bike.
She was fun away from the mats and enjoyable on them. She wrestled with energy, a sense of humor, sportsmanship and above all, grace.
~ ~ ~
Some may find other women's wrestling sites erotic in nature. If you are offended by depictions of women wrestling in erotic situations, please exercise caution in visiting women's wrestling sites.
Femcompetitor.com subscribes to fciwomenswrestling.com news source, no affiliation.
Sources: brainyquote.com, Wikipedia, fciwomenswrestling.com, fciwomenswrestling2.com, FCI Elite Competitor, femcompetitor.com, WB270.com, dwwgalaxy.com, photos thank you Wikimedia Commons.
http://www.brainpickings.org/2013/06/05/amiel-journals-love/

http://www.britannica.com/biography/Henri-Frederic-Amiel
http://www.sheknows.com/baby-names/name/annette
http://www.traveldudes.org/travel-tips/traditional-fast-food-vienna-austria/2315

http://www.tourmycountry.com/austria/snacks.htm

http://www.euromonitor.com/fast-food-in-austria/report 
https://commons.wikimedia.org/wiki/File:Wien12_Wienerbergstrasse24_2011-12-26_GuentherZ_0103.JPG#/media/File:Wien12_Wienerbergstrasse24_2011-12-26_GuentherZ_0103.JPG
https://commons.wikimedia.org/wiki/File:MCD_Stadtbahnb%C3%B6gen.JPG#/media/File:MCD_Stadtbahnb%C3%B6gen.JPG
https://commons.wikimedia.org/wiki/File:Wien_Hauptbahnhof,_2014-10-14_(43).jpg#/media/File:Wien_Hauptbahnhof,_2014-10-14_(43).jpg