2021 England's Ivy Rain, Newer Wrestler Shows Great Improvement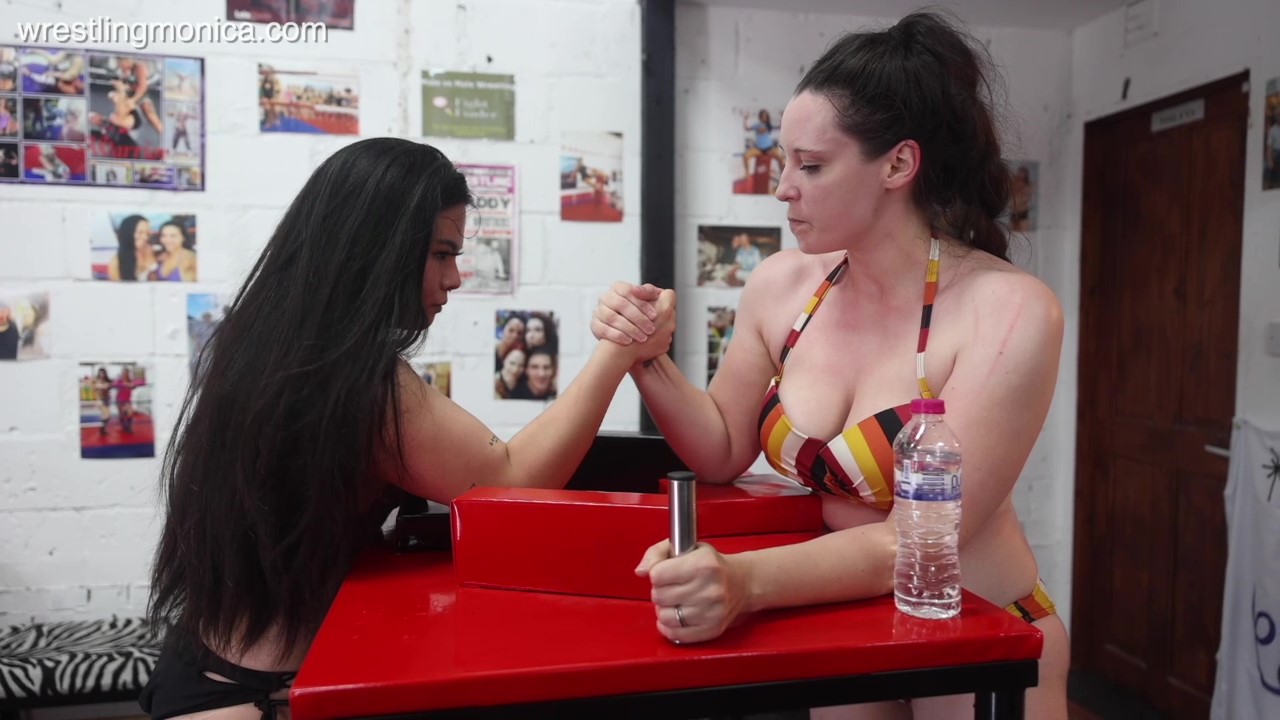 October 25, 2021,
Is there truly such a thing as love at first sight?
We know there is, since it has happened to so many of us, especially when we were young.
What about lust at first sight, which eventually may turn into love?
Okay, that seems to happen more often, though in our experience, lust turns into lust until its thirst is quickly quenched.
When we first saw the match description of Ivy Rain vs Leila, the latter, an established star who had wrestled at Monica's before, we sensed the beautiful newcomer was in trouble. Yet, when the introductions were made, and gorgeous Ivy came walking down the stairs and entered the ring in her sensuous black bikini, we also felt there was something different about her.
We really mean that. We hoped she was not a one-time wonder.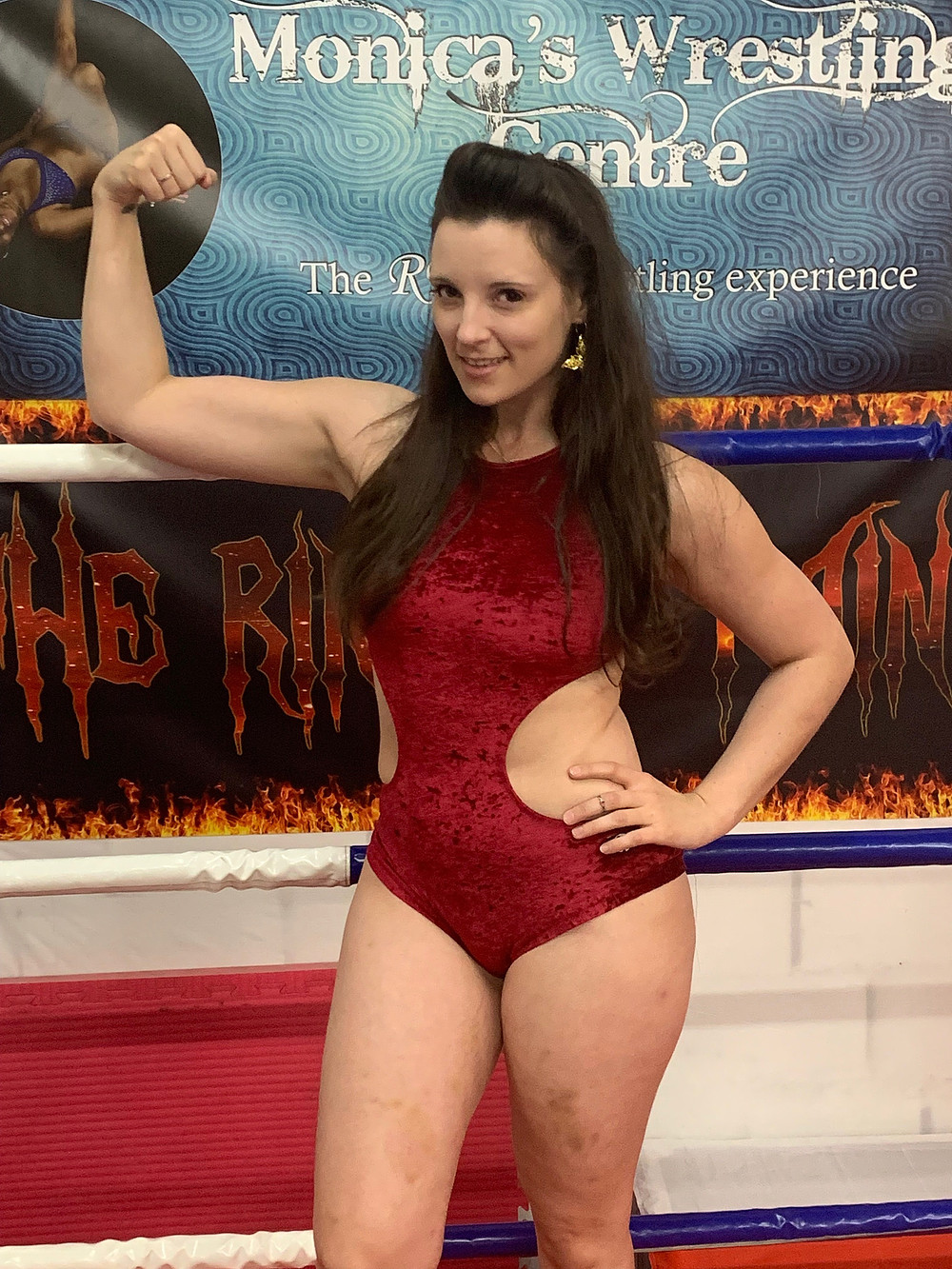 Here is the match description, "The third contest from the MWC September live event brought together two real absolute stunners that certainly got the crowd excited.
Brazilian Leila is no stranger to the MWC Ring of Pain and she made a welcome return after some time away. And she found herself up against a real unknown quantity in the form of Brit babe Ivy – who was making her debut in the venue.
Leila possesses a whole wealth of experience which was always likely to give her an advantage over Ivy and that was obvious in the way she was able to get in more offensive maneuvers.
But boy can Ivy take some punishment! Rather than crumbling in the face of Leila's attacks, Ivy withstood it and did her utmost to fight out of the predicaments she found herself in.
Even when Leila eventually got her to submit, Ivy refused to just roll over for her and proved to be as stubborn as she is gorgeous.
And as a result, the English girl grew in confidence as the match wore on and started to mount her own attacking moves on Leila who was really having to dig deep to avoid succumbing to Ivy's painful looking scissors."
While Ivy did give it her best, that is true, but after viewing our purchase, from our vantage point, she was thoroughly dominated by Leila.
Jobber territory.
No, make that curvy gorgeous jobber territory.
We see this often in our industry. A beautiful new girl agrees to wrestle at an event, influenced by a great recruiter, sometimes because the other more experienced wrestler canceled, and she is in way over her head. She then gets dominated in front of an appreciative crowd but often rarely wrestles again. Which raised a question for us.
Would we ever see Ivy Rain wrestle again after this thumping?
If not, then it was lust at first sight. A one ring stand.
If she decides to wrestle again and again, we just might fall in love with her.
Time for some research.
We found her profile at APL Women's Wrestling, primarily a fantasy, semi-competitive site that works with tons of girls. Usually if a girl wants to try erotic wrestling, you can find them at APL.
Ivy was indeed there. Engaging in fantasy matches. The bad news is that it is not competitive. The good news is that she is still in the game.
Hopefully she will venture back over to the competitive side. She does.
Monica, the owner at MWC, makes it clear that she is working with and training Ivy Rain and the upcoming British star is getting better.
We have to see it to believe it, so we purchased more matches.
Warning. We will reveal the match results.
IVY VS YUI
The first purchase was against a newer girl named Yui. We started with what we felt was the least resistance and move on to matches that should be progressively tougher.
As the pre-match ceremony began, Ivy entered the ring to the song Hooked On A Feeling. Very good. She looked confident and vibrant, as a frontrunner should.
The match began with Ivy immediately trapping Yui in a sitting body scissors. We thought Ivy could secure the submission but as the beautiful women rolled around, it was becoming clear that she couldn't.
Yui finally broke the hold.
Then she trapped Ivy in a tough upper body scissors that has Ivy grasping for air and admitting to the live audience that she was in pain.
Was she going to let a newbie submit her?
Fortunately she did escape and once again began to control the match, eventually trapping Yui with a face sit. The shapely, feminine Yui tried to kick out with her sensuous thick legs but couldn't. This is all well and good for Ivy but here's the deal. We are almost 8 minutes into the match and the more experienced Ivy has not yet cranked out a submission against a fairly new girl.
The match was divided into three, 6 minute rounds. At the end of the first round, no submission.
As the two begin the next round, they vie for control via headlock, and after a tussle, Ivy gains the upper hand. She controls Yui throughout this next round, virtually always on top, and finally, deep into the next round, she secures a submission. Ivy would go on to win 2-1.
That's good. But, let's face it, not great. Still, compared to her outing against Leila, it is absolutely an improvement.
IVY VS ZOE PAGE
Both girls are experienced so we felt this would give us a better barometer of where Ivy is at.
Here is the match description from the producer. "Well, clashes between two English roses don't come much more mouth-wateringly marvelous than this one!
Gorgeous Ivy Rain has appeared at one MWC Live Event previously and has certainly been getting her wrestling on at Monica's, taking part in a number of matches and getting better and better with each passing minute.
Better known as a dominatrix and model, beautiful Zoe Page had never competed at one of our events before but, believe us, this girl can fight and has demonstrated her skills to many a victim over the years.
Within seconds of them locking up, they proved to be the excellent and exciting match up that we believed they would be!
They buzzed little time and were soon tangled up in a hard battle of skills, strength and willpower as they fought all over the ring.
And soon there were submissions with the girls exchanging tap outs to moves including breast smothers, a headlock and scissor combinations, body scissors and an array of other moves.
It was pulsating, back and forth action between the pair who seemed to be going all out to attack at every single opportunity that arose."
Nice description of a competitive match with the VCR on slow motion.
If the match was likened to two feminine cars driving on the German Autobahn, they would get pulled over for slowing down traffic for cruising at 60 mph in an 80 mph zone.
The wrestling was real but playful.
Ivy would eventually win this in a close struggle. Now it is time to see how she does against stronger competition.
IVY VS DENISE
Denise is a beautiful tanned girl who looks like she just stepped off the stage of an oiled down body building contest where she stood a serious chance of winning. Denise is a perfect specimen of gorgeous female muscle, complete with washboard abs. Literally.
Can see every ripple.
So, as Ivy said when Denise walked into the ring, words to the effect, "I guess we know who is going to win."
True, we would agree. Denise is not a giggle and jiggle wrestler.
The match goes as expected. Denise dominates Ivy 7-0.
SUMMATION
Ivy Rain is a wonderful addition to our industry, a revival of competitive wrestling, so to speak, in a submission wrestling industry currently dominated by semi-competitive awful matches.
That's another discussion. Please don't get us started.
What would help Ivy's game is some serious MMA training.
Having said that, England's Ivy Rain is a keeper. She is statuesque and curvy with long flowing hair. She is actually evolving as a talented competitive wrestler as well.
While we won't say that we've fallen in love with this fantastic edition to our industry, we will admit, what we feel is pretty close.
~ ~ ~
OPENING PHOTO femcompetitor.com, grapplingstars.com fciwomenswrestling.com Monica Wrestling Center-photo-credit Editorial

https://www.fcielitecompetitor.com/
https://fciwomenswrestling.com/
https://www.wrestlingmonica.com/shop