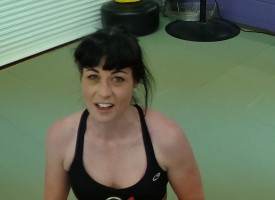 Katy, another friendly Canadian and loving mother, tried wrestling and liked it!

If you love statistics we would like to navigate some your way. According to The Momiverson.com, Navigating the world of the mom, there were 158 million females in The United States in 2011. There was an estimated 85.4 million mothers in the United States during that time. In 1969, 9.8 million moms with children under the age of 15 were stay at home moms. In 2012 the figure approaches 5.1 million mothers who stay at home to raise kids. Why the statistical reduction? What is the current cost of raising a child through the age 17? Please brace yourself.
$234,900 each.
Female Competition International expressed in our original Mission Statement that we hoped women from all sports would enjoy wrestling in a competitive and dignified environment. During a 2012 competitive women's submission wrestling event in the San Francisco bay area, we had a chance to meet Katy who exemplifies what FCI would love to see more women become involved with. Katy is an active mother who was not trained in a collegiate wrestling program but every time we watch her compete, she continues to improve.
After the matches were done that sunny day in Berkeley, our FCI associate treated the competitors to lunch and had a chance to hang out with the group at a Thai restaurant. Katy, an exceptional interviewer was vibrant, enjoyable to listen to and very knowledgeable about interesting places around the globe. The following is Katy's exclusive interview with FCI.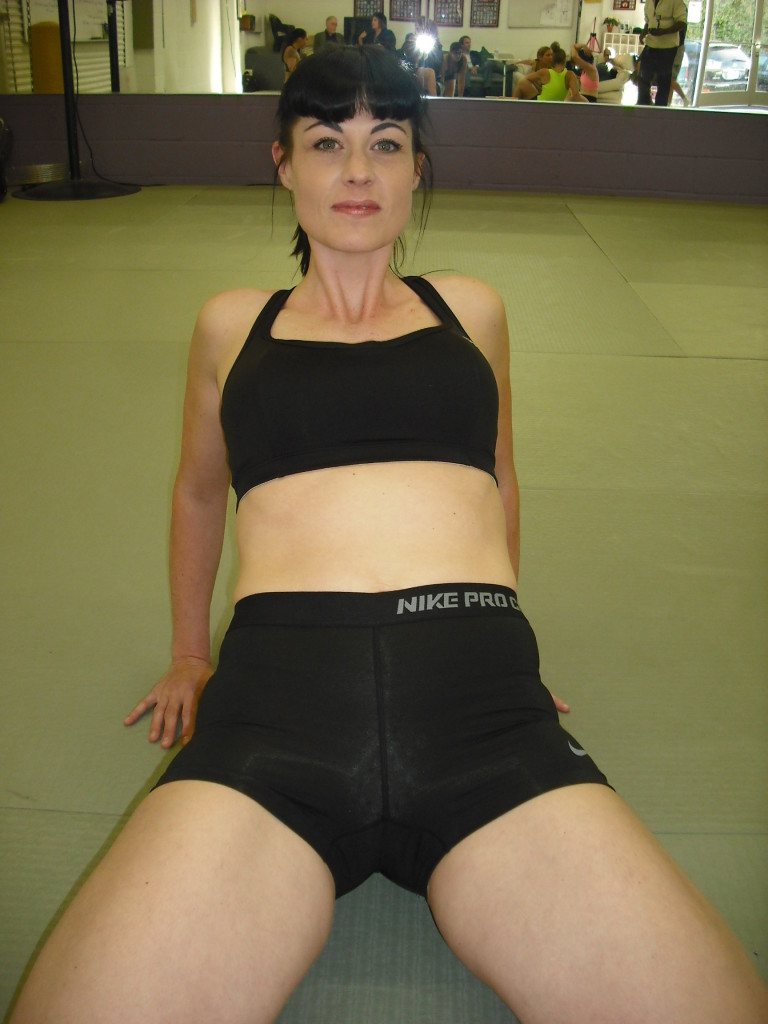 FCI: Thank you for meeting with us. It's amazing with your busy schedule you can find time to compete. We are fascinated with the amount of traveling done by female submission wrestlers. What are your three favorite cities?
Katy: Dusseldorf, San Francisco and Ottawa.
FCI: Why those three?
Katy: Each has their own beauty and culture.
When FCI asks this question to competitors, we often receive a response of San Francisco, Los Angeles, Tokyo, London, New York, Paris, youthful and vibrant Miami but rarely Dusseldorf. Let's take a quick peek at this magnificent German city.
Wikipedia relates Düsseldorf is the capital city of the German state of North Rhine-Westphalia and centre of the Rhine-Ruhr metropolitan region with 11.5 million people. Düsseldorf is an international business and financial center and renowned for its fashion and trade fairs.
Traditional meals in the region are Rheinischer Sauerbraten (a beef roast and sometimes horse marinated for a few days in vinegar and spices served with gravy and raisins) and Heaven and Earth (Himmel und Äd) (Black pudding with stewed apples mixed with mashed potatoes). In winter the people like to eat Muscheln Rheinischer Art (Rhenish-style mussels) as well as Reibekuchen (fried potato pancake served with apple sauce). Also a special meal: Düsseldorfer Senfrostbraten (Steaks roasted with Düsseldorf mustard on top).
Dusseldorf's development from an insignificant farming settlement on the banks of the Dussel into a lively cosmopolitan metropolis bursting with culture, fashion, media, and shopping is an outstanding success story. At the time when Roman civilization was making itself felt through the rapid construction of roads and buildings, only a few Germanic tribes stubbornly clung on to their marshy territory on the other side of the Rhine, where the city was later to spring up. In the Frankish period of the 7th and 8th centuries, the odd farming or fishing settlement could be found at the point where the small river Dussel flows into the Rhine. The first written mention of the town ' Dusseldorp ' dates back to 1135.
By the mid-19th century the Industrial Revolution had left an indelible mark on the city's infrastructure and propelled its population statistics to new records: in 1882 Dusseldorf had over 100,000 inhabitants, and this figure doubled by 1892. Dusseldorf was becoming a large modern city. Two bridges ' the Hammer and the Oberkasseler Brucke – were key in furthering the city's growth on the left bank of the Rhine. The Grunderjahre (founder years) brought a new dynamism and sense of excitement as the city developed into an industrial and administrative metropolis.
When researching Dusseldorf, (http://motherearthtravel.com/germany/dusseldorf/history.htm) you'll understand it's rich history. On various sites you can see that the architecture is fascinating, extensive and overwhelming, but we suggest to take your time, it's very enjoyable photo grazing.
Our interview continues.
FCI: What foreign countries have you traveled to?
Katy: I grew up in Canada, lived in Germany for 10 years and have visited most of Europe as well as Turkey and Africa.
FCI: What part of Africa?
Katy: Kenya. I went there on vacation.
Let's fly into Kenya. According to Go Africa website, Kenya is the most popular country to visit in Africa. During the dry season from July to October the wildlife spectacle is unparalleled. Nowhere else can you watch the annual migration of over a million wildebeest from a hot air balloon. The country is named after Mount Kenya, the second highest mountain in Africa. The capital, Nairobi, is a regional commercial hub. The economy of Kenya is the largest by GCP in East and Central Africa. Agriculture is a major employer and the country traditionally exports tea and coffee, and more recently fresh flowers to Europe.
Geographia.com agrees Kenya is still the primary focus of all adventure travel in Africa. It is one of the finest and most famous safari destinations in the world. Kenya's rich culture and diverse environments are extensive and exciting.
Kenya is situated right along the equator, on the eastern coast of the African continent. Its coastal region is on the southeast, and to the east resides Somalia. Ethiopia is to the north, the Sudan to the northwest, and Uganda directly to the west. The southwestern border of the country is marked by Lake Victoria, and southward is Tanzania. Kenya's geography is marvelously varied. While much of northeastern Kenya is a flat, bush-covered plain, the remainder of the country encompasses pristine beaches, scenic highlands and lake regions, the Great Rift Valley, and the magnificent Mount Kenya.
Although Kenya's varied environments experience a wide variety of climate conditions, the temperature remains comfortably warm year-round. Much of Kenya experiences heavy rainfall from March through May and, to a lesser extent, from October through December. The best time for most outdoor activities (including safari and mountain climbing) is during the dry season (June-September).
Before we finish our conversation with Katy, let's visit another destination on her travel resume.
Welcome to Ottawa, Canada.
Ottawa is the capital of Canada, and the fourth largest city in the country. The city is located on the south bank of the Ottawa River in the eastern portion of Southern Ontario. Ottawa borders Gatineau, Quebec. Founded in 1826 as Bytown and incorporated as "Ottawa" in 1855, the city has evolved into a political and technological center of Canada. Its original boundaries were expanded through numerous minor annexations and ultimately replaced by a new city incorporation and major amalgamation in 2001 which significantly increased its land area. The name "Ottawa" means "to trade". Initially an Irish and French Christian settlement, Ottawa has become a multicultural city with a diverse population.
The 2011 census had the city's population as 883,391. It is rated the second cleanest city in Canada, and third cleanest city in the world. In 2012, the city was ranked for the third consecutive year as the best community in Canada to live in by MoneySense.
When you view the things to do list in Ottawa, it is endless. The statuesque powerful beige governmental buildings that forcefully rise to the sky are numerous. Here are some off the beaten track places to go. Canada's Cold War Museum, an underground bunker built to house Canadian government officials in the event of a nuclear attack, you can tour the war room, the emergency broadcasting studio, and the prime minister's secret hideout, all painstakingly preserved from the 1960s. But for the full Dr. Strangelove experience, visit on the third Tuesday of the month for the 'Cold War Cinema' to watch a Cold War-themed film inside the bunker.
In a salute to Parliament Hill, join hundreds of fellow downward-doggers for a free one-hour yoga class on the lush green lawn in front of the Parliament buildings. Classes run weekly in summer. If you would like to spend the night in jail, at the HI-Ottawa Hostel, you can sleep behind bars in the former Carleton County Gaol. And if you don't want to snooze in a cell, take a Haunted Walk (www.hauntedwalk.com) tour of the 19th-century building and learn why Ottawa was once considered North America's most dangerous town.
Let's thank Katy once again, that was enlightening.
FCI: Your country and city of destination choices are fantastic. What are the most important qualities you like to see in people?
Katy: Honesty, loyalty and trustworthiness.
FCI: Is there more?
Katy: Empathy and sympathy.
FCI: Katy, what do you see as your purpose in life?
Katy: To help others and teach.
FCI: With regards to this interview, mission accomplished. We learned much. Thanks again.
~ ~ ~
Source The Momiverse, Navigating the world of mom. Wikipedia, www.duesseldorf.de, goafrica.about.com http://www.geographia.com/kenya/ lonelyplanet.com Canada, Travel photos courtesy Wikimedia Commons, Katy's photo copyright Female Competition International